Small Business Demands Better Digital Banking Tools
Report Details: 31 pages, 15 graphics
Overview
Although thousands of U.S. banks and credit unions thrive by serving small businesses, an ample majority of these businesses imply that online services fall short at their primary FIs. For example, 56% — representing 3 million micro businesses and 800,000 small businesses — indicate they would value an online service that would provide a consolidated view of company finances and enable them to invoice customers, monitor payments, manage cash flow, pay suppliers, process payroll, and satisfy the demands of the taxman. To counter the loss of profits to secondary FIs that win in price wars, primary FIs must enhance the digital services that enable businesses to manage their finances more effectively, efficiently, and safely under one roof. This report identifies the needs and recommendations related to 1) online and mobile banking control; 2) accepting payments, paying bills, and invoicing; and 3) marketing services that can boost merchant sales.
Key questions this report will address:
How many micro and small businesses would value digital banking services?
What kinds of digital banking, payments, and marketing services are important to these businesses?
How many of these businesses currently use free retail banking services vs. a fee-based small business platform?
Which banks and fintech vendors are rolling out upgrades to target small businesses?
How many micro and small businesses want to view both business and personal accounts together within digital banking?
Should mobile banking features be a priority yet?
Are micro and small businesses comfortable with mobile banking security? 
Companies Mentioned: Bottomline Technologies, Capital One, D3 Banking, Digital Insight, Fiserv, Geezeo, Intuit, JPMorgan Chase, Malauzai Software, MX, PNC Bank, U.S. Bank, Wells Fargo,Yodlee 
Methodology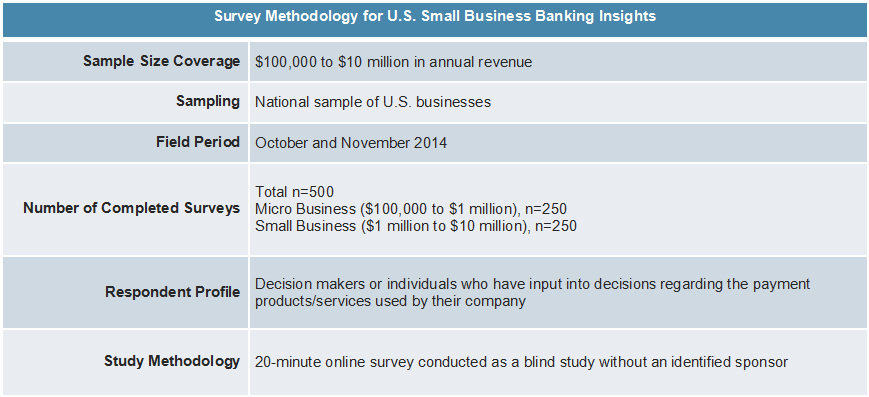 Learn More About This Report & Javelin