The Small Business Credit Card Challenge: Capturing The Large, Messy Opportunity
Author(s):
Mercator Research
Overview
Boston, MA
September 2006
The Small Business Credit Card Challenge:  Capturing The Large, Messy Opportunity
NEW RESEARCH REPORT BY MERCATOR ADVISORY GROUP
This report explores the challenges of small business credit card issuing, a key strategic segment for card issuers seeking to grow payment volume at rates above overall industry averages and to add to their portfolio outstandings.  The attractiveness of the market to issuers is high for a number of reasons:
*  The payment volume of small business credit cards is growing at twice the rate of credit cards overall.
*  Small business credit cards benefit from superior commercial card interchange and higher payment volumes per account than consumer cards.
*  The small business segment is dynamic, with new prospects emerging continuously, and businesses growing in their financial needs.
*  There is a major opportunity to leverage existing small business relationships, as well as prospecting within retail consumer credit card portfolios.
Key challenges of serving the market, as the report examines, are addressing the needs of the surprisingly complex sub-segments within the small business market, which include sole proprietors through firms up to 100 employees.  For many large banking institutions, it is also a challenge to capture the opportunities embedded in their current retail credit and small business debit portfolio's.  
The small business segment may be messy from a segment viewpoint, but tools and techniques available to issuers to address the opportunity are improving, as the report illustrates.  Rapidly growing data repositories and advanced analytic tools are helping issuers to identify prospects both at home (in debit and retail credit files) and through direct marketing.
Understanding the emerging role of small business debit in the segment is critical.   Ken Paterson, Director of the Credit Advisory Service at Mercator Advisory Group and the author of this report comments that; "An important strategic issue for the future is the influence of debit in the small business market.  Seemingly little attention has been paid to debit in this segment, yet there are about 8 million small business debit accounts in place - perhaps one of out of three small businesses.  Just as debit growth is affecting credit card growth on the retail side of the equation, debit is of growing importance in the small business credit segment.  Positioning small business credit offerings with regard to debit, and perhaps offering dual debit/credit programs will be of increasing importance."
  Exhibits in this report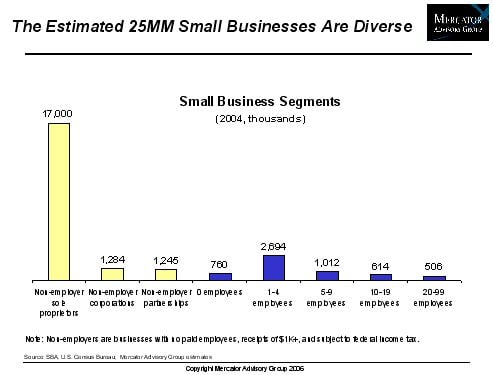 The report is 32 pages long and contains 19 exhibits.
Members of Mercator Advisory Group have access to these reports as well as the upcoming research for the year ahead, presentations, analyst access and other membership benefits. Please visit us online at www.mercatoradvisorygroup.com.
For more information call Mercator Advisory Group's main line: 781-419-1700 or send email to info@mercatoradvisorygroup.com.
---
Learn More About This Report & Javelin