Payment Hubs: Shrinking the Elephant
Author(s):
Patricia Hewitt
Overview
Payment Hubs: Shrinking the Elephant
Boston, MA -- Payment hubs for commercial financial supply chain management have been around for quite some time, and outside the United States, financial institutions are actively incorporating payment hub architecture into their over-burdened infrastructures as a means of coping with various regulatory requirements, such as SEPA.
Until recently, financial institutions and vendors have been starting to take a closer look at how these strategies can be enabled for the retail side of the business; particularly in the U.S.
Mercator Advisory Group's report Payment Hubs: Shrinking the Elephant looks at why the time might be right for financial institutions to consider payment hub strategies in the United States, see how they are or might be applied to retail payment strategies and the importance of enterprise-level strategies in the current financial services market. Also discussed in this report is the state of the market for enterprise-level payments processing strategies, reasons why these solutions are (and are not) taking hold in various market segments, and a window into how some of the leading solution providers are thinking about how best to approach this market.
"Even though we would argue that the time has never been better for the financial institution market to consider centralizing their payment functions or at the very least, implementing data repositories that allow payment information to be normalized, the near term ability for the U.S. banking industry to invest in these solutions on a broad scale is most likely being sidelined by the unrelenting changes being forced on the industry by regulators as well as the weakened state of the economy," Patricia Hewitt, Director of Mercator Advisory Group's Debit Advisory Service comments.
Highlights of this report include:
An examination of some of the leading solution providers along with illustrative workflows and implementation schematics. 
A review of the strategic entry points for payment hub solutions with a focus on U.S. financial institutions. 

A thorough discussion of the definition of what a payment hub means and how original definitions of enterprise-level solutions are changing.

One of 13 exhibits in this report: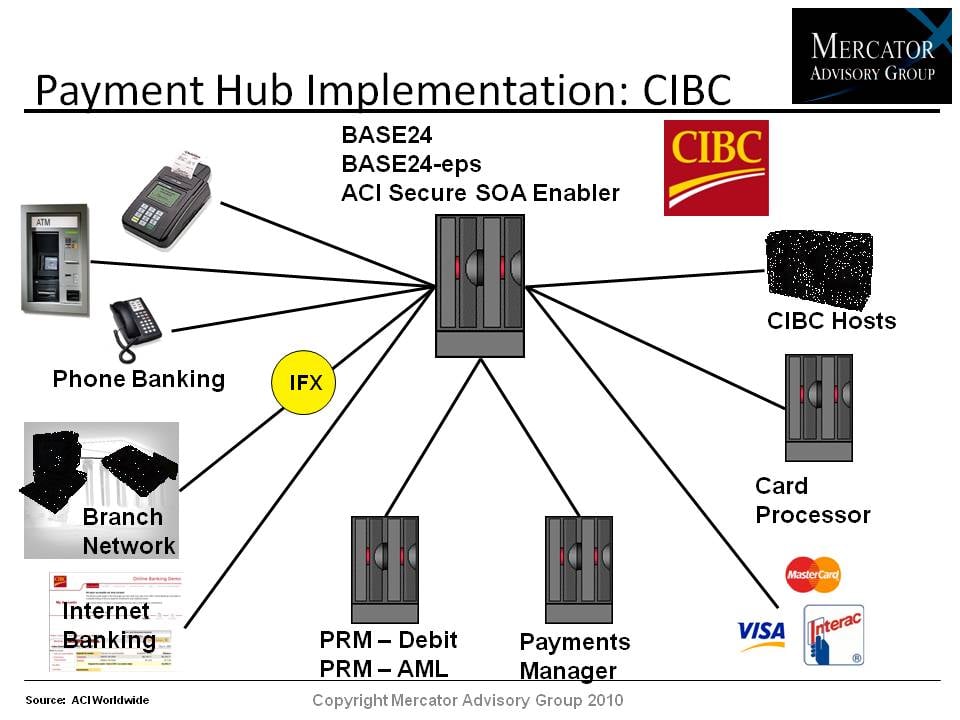 This report is 28 pages long and has 13 exhibits.
Companies mentioned in this report include: Aptys, Dovetail, Fiserv, Infosys, S1.
Members of Mercator Advisory Group have access to this report as well as the upcoming research for the year ahead, presentations, analyst access and other membership benefits. Please visit us online at www.mercatoradvisorygroup.com.
For more information and media inquiries, please call Mercator Advisory Group's main line: (781) 419-1700 or send E-mail to info@mercatoradvisorygroup.com.
About Mercator Advisory Group
Mercator Advisory Group is the leading, independent research and advisory services firm exclusively focused on the payments and banking industries. We deliver pragmatic and timely research and advice designed to help our clients uncover the most lucrative opportunities to maximize revenue growth and contain costs. Our clients range from the world's largest payment issuers, acquirers, processors, merchants and associations to leading technology providers and investors.
---
Interested In This Report