Overview
Multichannel Merchants Face Payment Process Complexity
New research from Mercator Advisory Group examines payment
solutions for global top tier merchants
Boston, MA -- Mercator Advisory Group's new report, Multichannel Merchants Face Payment Process Complexity, examines the complexity facing multichannel and multinational merchants with diverse (and consequently inefficient) payment infrastructure. Merchants selling retail goods through multiple channels -- in stores, online, through mail or phone order, at kiosks, etc. -- face myriad challenges when devising rational, cogent strategies for payment process management.
Managing multiple vendors is also a common challenge for multichannel merchants, since the systems supporting in-store payments are often drastically different from those for online retail activities. Different platforms and payment products typically have inconsistent reporting tools and output formats, creating further demands on merchant operators to rationalize a variety of data feeds.
This report covers these complexities in detail, identifying inefficiencies and potential challenges to merchant profitability as well as the need for increased visibility. It discusses solutions' features and functionality broadly and examines key features of significance for the multichannel merchant market. The conclusions are geared toward solution providers hoping to improve functionality of their products and potential merchant users who need to establish a business case for a product purchase or who may be considering an upgrade or vendor change.
"Merchant payment and e-commerce managers at e-retailers, digital content providers, subscription services providers, and other business types are familiar with the many moving parts involved in converting sales into payments, and solutions providers have begun to step up their development efforts to tackle these problems as their customers expand into new markets and channels," David Fish, senior analyst at Mercator Advisory Group and author of the report comments. "However, with expansion comes an additional layer of complexity, and thus the vicious cycle persists."
Highlights of this report include:
An in-depth discussion of multiple challenges facing multichannel merchants dealing with complex payment processes
Focused discussion of specific merchant pain points created by myriad factors, including multiple processing systems and devices, multichannel payments, the need to support local and regional payment types, vendor needs to support payment processing globally, divergent payments pricing, disparate reporting formats, and varying regulatory and security compliance standards
Examination of attributes associated with global merchant solutions and analysis of three strategic features that could relieve merchants' burden
Definition and identification of the roles that payment gateways and middleware providers play in the multinational, multichannel space
Conclusions geared toward the solution vendor community as well as payment processing executives within the merchant
One of three exhibits in this report: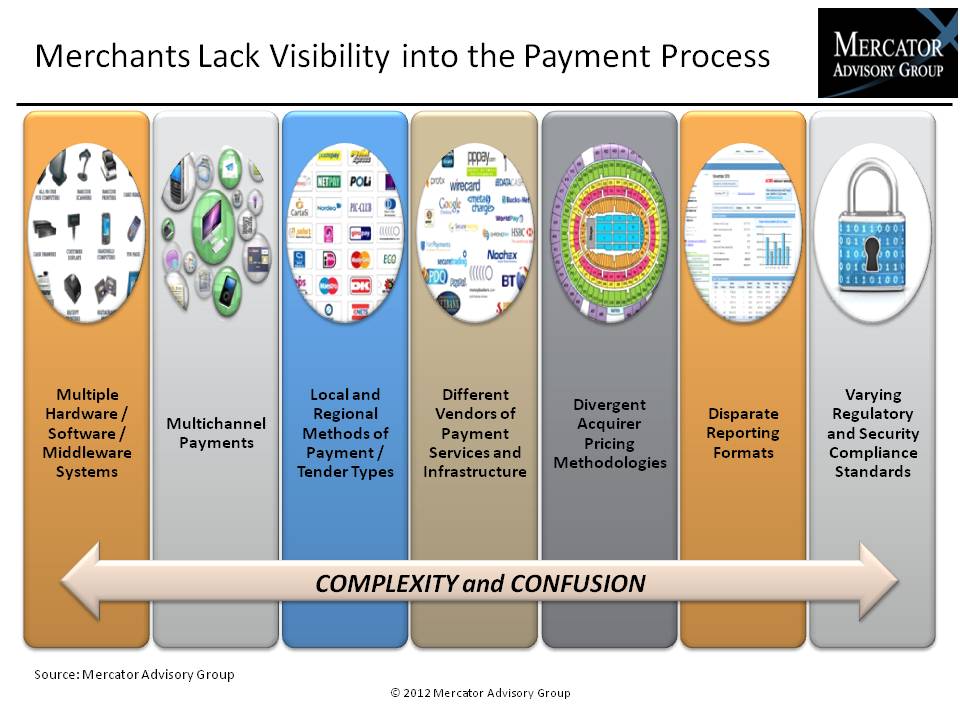 This report is 17 pages long and has three exhibits.
Companies mentioned in this report include: Accertify, ACI, American Express, Apriva, Braintree Payments, Chase Paymentech, CyberSource, DataCash, Dwolla, Euronet, First Data, Global Collect, Kount, MasterCard, Merchant E-Solutions, NICE Actimize, PayPal, Retail Decisions, Retalix, Shift 4, Square, Transaction Labs, Transaction Network Services, VeriFone, Visa, and YesPay.
Members of Mercator Advisory Group's Emerging Technologies Advisory Service have access to this report as well as the upcoming research for the year ahead, presentations, analyst access and other membership benefits.
Please visit us online at www.mercatoradvisorygroup.com.
For more information and media inquiries, please call Mercator Advisory Group's main line: (781) 419-1700, send E-mail to info@mercatoradvisorygroup.com.
For free industry news, opinions, research, company information and more visit us at www.PaymentsJournal.com.
Follow us on Twitter @ http://twitter.com/MercatorAdvisor.
About Mercator Advisory Group
Mercator Advisory Group is the leading, independent research and advisory services firm exclusively focused on the payments and banking industries. We deliver pragmatic and timely research and advice designed to help our clients uncover the most lucrative opportunities to maximize revenue growth and contain costs. Our clients range from the world's largest payment issuers, acquirers, processors, merchants and associations to leading technology providers and investors. Mercator Advisory Group is also the publisher of the online payments and banking news and information portal PaymentsJournal.com.
---
Interested In This Report
Related content
With investment capital tighter in 2023, there's less interest in untested, unproven fintech startups and more of an emphasis on coming out of the chute with products that are read...
Wallet-based digital ID will create a wedge between universal wallets and payment apps, as embedded finance product offerings converge on feature parity over time.
For more than a decade, fintech startups and products have captured outsized attention and investment. In many ways, these companies have set the agenda for driving consumer expect...