International Faster Payments: A Growing Real-Time Presence
Overview
International Faster Payments Continue on a Path to Prominence
Real-time payments continue on a path to prominence in world markets, with these systems currently a domestic phenomenon but increasingly expected to fill cross-border demand as well. The only question is time, as these global payments rails are now available in almost 60 markets with more systems poised for launch during the next year. We have been tracking developments and faster value transfers in the United States since same day ACH was initially launched for credit transfers in 2016. With our latest research report, International Faster Payments: A Growing Real-Time Presence, we now expand into developments across the globe in various key markets with data and estimated growth in the use of these systems, as well as discussions on upcoming rails and other important initiatives underway.
Mercator Advisory Group's latest report provides a review of ten specific markets outside of the United States, with actual and forecasted value growth data through 2026. We also provide details on various initiatives underway for the eventual delivery of instant cross-border payments, something that until recently seemed to only be possible many years into the future.
"Real-time payments systems are becoming more common across the globe, with new domestic rails operating in dozens of developed and developing markets with a growing ubiquity of access to bank accounts within those markets," commented Steve Murphy, Director, Commercial and Enterprise Payments Advisory Service, co-author of the report. "Substantial adoption has already been achieved in various markets and instant payment growth rates in selected countries outside the United States are expected to be near double digit between 2020 and 2026."
This report is 16 pages long and has 7 exhibits.
Companies mentioned in this report include: ACH Columbia, ACI Worldwide, Bankgirot, Bank for International Settlements, Bank Indonesia, Bank of America, Bank of Italy, BBVA Group, BCS, Boston Federal Reserve, Cámara de Compensación Electrónica, Central Bank of Malaysia, Citi, Credit Agricole, Danske Bank, Deutsche Bank, Early Warning, EBA CLEARING, Ethereum, , Handelsbanken, HSBC, ING, Interac Corp., Intesa Sanpaolo Bank, J.P. Morgan, Mastercard, Minka, MIT, Monetray Authority of Singapore, National Payments Corporation of India, Nordea, OP Financial Group, Payments New Zealand, Pay.UK, PayNet, People's Bank of China, PNC, P27, Ripple, SEB, Societe General, Swedbank, SWIFT, TCH, Visa, Vocalink.
---
One of the exhibits included in this report: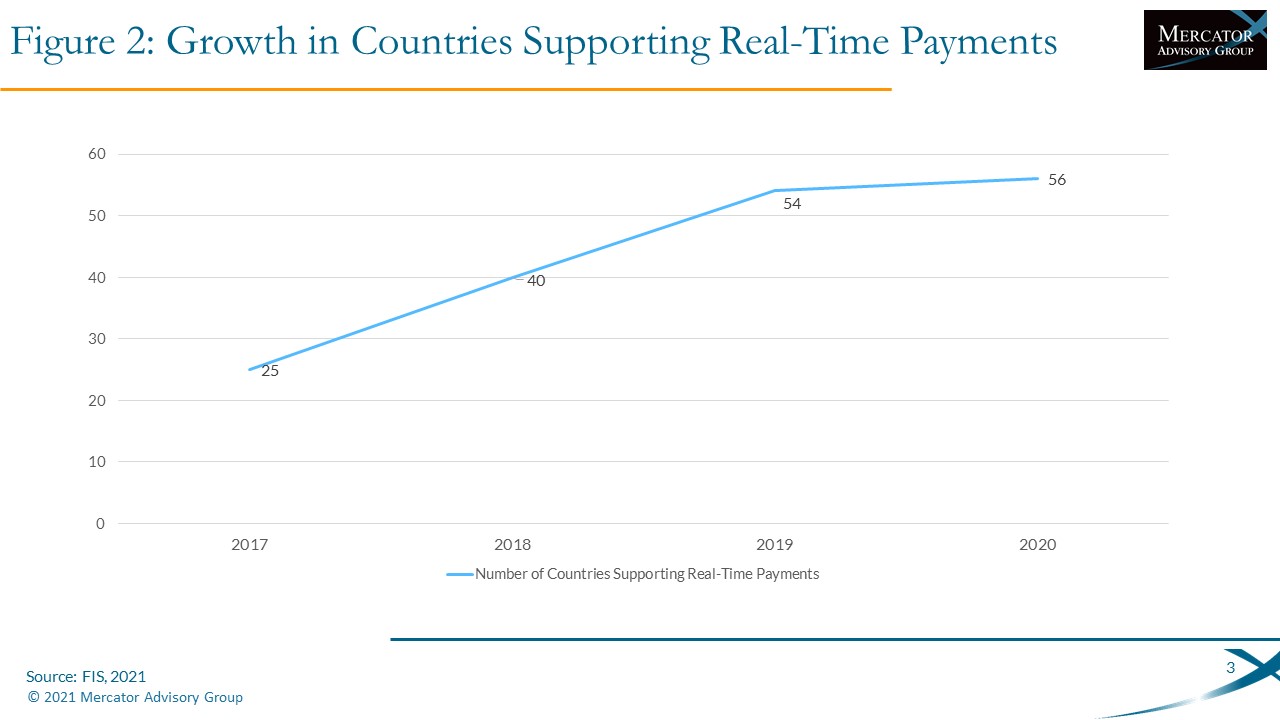 ---
Highlights of this research report include:
An overview of global developments in the real-time payments space, including actual new rails and transaction growth across multiple markets.
Data around actual real-time payments value in ten markets outside the U.S., as well as expected growth through 2026.
Detailed reviews of developments in China, India, and the U.K.
Reviews of various global initiatives underway that are designed to connect sovereign real-time payment rails for cross-border transactions.
Interested In This Report