International Commercial Credit Cards: Market Review and Forecast, 2021-2026
Overview
This new research report reviews the commercial credit card industry in markets outside of North America.
The pandemic has taken a toll on the commercial credit card industry during the past two years, especially in regions outside of North America where business travel spending is the predominant source of revenue for the issuing participants. Improvements occurred during 2021 as domestic travel picked up and certain international routes also began to open, situations that continue into the first half of 2022. As such, a general spending recovery is expected by 2024, and potentially sooner depending upon the actual updated travel policies enacted and budgets approved by corporations across the globe.
A new research report from Mercator Advisory Group, International Commercial Credit Cards: Market Review and Forecast, 2021-2026, reviews the current situation and outlook as the industry continues to recover and business travel improves. This is Mercator Advisory Group's annual review of the commercial credit card industry in markets outside of North America (NA). This research report includes overviews and estimated commercial credit card spending for mid-to-large corporates in Western Europe (WE), Asia Pacific (APAC), Latin America and Caribbean (LATAC), and Central and Eastern Europe, Middle East, and Africa (CEEMEA).
"Commercial credit card participants in the mid-to-large market segments should continue to focus on broadening the appeal of payment instruments beyond the business travel use cases, as there are certain advantages to them that directly align with corporations' renewed appreciation for working capital flexibility," commented Steve Murphy, Director of the Commercial and Enterprise Advisory Service at Mercator Advisory Group, the author of this report.
This report is 18 pages long and has 6 exhibits.
Companies mentioned in this report: American Express, Boost Payment Solutions, CardUp, Diners Club, EPI Interim Company, European Central Bank (ECB), Mastercard, Pharmarack, Plastiq, Reserve Bank of India (RBI), SGeBIZ, The Financial Services Commission (FSC), Visa, Whola
One of the exhibits included in this report: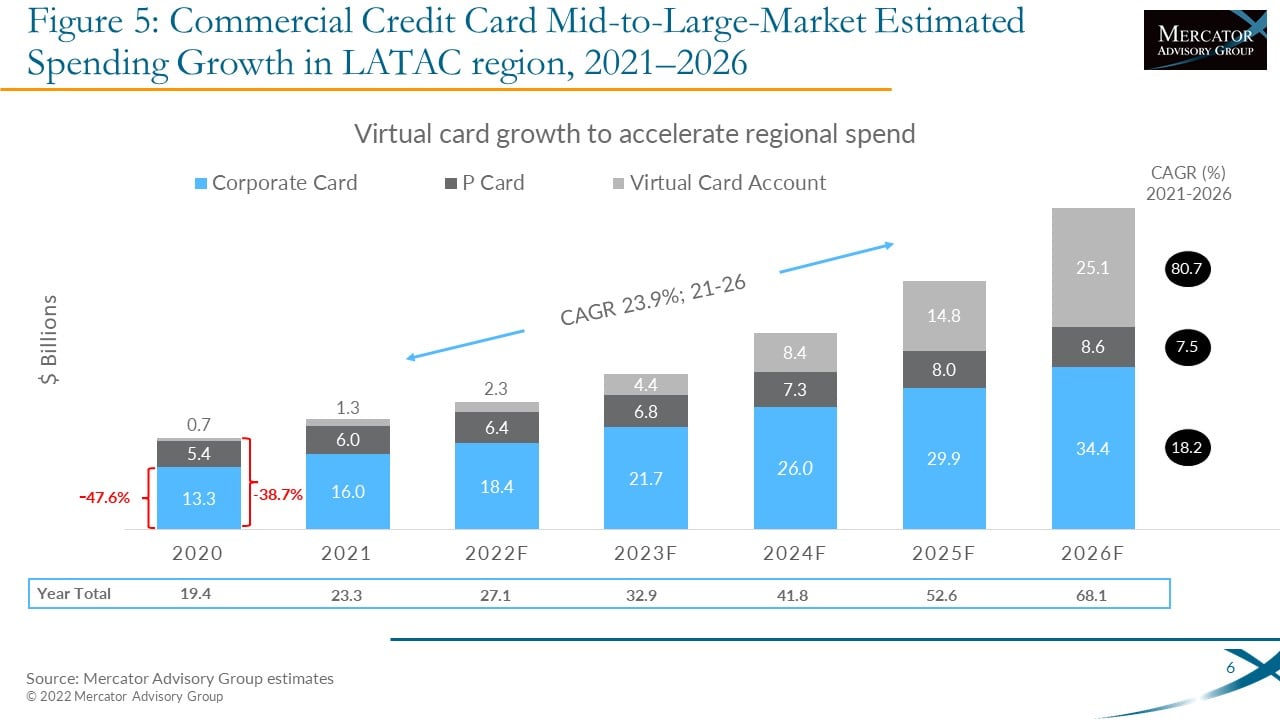 ---
Highlights of this research report include:
Economic outlook in the indicative global markets
Review of overall card spending trends and expectations across multiple regions
Regional highlights of developments potentially impacting commercial card businesses
Interested In This Report