Digital Corporate Payables: A Complicated and Changing Landscape
Overview
Automated payables is one of those areas in the corporate payment space with a fair amount of definitional leeway, since it tends to mean different things to different people. Bankers have a different perspective from corporate clients, but the discussion gets complicated across numerous bank products and corporate systems, which are typically a combination of bank and fintech solutions.

In a research note, Digital Corporate Payables: A Complicated and Changing Landscape, Mercator Advisory Group defines traditional automated payables systems and then compares and contrasts them with some of the myriad other systems that occupy the vast and complex world of corporate payments. The note also provides a high-level sampling of information about vendors offering solutions across the ecosystem, as well as ways in which banks can help their corporate clients make the correct choices for their unique structures.

"It is part of a financial institution's remit to provide proper advice to its corporate clients. Corporations look to banks for a better understanding of the payments landscape so they can take advantage of opportunities to improve cash management efficiency," commented Steve Murphy, Director of Mercator Advisory Group's Commercial and Enterprise Payments Advisory Service and author of the report. "Through a deeper understanding of their clients' particular needs, gained through operational and transactional intelligence, banks can foster greater loyalty."

The note is 10 pages long and contains 4 exhibits.

Companies mentioned in this research note include ACI, AOC, Ariba, D+H, Fiserv, iPay, Transcepta and TSYS.
---
One of the exhibits included in this report: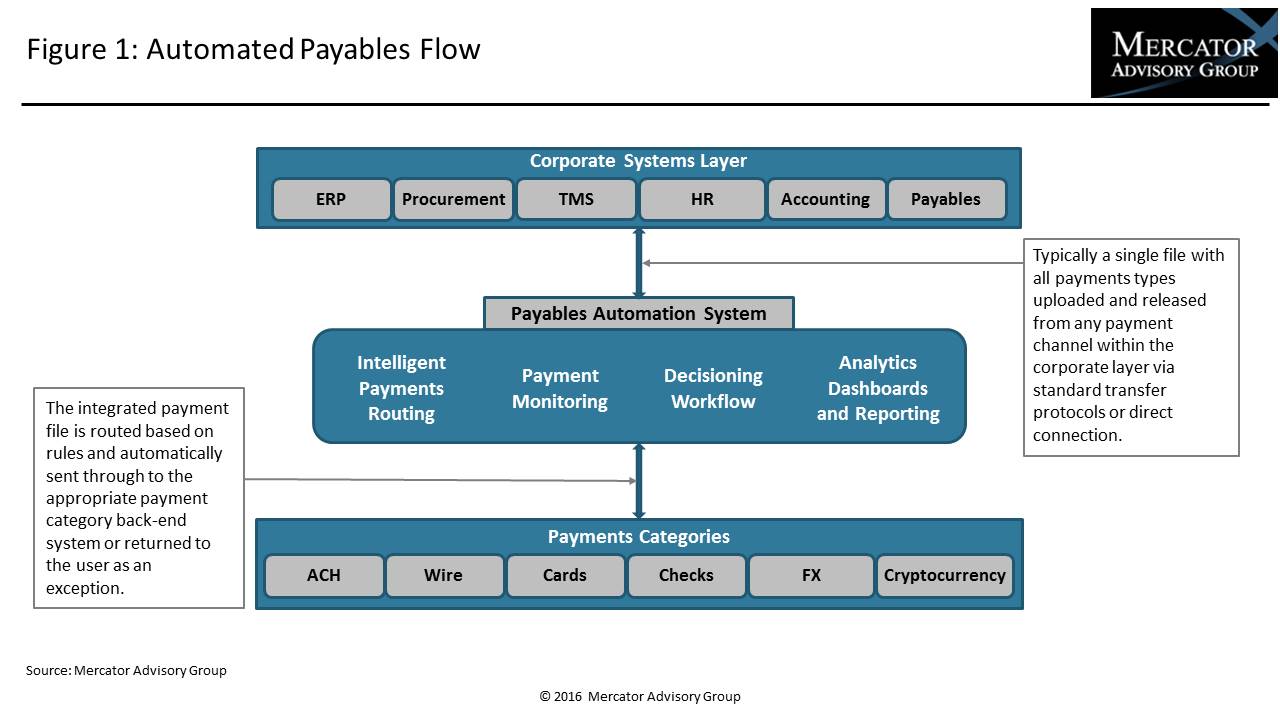 ---
Highlights of the research note include:

Definitions of various digital payments systems and how they often integrate

Graphical depictions of several digital payments models and systems

Distinguishing between infrastructure and software in corporate and bank digital payments 

A discussion and chart of various ways digital payments integrate with the procure-to-pay corporate process flow.
Interested In This Report