Credit Card Issuer Fraud Management: From Technology Inside To People Inside
Author(s):
Mercator Research
Overview
October 2008
Boston, MA
Credit Card Issuer Fraud Management: From Technology Inside To People Inside
NEW RESEARCH REPORT BY MERCATOR ADVISORY GROUP

This report examines the evolving solutions space for issuer fraud management in the credit card industry. Technology-based solutions help issuers to detect fraudulent credit card transactions in near or real time, and have been critical to the containment of issuer fraud losses since introduced in the 1990's. Both outsourcers/processors and card networks serving the industry are also making significant contributions to issuers of all sizes in managing the ever-changing range of fraudulent activities.
Highlights of the report include:
Credit card issuer losses remain surprisingly well-contained despite the continuing evolution of card fraud. On the other hand, total fraud costs in the U.S. related to credit cards alone are conservatively estimated to exceed $16 Billion annually.
Purposeful data breaches are providing particular challenges to the industry, as criminals target easily-monetized payment card information.
Technology providers are enabling greater customization and control capabilities for issuers using their solutions. Outsourcers are filling a critical need for small/medium issuers by both licensing solutions on behalf of issuers and providing the staff support they require.
The opportunity to grow fully-outsourced fraud management services, including analysts, call centers, fraud strategy consultants, etc..., is significant, and may become attractive to larger issuers struggling with staffing and cost issues.
The much-vaunted enterprise fraud management vision could have significant value - but traction is low as organizational and implementation barriers remain high.
Ken Paterson, Director of the Credit Advisory Service at Mercator Advisory Group and the author of the report comments that fraud management is more than limiting losses - it is a strategic capability relying on both sophisticated technology and experienced fraud management staff. "Cardholders afraid to use their cards would present a bigger business problem than fraud alone. Issuers afraid to authorize transactions would drive away business. First class fraud case management, cardholder servicing, and fraud model updating are critical to keeping cardholders engaged, as well as managing fraud risk. And all involve experienced fraud analysts and case managers, no what the issuer's size."
One of the 11 Exhibits included in this report.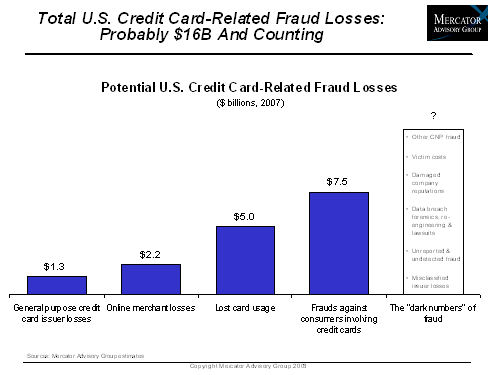 The report is 30 pages long and contains 10 exhibits
Members of Mercator Advisory Group have access to these reports as well as the upcoming research for the year ahead, presentations, analyst access and other membership benefits.
Please visit us online at www.mercatoradvisorygroup.com.
For more information call Mercator Advisory Group's main line: 781-419-1700 or send email to info@mercatoradvisorygroup.com.
---
Interested In This Report
Related content
Private-label credit cards are an essential part of the U.S. card market, but they are a product in slow decline and face several threats, including instant point-of-sale financing...
The cobranded card market is a way to generate loyalty, scale your portfolio, and service the next generation of cardholders.
The Credit Card Data Book is a two-part annual publication that covers the internal and external factors affecting the U.S. credit card market. The first part focuses on environmen...