Credit 2013: Consumers Eye Cobranded Rewards
Author(s):
Karen Augustine
Overview
Boston, MA –January 23, 2014 – Mercator Advisory Group's fourth in a series of eight Insight Reports presenting findings of the 2013 CustomerMonitor Survey Series, reveals that credit card reward participation in the United States declined from 76% in 2012 to 68% in 2013. Reward participation appears to be age dependant as 81% of seniors, 68% of 35–64 year olds, but only 57% of young adults participate in credit card reward programs, marking significant declines in participation among each age group during the past year.
Credit 2013: Consumers Eye Cobranded Rewards, the latest report from Mercator Advisory Group's Primary Data Service, shows that some consumers who are offered retailer or other corporate-branded reward programs (e.g., airline branded) that compete with bank-issued reward programs, consider these rewards better than bank-issued rewards. Cobranded reward programs are luring consumers who may not have otherwise applied for a bank-issued credit cards.
This study examines the demographic shift and changing landscape of credit card use, use of co-branded credit or charge card programs by type, shift of credit card use to other payment types, consumer experience of changing fees, APRs, balances and comfort with borrowing on their credit cards, application channels used for general purpose credit cards and store credit cards and consumers frequency of noticing merchant rules for credit card use and expected reactions to each circumstance.
The report presents the findings from Mercator Advisory Group's CustomerMonitor Survey Series online panel of 3,003 U.S. adult consumers surveyed between May 28 and June 6, 2013.
"Issuers must make their credit card rewards programs enticing to multiple consumer segments and easy to redeem at time of purchase in order to maintain consumer interest," states Karen Augustine, manager of Primary Data Services including CustomerMonitor Survey Series at Mercator Advisory Group and author of the report.
The report is 54 pages long and contains 22 exhibits
Members of Mercator Advisory Group CustomerMonitor Survey Series Service have access to this report as well as the upcoming research for the year ahead, presentations, analyst access and other membership benefits.
---
One of the exhibits included in this report: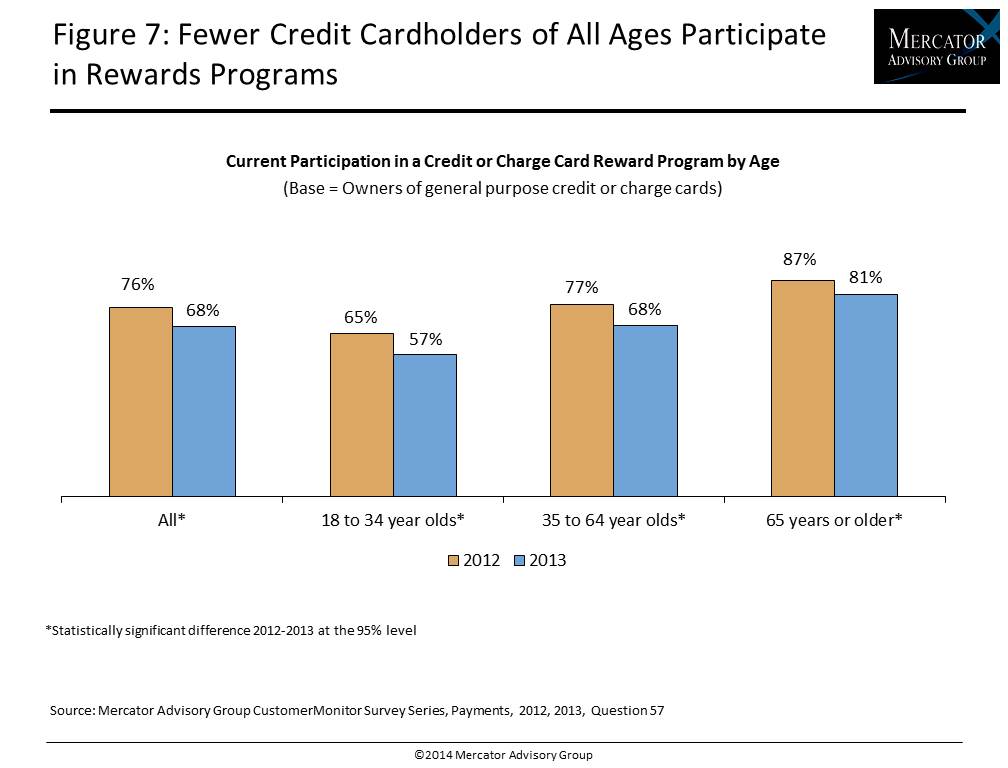 ---
Highlights of this report include:
Year-over-year trending of U.S credit cardholder penetration, cardholder behavior, and changes to features, credit limits, APR, applications, and turndowns

 

Use of contactless cards, EMV chip cards, and cobranded credit cards by type

 

Shifts in channels consumers used to apply for their most recent general purpose and store credit cards

 

General purpose reward card participation, type of rewards available, most valuable reward type, and consumers' estimate of reward program value

 

Consumer perception and expected reaction to merchant rules for credit card use
Interested In This Report