Commercial Cards in Europe: Stagnating or Growing?
Overview
Commercial credit cards include corporate cards, purchasing cards, lodged cards, and recently virtual cards (also known as single-use account, or SUA). Europe has not been a wholesale adopter of the commercial cards model, but expectations for growth of virtual payments are positive, especially in mid-to-large markets. However, new European Union interchange regulations have introduced market noise that bears watching.

In a new research note, Commercial Cards in Europe: Stagnating or Growing? Mercator Advisory Group reviews the status of European mid-to-large market commercial credit cards. Whilst regional spending volumes have historically been driven by business travel, Mercator sees growth in procurement-related spend finally taking off by virtue of single-use accounts.

"The major opportunity should be in the virtual card/SUA space, although starting from a small base, given the inherent advantages to this product," commented Steve Murphy, Director of Mercator Advisory Group's Commercial and Enterprise Payments Advisory Service and author of the report. "The European Union's new Interchange Fee Reform (IFR) regulations will have some impact on corporate card growth, but whether that is a shifting of spending to other payment types or simply a redistribution of card spending share remains to be seen."

The note is 14 pages long and contains 4 exhibits.

Companies mentioned in this research note include Airplus International, American Express, Conferma, Diners Club, Ixaris, JCB, MasterCard, UnionPay, and Visa.
---
One of the exhibits included in this report: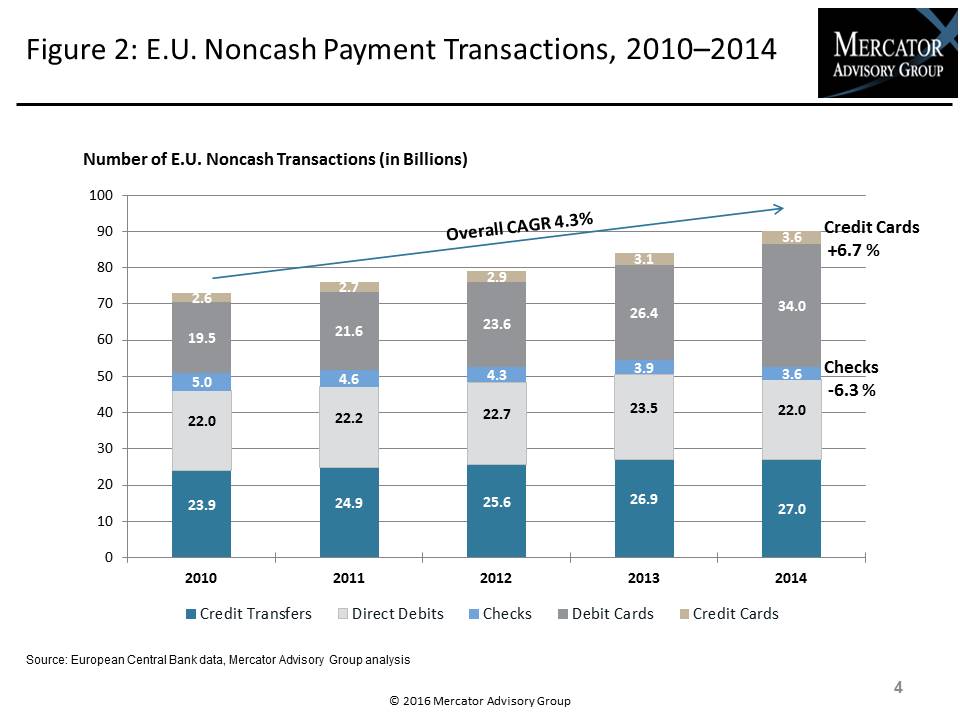 ---
Highlights of the research note include:

A review of the European Union new Interchange Fee Reform regulations enacted in December 2015 by the European Parliament and Council of the European Union in Regulation (EU) 2015/751 IFR, which is a part of Payment Services Directive 2 (PSD2).

Estimates of growth of commercial credit card spend by product type through 2020

Mercator's analysis of potential impacts of E.U. IFR on commercial credit cards by product/scheme

Discussion of the virtual account opportunity in business-to-business, or B2B, payments
Interested In This Report