Overview
Boston, MA
December 2007
Commercial Cards and the Multinational Space:
One Small Slice of the Global Commercial Payments Pie
NEW RESEARCH REPORT BY MERCATOR ADVISORY GROUP
Just a few months ago, Mercator Advisory Group proclaimed the purchasing card market specifically to be a "credit channel re-envisioned as software-as-service" and that the way to maximize the efficiency of electronic payments for commercial entities was for banks and other commercial payment service providers to offer broad, integrated technology-based sourcing and payment solutions that would, in essence, capture as much commercial spend of all types, and all payment methods, as possible. While we still contend that global business-to-business payments are best managed by commercial financial service providers with a diverse array of products and offerings, some of which may compete directly and indirectly with cards, the market for commercial cards of all types remains very attractive. The rates of growth for volume charged on purchasing cards, corporate travel and entertainment cards, fleet cards, and especially small business cards have been remarkably strong since their birth over two decades ago and their adoption by businesses and governments worldwide. The commercial card category remains the fastest growing one in the plastic "pay-later" world.
While the global move to electronic payments most definitely has businesses small and large leading the revolution, and the increasing sophistication of commercial entities concerning payments demands that solutions proposals be exceedingly refined, the value of cards continues to be enhanced by networks and issuers, and accessed by enterprises seeking the visibility, regulatory compliance, policy enforcement, business process efficiency, security, and access to working capital that cards afford. And while the commercial payments landscape is the quintessential cost-conscious market, as also witnessed in the merchant acquiring industry among others, an issuer demonstrating the true and exact value of its solutions will always have a market to participate in.
One of the 13 Exhibits included in this report: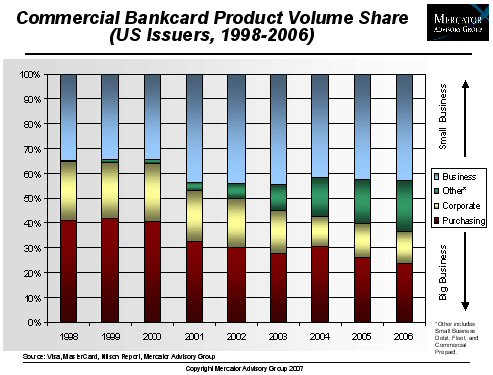 Report Highlights:
1. Analysis of the most recent data indicates that commercial cards (corporate T & E, purchasing, small business, and fleet) comprise the fastest growing card category in the credit space.
2. When it comes to commercial cards, Visa, American Express, and MasterCard have eclipsed all other brands. Growth of global commercial volume is robust for all of the three major card payment networks.
3. Provision of global expense data from supplier to buyer can take several forms-card issuers and service providers are increasingly enabling that process and providing the analytical tools to make commercial payments more streamlined and expenditure data more meaningful.
4. Integration of electronic payments as a means of increasing business process efficiency, providing more control and policy compliance enforcement, and reducing costs is the focus of the current commercial payments market.
5. Multinational corporations are seeking electronic enterprise payments solutions with sophisticated means of capturing, reporting, and analyzing expenditure data. While enhanced data capabilities inherent in commercial card products require merchants to do the heavy lifting, electronic invoicing and virtual account numbers seek to provide effective workarounds.
David Fish, Senior Analyst in Mercator Advisory Group's Credit Advisory Service and principal analyst on the report, comments, "The closing bell for card-based commercial payments is not yet ringing in the mid-to-large corporate and multinational markets-far from it. Though supply chain management transactions, procurement expenditures, and other types of direct spend where data is inherent in the payment process and enterprise architecture will likely always have cards playing second (or third) fiddle, payments for travel, meetings and events, maintenance, fleet services, emergency sourcing, and other kinds of otherwise indirect spending have the distinct potential for commercial cards' penetration of those markets."
This report contains 27 pages and 13 exhibits.
Members of Mercator Advisory Group have access to these reports as well as the upcoming research for the year ahead, presentations, analyst access and other membership benefits. Please visit us online at http://www.mercatoradvisorygroup.com/.
For more information, please call Mercator Advisory Group's main line: 781-419-1700 or send email to info@mercatoradvisorygroup.com.
---
Interested In This Report
Related content
The cobranded card market is a way to generate loyalty, scale your portfolio, and service the next generation of cardholders.
The Credit Card Data Book is a two-part annual publication that covers the internal and external factors affecting the U.S. credit card market. The first part focuses on environmen...
The U.S. credit market continued its path toward stabilization in 2022 but faced several hurdles, including rising interest rates, strained household budgets, and a highly competit...