Branch Banking: Rising Use for Financial Advice
Author(s):
Karen Augustine
Overview
Mercator Advisory Group's most recent Insight Report, Branch Banking: Rising Use for Financial Advice, from the bi-annual CustomerMonitor Survey Series, a part of Mercator's Primary Data Service, reveals that more consumers are turning to financial advisors to help them manage their money (37% report using financial advisors, up from 34% in 2013). While higher-income earners have always been more likely than average to use financial advisors, in 2014 young adults are even more likely to use financial advisors than older adults. Today, young adults appear to be cautious, planning for their future sooner than their parents did.
U.S. consumers are now turning to their primary financial institution (FI) for financial advice, as more consumers have wealth management accounts and increasingly at their primary bank or credit union or other FI (20%, up from 16% in 2013). Young adults are nearly twice as likely as average to seek financial advice from their primary bank or credit union through a wealth management account or relationship. Consumers who have wealth management accounts are more likely to have them at national banks, especially if the account is at their primary bank or credit union.
Consumers seeking financial advice through wealth management relationships are especially interested in being made aware of potential products, special offers, and services that may benefit them based on their personal account history and payment behavior, and they are more likely to want to be notified about these products in person rather than in an email.
Banks are reinventing the branch experience to draw in new customers and engage existing customers in seeking financial advice and discussing additional products and services. Bank branches are becoming an advice center with more personalized services – and, not just for transactions. With the growth of online and mobile banking and broader deployment of ATMs and other self-service channels, more transactions can be done outside the branch. Yet, branches remain the center of most retail customers' banking world, where they can speak with and interact with knowledgeable personnel on important issues that cannot be solved as easily through self-service methods.
The report Branch Banking: Rising Use for Financial Advice shows that branches are still an important center for consumer banking, but the traditional branches are changing to accommodate consumers' new demands. It presents the findings from Mercator Advisory Group's CustomerMonitor Survey Series online panel of 3,000 U.S. adult consumers surveyed in November 2014.
This study examines the demographic shifts, types of relationships with financial institutions, use of bank branches compared to other banking channels, frequency of visits and identifies trends in consumer methods of communicating with their bank and frequency of contact, perceptions of an ideal branch, interest in in-branch videoconferencing, mobile-based personalization and identifies opportunities for cross-selling and new account owners by type of account and methods of account opening.
"As branch visits decline over time, consumers come into the branch for more than purely transactions. They are increasingly seeking advice and a broader range of convenient financial services," states Karen Augustine, manager of Primary Data Services including CustomerMonitor Survey Series at Mercator Advisory Group and author of the report.
The report is 70 pages long and contains 31 exhibits
Members of Mercator Advisory Group CustomerMonitor Survey Series Service have access to this report as well as the upcoming research for the year ahead, presentations, analyst access and other membership benefits.
---
One of the exhibits included in this report: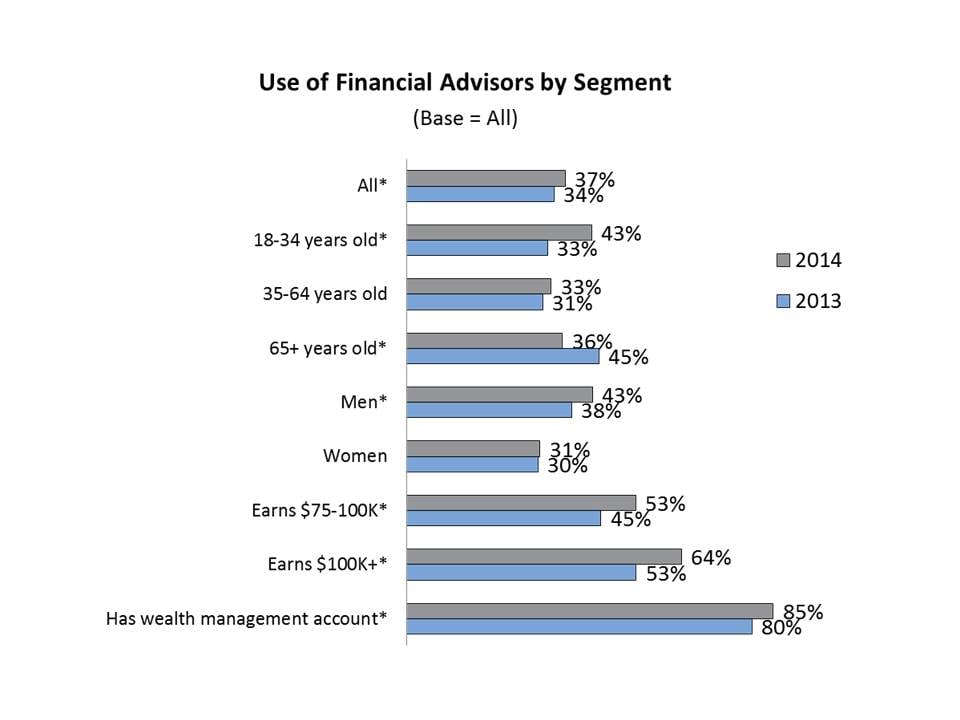 ---
Highlights of this report include:
Year-over-year trending of the number/types of financial institutions used by consumers, the institutions they consider their primary FI, usage of the primary institution's credit card, and types of financial advisors

 

Shifts in communication methods with FIs and satisfaction with those methods

 

Preferred type of branches

 

New account openings by type of account and experience with account opening

 

Reasons for branch usage, frequency of visits, and interaction with branch staff

 

Interest in becoming aware of relevant new financial products and services and preferred methods of learning about them

 

Interest in mobile-based personalization when visiting a bank branch or ATM

 

Trends in use of and interest in in-branch videoconferencing with product specialists or teller-assisted videoconferencing for conducting transactions Interest in mobile-based account controls to limit fraud by card type
Learn More About This Report & Javelin