Branch Banking 2013: The Power of Cross-Selling
Author(s):
Karen Augustine
Overview
Boston, MA –April 14, 2014 –The most recent Insight Report from Mercator Advisory Group's CustomerMonitor Survey Series reveals that while consumers are visiting bank branches less often (46% of consumers surveyed visit a branch more than once a month, down from 51% who did so in 2012), young adults, smartphone and tablet owners, particularly mobile banking users, are especially likely to visit branches frequently. This consistent engagement at the branch enables financial institutions (FIs) to strengthen customer relationships and make a wider variety of services more attractive to their customers.
The survey finds young adults just as likely as seniors to have a credit card with their primary financial institution. These findings were based on responses from a sample of 3,001 U.S. adults with banking relationships collected in the annual online Banking and Channels survey, conducted in November 2013. Our Payments survey, however, suggests that young adults in general are less likely than seniors to have a bank account or a credit card.
Consumers who recently opened a checking or savings account (primarily at a branch location) (57%), as well as consumers who increased their branch visits over the previous two years (59%) are far more likely than average (45%) to have a credit card from their primary FI, thus confirming the power of the branch to motivate consumers to use a financial institution's products.
Branch Banking: The Power of Cross-Selling, the latest report from Mercator Advisory Group's Primary Data Service, highlights consumers' relationships with their primary financial institutions, bank branch use compared to other banking channels (such as ATMs, online banking, and mobile banking), and consumers' rising interest in self-service technologies within the branch to facilitate transactions as well as to resolve issues or speak with product specialists.
This study examines the demographic shifts, types of relationships with FIs, use of bank branches compared to other banking channels, and frequency of visits. It identifies trends in consumer methods of communicating with their bank and frequency of contact, perceptions of an ideal branch, and interest in in-branch videoconferencing and identifies opportunities for cross-selling and new account owners by type of account and methods of account opening.
"The bank branch is far from dead even though branch visits may be declining. The branch needs to evolve to support consumers' changing banking behaviors and increasing use of technology. The branch is a powerful sales tool that is key for cross-selling financial products and services and strengthening the customer relationship," states Karen Augustine, manager of Primary Data Services at Mercator Advisory Group including the CustomerMonitor Survey Series and author of the report.
The report is 37 pages long and contains 24 exhibits
Members of Mercator Advisory Group CustomerMonitor Survey Series Service have access to this report as well as the upcoming research for the year ahead, presentations, analyst access and other membership benefits.
---
One of the exhibits included in this report: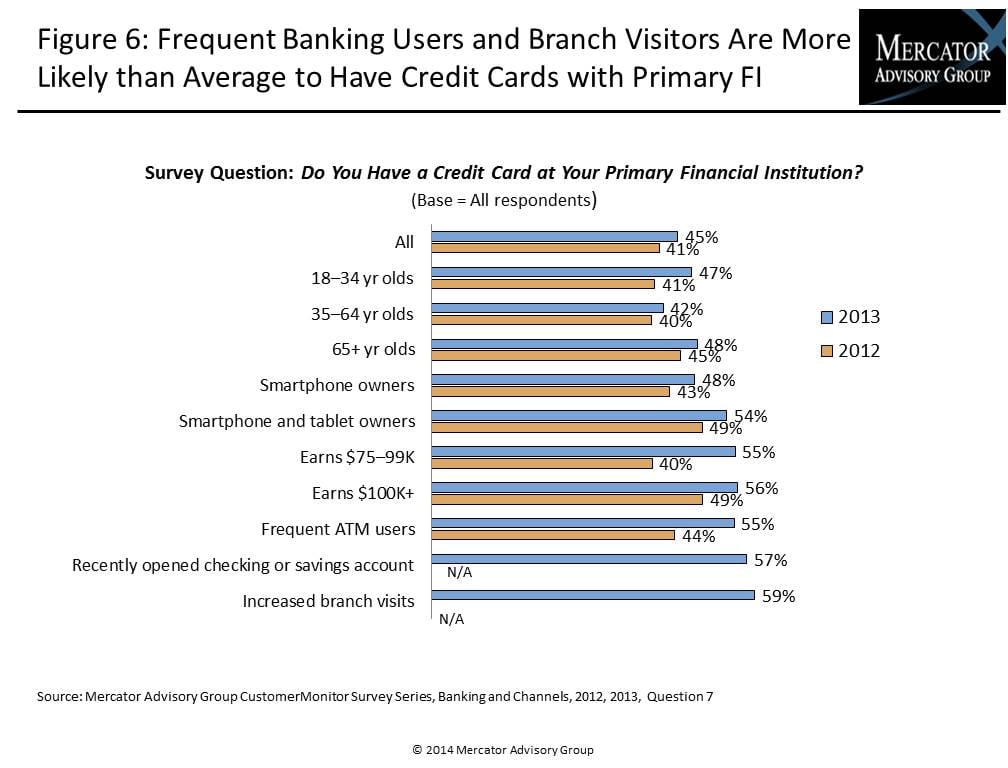 ---
Highlights of this report include:
Year-over-year trending of the number/types of financial institutions used by consumers, the institutions they consider their primary FI, usage of the primary institution's credit card, and types of financial advisors


Shifts in communication methods with FIs and satisfaction with those methods

 

Preferred type of branches

 

New account openings by type of account and experience with account opening

 

Reasons for branch usage, frequency of visits, and interaction with branch staff

 

Interest in becoming aware of relevant new financial products and services and preferred methods of learning about them

 

Trends in use of and interest in in-branch videoconferencing with product specialists or teller-assisted videoconferencing for conducting transactions 
Learn More About This Report & Javelin