Overview
December 2007
Boston, MA
Australian Interchange Regulation: Credit Card Issuer Effects
NEW RESEARCH REPORT BY MERCATOR ADVISORY GROUP

This report examines the history of interchange regulation in Australia, and highlights outcomes for credit card issuers. The course of interchange regulation is well-documented in Australia, but the controversial nature of interchange and the competing viewpoints of stakeholders often obscure the bottom-line outcomes for credit card issuers. It is rare to have the opportunity to examine a before/after, real-world test in credit card markets. And, as the report highlights, the experiment is not yet over, with the stakeholders still seeking a new equilibrium.
Highlights of the report include:
The regulation of Australian interchange provides a natural experiment to explore effects on issuers.

In process for ten years or more, interchange regulation and associated card acceptance rule changes resulted in a minor market share gain for 3-Party card programs.

4-Party program payment volume growth slowed, but account formation and revolving balance growth appear relatively unaffected.

Merchant surcharging is relatively infrequent, but appears to be on the rise affecting all credit card issuers, and threatening more dramatic long-range effects.

The Australian experience offers a number of insights for U.S. issuers, should interchange undergo changes or regulation in that market.
Ken Paterson, Director of the Credit Advisory Service at Mercator Advisory Group and the author of the report comments, "Why should U.S. credit card stakeholders care about the Australia situation? The lightning rod issue of interchange in the U.S. may yet attract a direct hit at some point. The structural changes resulting from such a hit would likely be different in the U.S., thanks to our different interchange practices and history. But changes could certainly be disruptive, and could well involve consequences from a combination of interchange reduction and/or regulation, further erosion of Honor All Cards rules, and enabling of merchant surcharging."
One of the 10 Exhibits included in this report.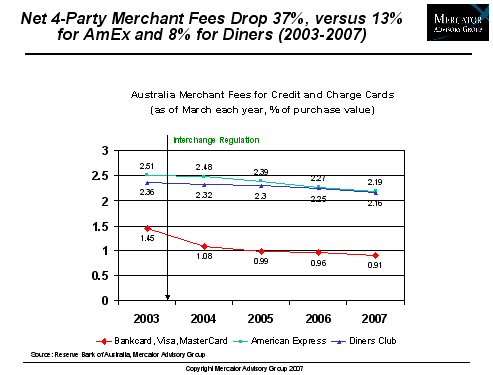 The report is 24 pages long and contains 10 exhibits
Members of Mercator Advisory Group have access to these reports as well as the upcoming research for the year ahead, presentations, analyst access and other membership benefits.
Please visit us online at www.mercatoradvisorygroup.com.
For more information call Mercator Advisory Group's main line: 781-419-1700 or send email to info@mercatoradvisorygroup.com.
---
Interested In This Report