Overview
Boston, MA
May 2005
Account Life Cycle Solutions:
Scoring Solutions in Collections and Recovery
NEW RESEARCH REPORT BY MERCATOR ADVISORY GROUP
The collections stage is the least automated stage in the customer life cycle.  The operations are labor intensive and require skilled collectors.  In this type of operational environment, technologies that improve strategy design as well as the efficiency and effectiveness of the collections personnel can add significant value.
Process Flow Diagram 
One of Five Exhibits in this Report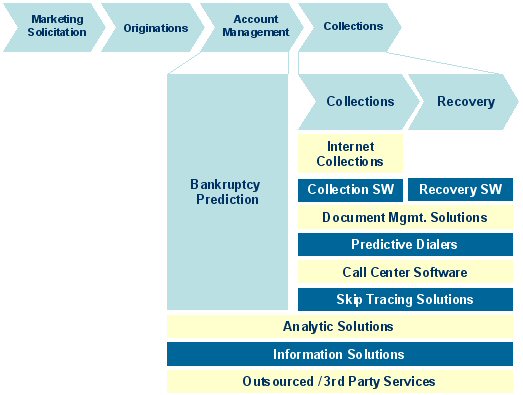 "Becoming a leader in today's competitive credit card markets often requires superior performance at every stage of the account life cycle and the collections stage is no exception, " comments Evren Bayri, a Director in Mercator Advisory Group's Credit Advisory Service.  "The use of analytic technologies at the collections stage can improve the effectiveness of collection and recovery efforts by adding more insight into the process."
This report looks at scoring vendors and their solutions.  It provides an overview of the collections process, a discussion on collections as a source of competitive advantage, an overview of collections solutions, and a discussion on analytic solutions available from selected vendors including: Fair Isaac, Experian, Intelligent Results, Predictive Metrics and Trans Union.
The report contains 27 pages and 5 Exhibits.
Members of Mercator Advisory Group have access to these reports as well as the upcoming research for the year ahead, presentations, analyst access and other membership benefits. Please visit us online at www.mercatoradvisorygroup.com.
For more information call Mercator Advisory Group's main line: 781-419-1700 or send email to info@mercatoradvisorygroup.com.
---
Interested In This Report
Related content
The cobranded card market is a way to generate loyalty, scale your portfolio, and service the next generation of cardholders.
The Credit Card Data Book is a two-part annual publication that covers the internal and external factors affecting the U.S. credit card market. The first part focuses on environmen...
The U.S. credit market continued its path toward stabilization in 2022 but faced several hurdles, including rising interest rates, strained household budgets, and a highly competit...