2022 North American PaymentsInsights: Emerging Payments and Technology - Navigating the Digital Divide in Canada
Overview
Innovation in the Emerging Payments Space Continues to Accelerate
Mercator Advisory Group's most recent report, 2022 North American PaymentsInsights: Emerging Payments and Technology -
Navigating the Digital Divide in Canada, analyzes the impact of technology within Canada on current and future behavior. The report reveals significant impacts that income and education have on both adoption of technology and forward-looking preferences.
The emergence of new technologies consistently shines a spotlight on societal progress, but the shadow cast by that spotlight leaves many underserved communities behind in the effect commonly referred to as the digital divide. The digital divide manifests in many ways, including by income, education, employment, or geography. the digital divide. Throughout this report, we will refer to Mercator Advisory Group's recent survey on emerging payments and technology to uncover areas where there is a higher propensity for Canadians to be interested in or use technology as indicated by either income or education levels as well as areas where the divide has either closed or does not exist.
The report is based on the North American PaymentsInsights survey, administered in 2022 to a nationally representative sample of 1,000 Canadian consumers, ages 18 years or older.
"The continuing and rapid advancement in technology and emerging payments creates an incredible amount of opportunity, however, there are many aspects we've uncovered where income and educational inequality clearly impact a person's ability to have access to new advancements," says Amy Dunckelmann, VP, Research Operations at Mercator Advisory Group.
This report in slide form is 55 pages long.
One of the exhibits included in this document: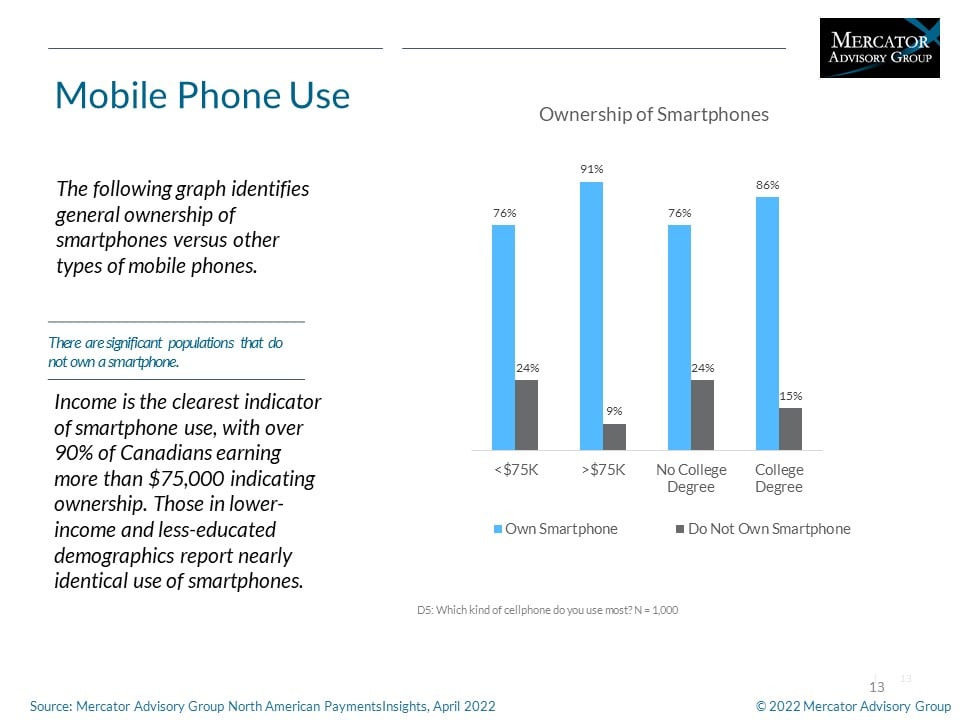 ---
Highlights of this document include:
Technology Access
Mobile Phone Use
Technology Adoption
Payment and Banking Methods
Payment Technology
P2P Payments
Cryptocurrency
Interested In This Report