2022 North American PaymentsInsights, Canada: The Rise of Digital Payments Emerging from COVID
Overview
Mercator Advisory Group Releases Payments Industry Research - The Rise of Digital Payments Emerging from COVID 
From bartering to bank notes, innovations have led to changes in consumer behavior. Methods considered conventional soon give way, just as barter and cash converted to debit cards and credit cards as the most convenient way to complete transactions. The pandemic spurred further innovation in our ways to transact for goods and services through the rise of digital payments, contributing to the decline of legacy payment methods. Circumstances surrounding COVID encouraged people to adopt various forms of contactless payments with greater frequency.
Mercator Advisory Group's most recent report, 2022 North American PaymentsInsights, Canada: The Rise of Digital Payments Emerging from COVID, analyzes the impact of COVID within Canada on consumer payment preferences. The report reveals generational differences in the use of a range of payment forms including cash, cheques, cards, and digital payments.
The report is based on the North American PaymentsInsights survey, administered in 2021 to a nationally representative sample of 1,002 Canadian consumers, ages 18 years or older.
"Payment technology is creating rapid shifts in consumer payment preferences, with COVID acting as a direct change agent, resulting in declines in use of paper payments via cash or cheques. At the same time, we are seeing emerging technologies such as peer-to-peer payments making a large impact on the consumer payment market," says Amy Dunckelmann, VP, Research Operations at Mercator Advisory Group.
This report in slide form is 37 pages long.
One of the exhibits included in this report: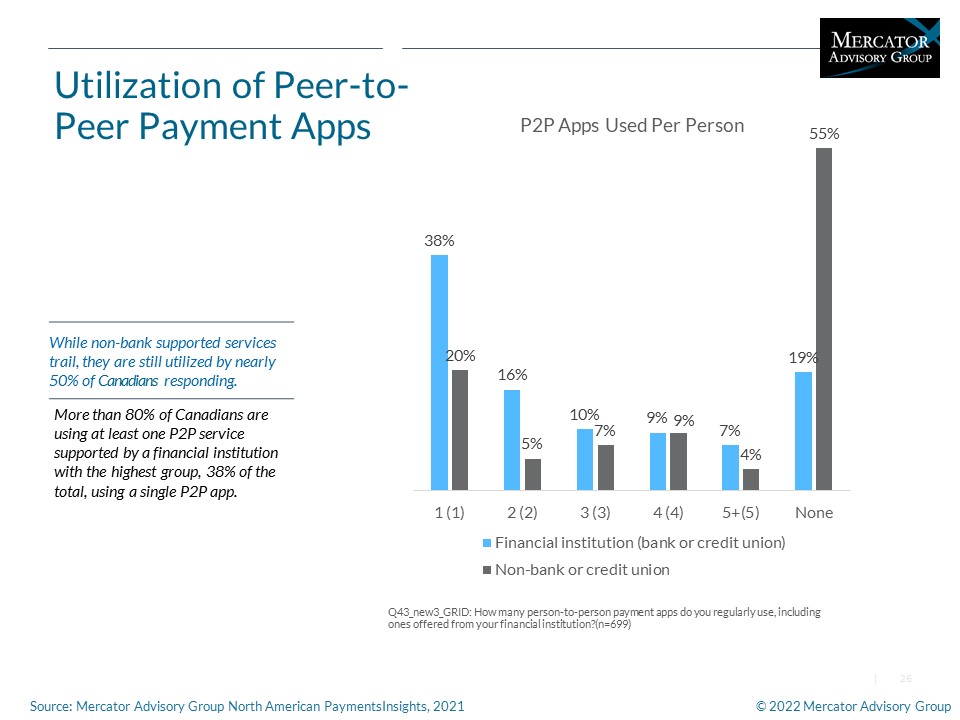 Highlights of this report include:
Decline of Cheques and Cash
Mobile/Digital Payments: Frequency and Use
Trends for Three Major Mobile Wallets

Apple Pay
Google Pay
Samsung Pay

Payment App via Wearables
Peer-to-Peer Payments
Interested In This Report