Overview
Just 20 days before it will begin trading under its own ticker again on the Nasdaq, PayPal announced its intention to buy Xoom for $890 million. Xoom is a digital-focused remittance player that has enjoyed blistering growth with its total transaction volume recording a compounded annual growth rate (CAGR) of 68% in the last five years. Nevertheless, its new customer acquisition costs are high and it has struggled to retain a profit in the face of increased price competition from incumbents in the space like Western Union, MoneyGram, and Ria Money Transfer.
Despite the fact that over half of PayPal's transaction volume comes from outside the United States, it has struggled to establish itself in fast-growing e-commerce markets like China and India. Mercator's research note, Why PayPal Bought Xoom: Emerging Markets Opportunity Too Good to Ignore, strategically analyzes the competitive advantages of both these companies and argues there is a strong case for synergies to be realized that can prove mutually beneficial.
"In emerging markets especially, prepaid digital wallets are a hugely popular means of funding e-commerce purchases, a trend that PayPal has been unable to capitalize on as local players such as Alipay in China and Paytm in India have established their dominance. Remittances could be the Trojan horse that enables PayPal to crack these markets, representing a cost-effective way of acquiring new PayPal users," comments Nikhil Joseph, Emerging Technologies Analyst at the Mercator Advisory Group and author of the note.
The research note contains 12 pages and 8 figures.
Companies mentioned in this research note include: Alibaba, Alipay, eBay, Money Gram, PayPal, Paytm, Ria Money Transfer, and Xoom.
Members of Mercator Advisory Group's Emerging Technologies Advisory Service have access to this note as well as the upcoming research for the year ahead, presentations, analyst access, and other membership benefits.
---
One of the exhibits included in this report: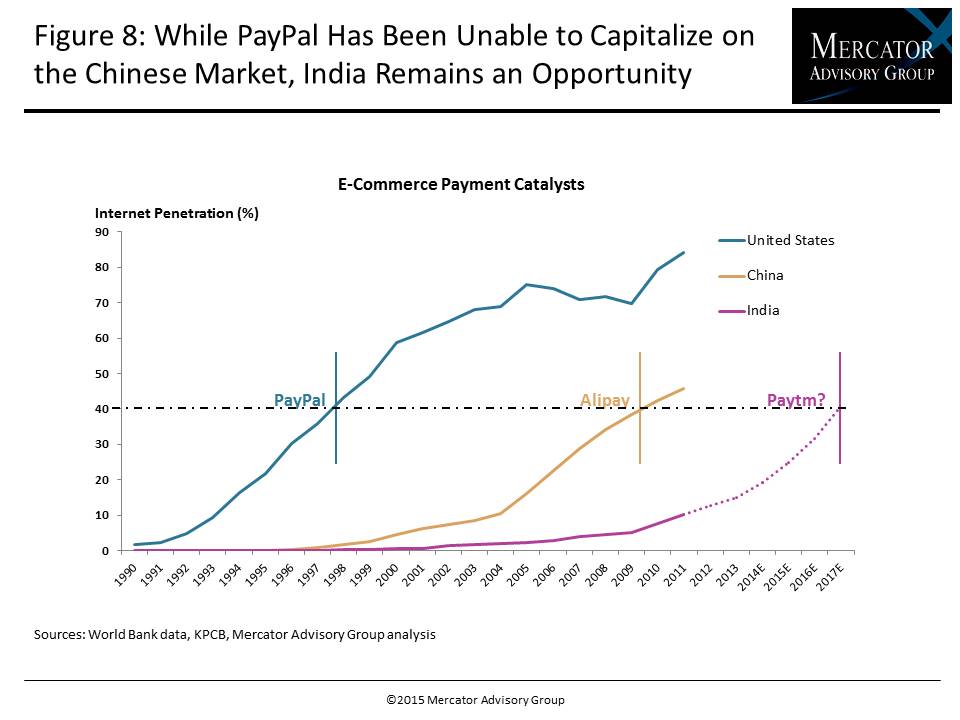 ---
Highlights of the research note include:

Overview of the key trends in the global remittance business

 

Analysis of Xoom's growth over the last five years and what its weaknesses have been

 

Review of where PayPal stands today at separation from eBay and what its strategic priorities need to be

 

Identification of the opportunity that exists in emerging markets and why Xoom could prove useful in helping PayPal capitalize on them
Interested In This Report
Related content
With investment capital tighter in 2023, there's less interest in untested, unproven fintech startups and more of an emphasis on coming out of the chute with products that are read...
Wallet-based digital ID will create a wedge between universal wallets and payment apps, as embedded finance product offerings converge on feature parity over time.
For more than a decade, fintech startups and products have captured outsized attention and investment. In many ways, these companies have set the agenda for driving consumer expect...