Wholesale Lockbox Use Resurging Thanks to Electronic Invoicing
Overview
November 21 2013 – Lockbox functions are still needed, just repurposed from their original intent to automate payments. A case in point is that electronic invoicing is utilizing wholesale lockbox functionality as the first step to invoice automation.
Mercator Advisory Group's newest report, Wholesale Lockbox Use Resurging Thanks to Electronic Invoicing, examines how electronic invoicing is causing a proliferation in the use of lockbox.
"Wholesale lockbox services are instrumental to the delivery of most electronic invoice solutions because the majority of buyers and merchants have not yet made the switch to a paperless order to invoice process,' comments Amy Hoke, Director of the Commercial and Enterprise Payments Advisory Service at Mercator Advisory Group and author of the report. "Wholesale lockbox isn't going away anytime soon."
The report is 20 pages long and contains 14 exhibits.

Companies mentioned in this report include: OB10, Kofax, Scan One, Ariba, Discover Bank, MasterCard, and Basware.
Members of Mercator Advisory Group's Commercial and Enterprise Payments Advisory Service have access to this report as well as the upcoming research for the year ahead, presentations, analyst access, and other membership benefits.
---
One of the exhibits included in this report: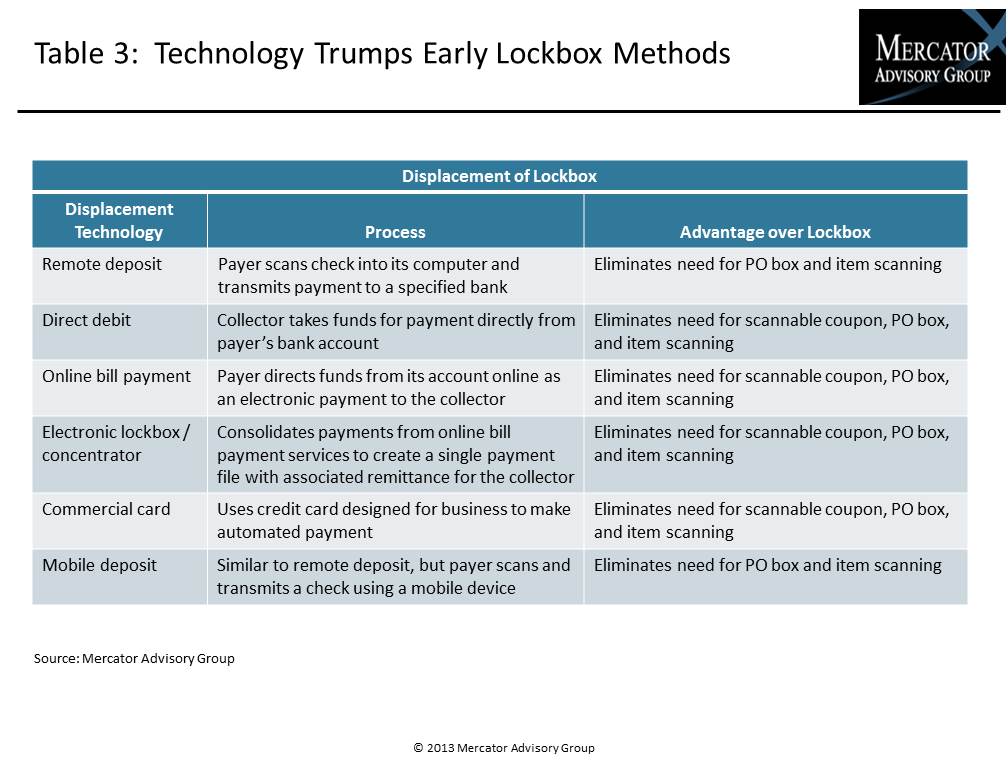 ---
Highlights of the report include:
Function of the lockbox
Displacement of traditional paper-based lockbox
The way wholesale lockbox works with electronic invoicing solutions
Convergence of lockbox with commercial card and ACH
Options for implementation
Interested In This Report