Overview
New Research Provides Guidance on Social-Self Service and Multi-Channel Integration for FIs
We're Going to Need Stronger Glue: Social Self-Service
Meets Legacy Customer Service
Boston, MA. -- August 14, 2009 - Most Americans are amenable to automated self-service but the difficulty of providing a consistent quality experience to FI customer self-service continues to challenge the industry. In the face of today's low-cal IT budgets and rising number of options for accountholders, it is time for FI service leadership to take a hard look at what Web 2.0, web services and social self-service tools to improve customer satisfaction.
In a new report, We're Going to Need Stronger Glue: Social Self-Service Meets Legacy Customer Service, Mercator Advisory Group investigates the advantages of web services-based infrastructure, the emerging social self-service channel as employed by financial institutions and the challenges inherent in managing these new channels. The report examines the promise and threat of mobile devices that put multiple customer self-service options into a single device as financial institutions try to deliver a consistent accountholder experience.
"The temptation to employ social self-service options as enabled by Facebook and Twitter should not be given into lightly as, once in those waters, a graceful exit is difficult to engineer," George Peabody, Director of Mercator Advisory Group's Emerging Technologies Advisory Service and principal analyst on the report. "While a committed presence demonstrates a willingness to participate in today's Web 2.0, FIs are better off improving their existing support channels and their ability to smoothly move accountholders across customer support channels. This is getting more important as mobile devices put more options than ever into consumer hands."
Highlights of the report include:
The challenge of delivering a consistent customer self-service experience is growing as channels multiply on PCs and smartphones.

Automated self-service usage is increasing even among older demographics.

Social self-service through the likes of Facebook, Twitter and Get Satisfaction remain in the early experimentation phase by FIs.

FIs frequently fail to use social self-service channels effectively - for both marketing and customer service - through tepid support or outright abandonment.

Incumbent architectures, economic conditions, and low-cal FI IT budgets, are conspiring against major upgrades and infrastructure consolidation.

Web services will provide opportunities to simplify customer self-service as well as increase the number of customer self-service touchpoints almost exponentially
An Exhibit included in this report: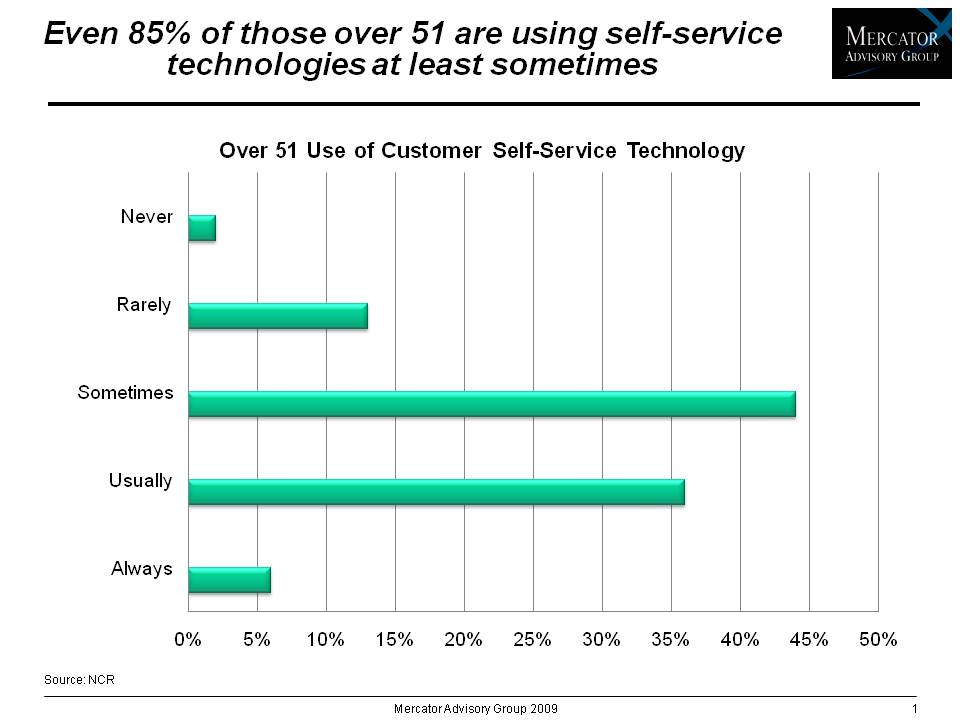 This report contains 25 pages and 4 exhibits.
Companies and programs mentioned in this report include: Metavante, ACI Worldwide, Chordiant, Convergys, Genesys, Amdocs, Pega Systems, Nuance, Postilion, SoundBite Communications, Get Satisfaction, CoTweet, Waterfield Technologies, Worklight, SmartyPig, FaceBook, Twitter, PayPal, LiveOps, Yodlee.
Members of Mercator Advisory Group have access to these reports as well as the upcoming research for the year ahead, presentations, analyst access and other membership benefits. Please visit us online at www.mercatoradvisorygroup.com.
For more information and media inquiries, please call Mercator Advisory Group's main line: 781-419-1700 or send E-mail to info@mercatoradvisorygroup.com.

Mercator Advisory Group is the leading independent research and advisory services firm exclusively focused on the banking and payments industries. We deliver pragmatic and timely research and advice designed to help our clients uncover the most lucrative opportunities to maximize revenue growth and contain costs. Our clients range from the world's largest payment issuers, acquirers, processors, and associations to leading technology providers.
---
Interested In This Report
Related content
With investment capital tighter in 2023, there's less interest in untested, unproven fintech startups and more of an emphasis on coming out of the chute with products that are read...
Wallet-based digital ID will create a wedge between universal wallets and payment apps, as embedded finance product offerings converge on feature parity over time.
For more than a decade, fintech startups and products have captured outsized attention and investment. In many ways, these companies have set the agenda for driving consumer expect...