Overview
Boston, MA
January 2009
Virtual Point-of-Sale: Diving in and Disappearing into the Line of Business Application
NEW RESEARCH REPORT BY MERCATOR ADVISORY GROUP
Mercator Advisory Group is pleased to announce the release of its latest report, Virtual Point-of-Sale: Diving in and Disappearing into the Line of Business Application.
Since its inception, browser-based vPOS has helped countless merchants with MOTO and low-volume walk-up sales. It remains a useful approach for small merchants with only occasional need to handle card-based payments. It even has the option of supporting card present sales.
Beyond looking after these simple transactions, vPOS capability is diving into the line of business application that drives the merchant's sales process. From small businesses running Quickbooks to large enterprise users of Salesforce.com or SAP, payment capability is now an embedded feature of core business applications.
Payment enablement of a line of business application, arguably the best place for payments to take place, requires considerable effort. This new report examines two approaches to the problem of card payment enablement. The report concludes with an examination of how business applications on the iPhone are becoming payment enabled.
Highlights from this report include:
Browser-based virtual point of sale (vPOS) continues to offer value to MOTO and low-volume walk-up merchants.
vPOS capability, software-based payment transactions, is optimal when subsumed into a merchant's line of business application (LOB).
The dedicated application add-in model, embedding payment processing capability into a line of business application, is a viable vPOS tactic for merchant acquirers and processors.
IP Commerce flips the application add-in model by using a general purpose payments interface that speeds payment-enablement for the LOB software developer and gives wider choice as to processing partner to the merchant or LOB application user.
Mobile vPOS is following an evolutionary path similar to PC-based approaches. Integrated LOP applications for very small merchants, including payments, are available now on the iPhone.
"While virtual point of sale terminals continue to do yeoman's work for small merchants with low walk-up volumes, the action is in enabling business application software to make and take payments," comment Elisa Athonvarangkul Tavilla, Senior Analyst of Mercator Advisory Group's Emerging Technologies Advisory Service. "As a volume driving strategy for merchant acquirers and processors, connecting up the line of business application's sales functions with payments capability makes sense. For merchants, it saves time and simplifies operations."
One of the 6 Figures and 2 Tables included in this report: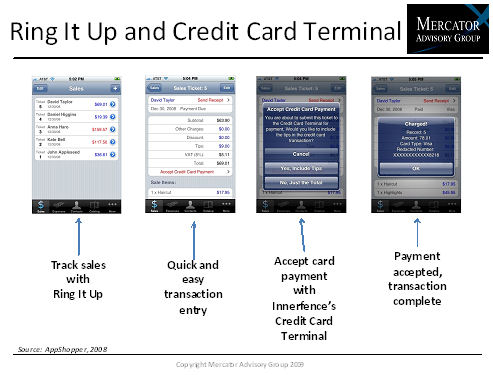 This report contains 26 pages, 6 figures, and 2 tables.
Other recent reports from the Mercator Emerging Technology Advisory Service:
Members of Mercator Advisory Group have access to this report as well as the upcoming research for the year ahead, presentations, analyst access and other membership benefits.
Please visit us online at http://www.mercatoradvisorygroup.com/.
For more information call Mercator Advisory Group's main line: 781-419-1700 or send email to info@mercatoradvisorygroup.com.
---
Interested In This Report
Related content
With investment capital tighter in 2023, there's less interest in untested, unproven fintech startups and more of an emphasis on coming out of the chute with products that are read...
Wallet-based digital ID will create a wedge between universal wallets and payment apps, as embedded finance product offerings converge on feature parity over time.
For more than a decade, fintech startups and products have captured outsized attention and investment. In many ways, these companies have set the agenda for driving consumer expect...