Venture Capital in Payments 2010: How VC Funding Drives Global Payments Innovation
Author(s):
Mercator Research
Overview
Venture Capital in Payments 2010:
How VC Funding Drives Global Payments Innovation
Research surveys global VC market, identifying most promising VC backed payments companies in recent years
Venture capital (VC) investments have provided the necessary funding and guidance to turn ideas and concepts into products and services in the market which drive industries forward. These investments are also critical in ensuring the most promising and viable ideas, technologies, and business models are screened with great due diligence and receive the most support.
Today, the global payments industry is facing mounting challenges including public pressure, regulatory scrutiny, difficult economic climate, wide-spread financial crisis, changing consumer behaviors, among others. Innovations are crucial to the health and growth of any industry.
Mercator's latest research Venture Capital in Payments 2010: How VC Funding Drives Global Payments Innovation, surveys the global VC market to identify, profile, and analyze some of the most promising payments companies worldwide that received VC investments over the past two years (2008-2009). By looking at the ideas, business models, and technologies that successfully secure VC investments, Mercator provides insights into what payments innovations are expected to have the best chances to change the way payments are made tomorrow.
"Though the venture capital industry is a highly specialized one, it has tremendous impacts on the evolution and development of almost all industries, with the payments industry being no exception." Terry Xie, Director of Mercator Advisory Group's International Advisory Service and principal analyst on the report comments. "By looking at the payments industry through investors' perspective, people in the industry can get the chance to see what is emerging over the horizon and can potentially change their way of thinking and doing business."
Highlights of the report include:
In 2009, the global payments industry still performed well with total VC funding growing by 27% from a year earlier with the number of companies receiving VC funding remaining roughly at the same level as in 2008.


U.S. dominates the global VC investment market in the area of payments. China and India, the two largest emerging markets in the world, also attracted significant attention from global VC investors.


The general trend is toward more diversified solutions with deeper segmentation of the consumers and commercial payments markets.


Online payments, mobile payments, and prepaid are the three sectors attracting a bulk of global VC funding in payments.


In 2010, the global venture capital market will recover and payments innovators worldwide will benefit from more active VC investments and more funding overall.
One of the 11 Exhibits included in this report: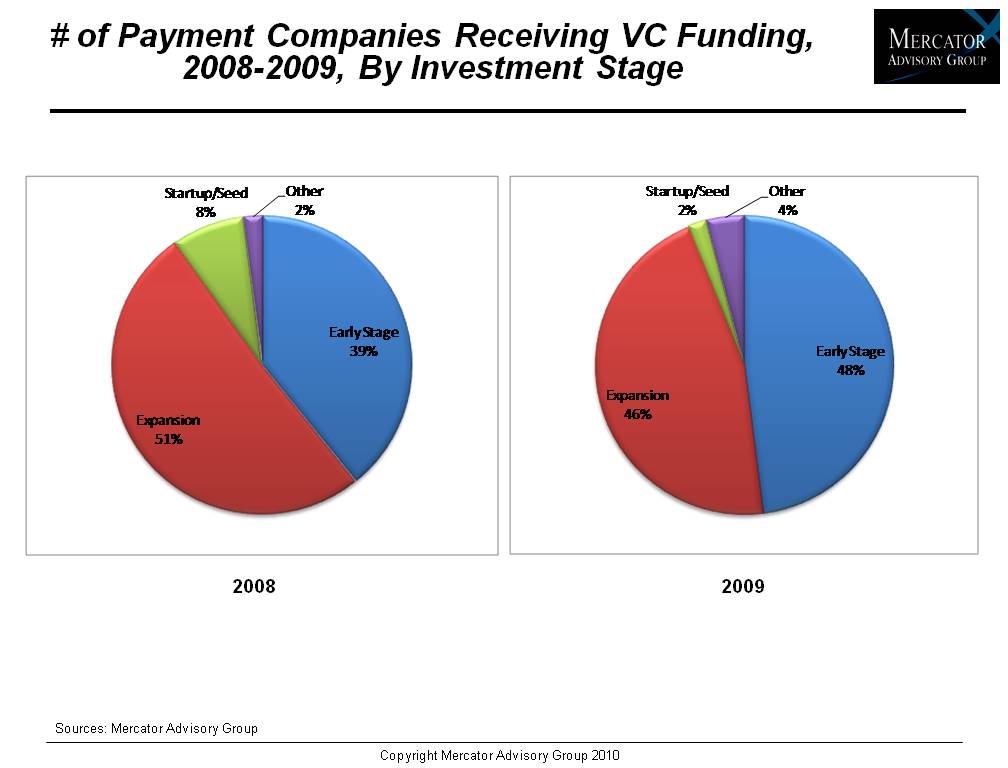 This report contains 36 pages and 11 exhibits.
Companies covered in this report series include: Acculynk, Advanced Payment Solutions (APS), American EPay, Beijing Shenzhoufu, Bill.com, Bling Nation, Cardlytics, Dynamics, edo Interactive, eWise Systems, FINO, gWallet, iSend, InstaMed, IP Commerce, ItzCash, Jambool, Lending Club, mChek, MocaPay, the National Payment Card Association, oneTXT, OboPay, PaySimple, Plastyc, Progress Financial Corporation, Ready Financial Group, Retailo, Revolution Money, RightsFlow, Rixty, Shanghai HandPay, SparkBase, Square, Transaction Wireless, Trivnet, TxVia, Vindicia, WePay, WiredBenefits, among others.
VC investors mentioned in this report include: August Capital Management, Bain Capital, Canaan Partners, DCM, First Round Capital, FTV Capital, Intel Capital, Lightspeed Venture Partners, Oak Investment Partners, Seventure Partners, Total Technology Ventures, Village Ventures, and Visa.

Members of Mercator Advisory Group have access to current and past reports as well as the upcoming research for the year ahead, presentations, analyst access and other membership benefits.
Please visit us online at www.mercatoradvisorygroup.com.
For more information, please call Mercator Advisory Group's main line: 781-419-1700 or send email to info@mercatoradvisorygroup.com.
Mercator Advisory Group is the leading, independent research and advisory services firm exclusively focused on the banking and payments industries. We deliver pragmatic and timely research and advice designed to help our clients uncover the most lucrative opportunities to maximize revenue growth and contain costs. Our clients range from the world's largest payment issuers, acquirers, processors, and associations to leading technology providers.
---
---
Interested In This Report