US Smart Card Update: Contactless Emerges As A Viable Smart Card Platform
Author(s):
Mercator Research
Overview
Boston, MA
February 2006
US SMART CARD UPDATE:  CONTACTLESS EMERGES AS A VIABLE SMART CARD PLATFORM
NEW RESEARCH REPORT BY MERCATOR ADVISORY GROUP
Across the globe, smart card shipments have continued to grow with over 130 million smart cards deployed in 2004.  However, despite the acceptance of smart cards, the United States' unwillingness to adopt EMV standards has translated into few ongoing smart card initiatives with payment applications.  Recently, however, smart cards have gained attention in America for payments due to the emergence of contactless payment solutions.
"Many in the industry had given up on the viability of smart cards in any sort of financial services or payment application in the United States after various attempts had failed over the years," according to Melanie Broad, Research Analyst in Mercator Advisory Group's Emerging Technologies Service and principal analyst on the report.  "However, with the recent emergence of contactless payments initiatives, associations, issuing banks and merchants have found a manifestation of smart cards they hope will find widespread adoption in the United States.  There is a large opportunity for contactless payment solutions and until we see how acceptance of these new implementation plays out amongst the various parties, smart cards can not be written off as irrelevant to American payment-related applications."
In US Smart Card Update, Contactless Emerges As A Viable Smart Card Platform, Mercator Advisory Group examines the current global market for smart cards.  Smart card shipments and growth are discussed.  Turning to the US specifically, the report examines the fate of various past smart card initiatives in the United States.  Finally, the report examines the trend towards contactless payments in the United States.  Looking at associations, issuers, card manufacturers and merchants, the report analyzes key players in the contactless space.  Mercator Advisory Group research also highlights trends in the payments industry as a whole that are driving contactless payment solutions' growth and identifies various attributes of contactless' development that will enhance the business case over that of traditional smart cards.   
In addition to showing growth of contactless solutions overall, Mercator Advisory Group's latest report explores both the benefits and limitations of contactless solutions for payments.
One of three exhibits included in this report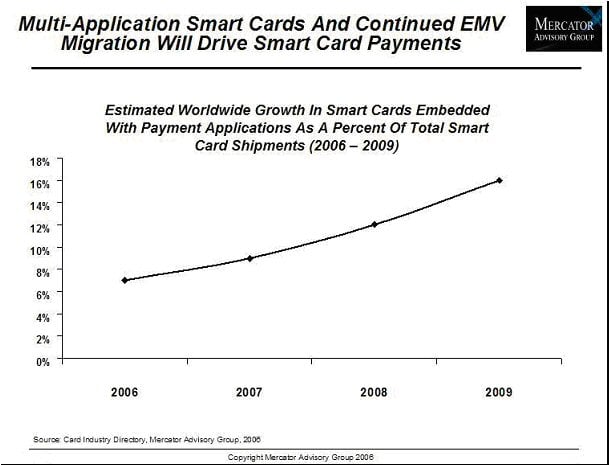 The report contains 25 pages and 3 exhibits.
Members of Mercator Advisory Group have access to these reports as well as the upcoming research for the year ahead, presentations, analyst access and other membership benefits. Please visit us online at www.mercatoradvisorygroup.com.
For more information call Mercator Advisory Group's main line: 781-419-1700 or send email to info@mercatoradvisorygroup.com.
---
Interested In This Report