U.S. Small Businesses are Reeling as a Result of COVID-19
Overview
Mercator Advisory Group's new Insight Summary Report, 2020 Small Business PaymentsInsights, COVID-19 and B2B Payments & Cards - The Result of the Pandemic, reveals that U.S. small businesses have a much less positive view of the future than in previous years. The report is the first of three from Mercator's annual Small Business PaymentsInsights Survey Series, a part of Mercator's Primary Data Service. It is based on findings from Mercator Advisory Group's online survey of 2,000 U.S. small businesses fielded in March and April 2020.
The report details the ways COVID-19 has changed small businesses and their outlook on the near-term future of their businesses. The report also provides insight into how small businesses bank and pay for goods and services, their banking relationships, how they view technology and their top business concerns.
"Small businesses have been hit hard by the pandemic. In many ways, more than their larger counterparts. Organizations that service small business have an opportunity to help these firms as they try to come out of the COVID crisis," states the author of the report, Pete Reville, Director of Primary Data Services including Small Business PaymentsInsights Survey Series at Mercator Advisory Group.
The report is 56 pages in length.
Companies mentioned in the report include: Alipay, American Express, Apple Pay, Chase Pay, Discover, Google Pay, Kabbage, Lending Club, LevelUp, Mastercard, OnDeck Capital, PayPal, Prosper, Samsung Pay, WeChat Pay.
---
One of the exhibits included in this report: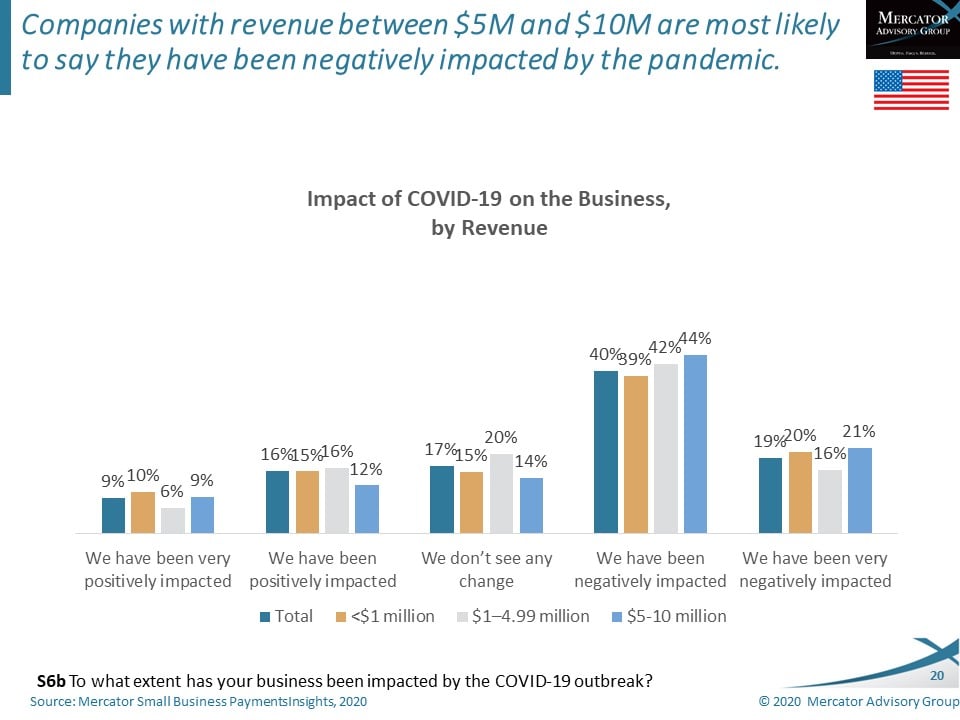 ---
Highlights of this report include:
Two-thirds of small businesses surveyed report that they have been negatively impacted by the pandemic.
One-half are more pessimistic about their 2020 outlook than they were before the outbreaks.
Projections for 2020 with regard to revenue, profitability and employment have nearly halved compared to 2019.
The use of business credit cards by small businesses has increased from 52% in 2019 to 56% in 2020.
There is a significant gap between the issuers' delivery of customer service and credit lines relative and customer expectations.
Interested In This Report