The U.S. Population of Unbanked Individuals is Shrinking
Overview
The U.S. population of unbanked individuals is shrinking.
The efforts of fintechs and, to a lesser degree, traditional financial institutions to provide robust banking solutions to the unbanked population through prepaid cards are helping individuals to safely store funds, receive deposits quickly, purchase goods, pay bills and get cash at reasonable costs while reducing the overall population of unbanked individuals, as explored in new research from Mercator Advisory group; The U.S. Unbanked Issue is Improving; Are You Part of the Solution?
"The wave of neobanks and challenger banks that has emerged in the last several years is playing an outsized role in helping to bank the currently unbanked. They join other fintech players to offer services with easy access, smart user apps and nearly free banking solutions, attracting millions of customers. Their sustainability is certainly in question, however. Currently these businesses operate at a loss or with thin margins and recent efforts to reduce debit card interchange, neobanks' primary source of revenue, creates a new threat," comments Sarah Grotta, Director, Debit and Alternative Products Advisory Service at Mercator Advisory Group and author of the report.
This report has 14 pages and 4 exhibits.
Companies mentioned in this report include: Bank of America, Branch, Chase Bank, Chime, Dave, Galileo Financial Services, Green Dot, MoneyLion, MetaBank, N26, Netspend, PNC Bank, Sutton Bank, The Bancorp Bank, U.S. Bank, Varo, Walmart, Western Union.
---
One of the exhibits included in this report: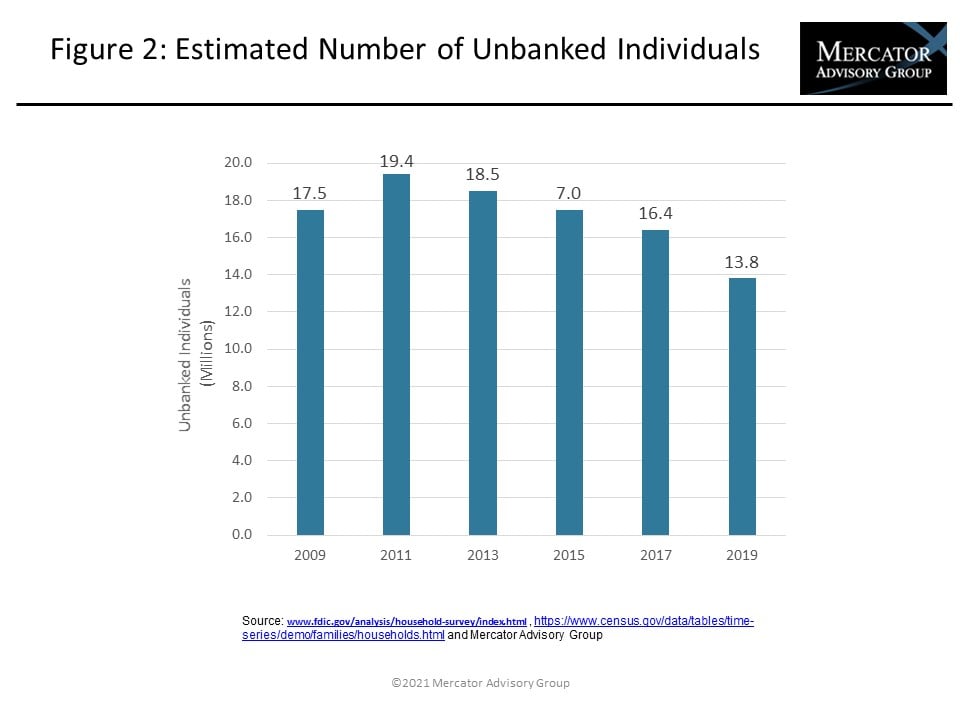 ---
Highlights of the report include:

A review and analysis of the data measuring the size of the unbanked population in the U.S.
The impact that traditional and new fintech-supported accounts have had on attracting the unbanked to more mainstream financial services.
How the effects of COVID-19 may ultimately alter the number of unbanked.
How the government could play a meaningful roll without reinventing banking.
Interested In This Report