U.S. Fleet Cards: Networks Lead with Real-Time Innovation
Author(s):
Michael Misasi
Overview
U.S. Fleet Cards: Networks Lead with Real-Time Innovation
New research from Mercator Advisory Group highlights
segment trends and opportunities
Boston, MA -- An often overlooked and misunderstood segment of the commercial card market is fleet cards. Mercator Advisory Group's latest report, U.S. Fleet Cards: Networks Lead with Real-Time Innovation, provides industry participants with insights into the market's competitive landscape as well as the growth factors influencing the market's various segments.
This report highlights developments in card offerings being adopted by commercial fleets for fuel and maintenance purchases. The research compares fleet cards to other segments of the U.S. commercial card market and discusses how the interests of fleet operators are driving technological innovations allowing them to gain more benefits from card usage.
Highlights of the report include:
Profiles and estimated market shares of the top fleet card networks
Estimated sizing for seven segments of the fleet market, including local, over-the-road, private, for hire, corporate, federal government, and state and local government fleets
Updated commercial card market sizing and growth estimates, reflective of new fleet card research
A discussion of the features and limitations of fleet card management system technology
Michael Misasi, research analyst at Mercator Advisory Group and the author of the report comments, "From a payments perspective, the size of the fleet card segment of the commercial card market is significantly more volatile than that of the purchasing and T&E segments; but in general, rising gasoline prices over the last several decades have contributed to the expansion of the fleet card market in absolute dollar volumes. An emerging disparity among commercial card segment growth rates, however, is motivating several fleet card issuers to diversify their revenue streams, and many now have large corporate purchasing, travel, and multicard portfolios -- both credit and prepaid."
One of the 12 exhibits included in this report: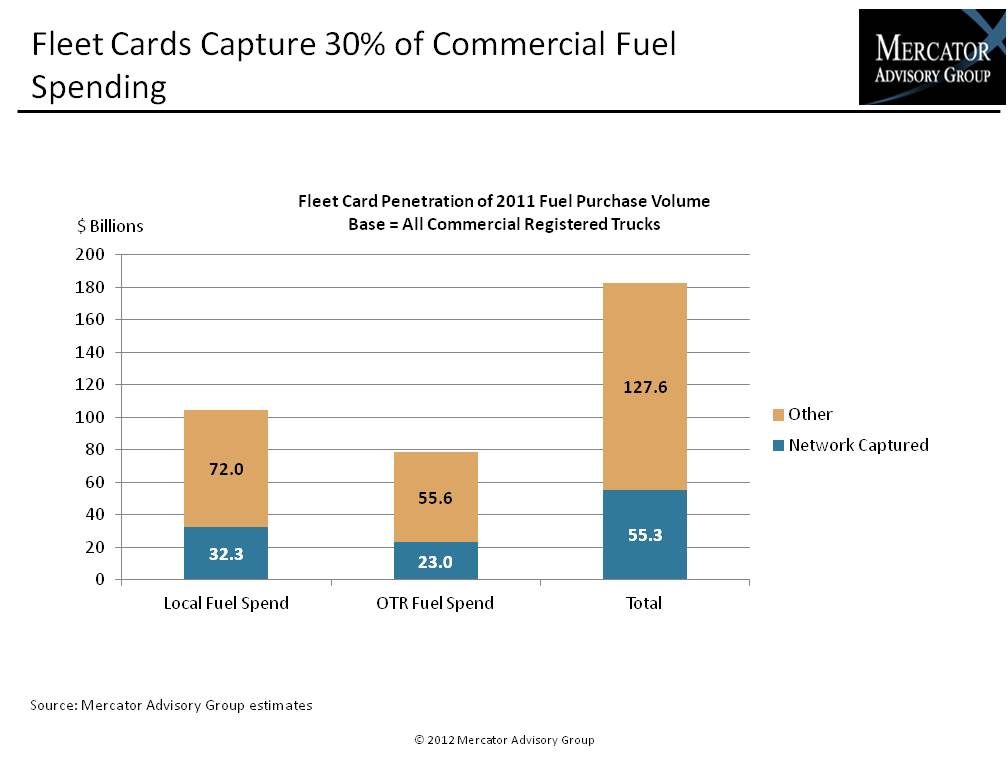 This report is 27 pages long and contains 12 exhibits.
Companies mentioned in this report include: Visa, MasterCard, Comdata, Wright Express, U.S. Bank, FleetCor, First Data, Pilot Flying J, Transportation Clearing House, Citibank, and JPMorgan Chase.
Members of Mercator Advisory Group's Commercial and Enterprise Advisory Service have access to this report as well as the upcoming research for the year ahead, presentations, analyst access and other membership benefits.
Please visit us online at www.mercatoradvisorygroup.com.
For more information and media inquiries, please call Mercator Advisory Group's main line: (781) 419-1700, send E-mail to info@mercatoradvisorygroup.com.
For free industry news, opinions, research, company information and more visit us at www.PaymentsJournal.com.
Follow us on Twitter @ http://twitter.com/MercatorAdvisor.
About Mercator Advisory Group
Mercator Advisory Group is the leading, independent research and advisory services firm exclusively focused on the payments and banking industries. We deliver pragmatic and timely research and advice designed to help our clients uncover the most lucrative opportunities to maximize revenue growth and contain costs. Our clients range from the world's largest payment issuers, acquirers, processors, merchants and associations to leading technology providers and investors. Mercator Advisory Group is also the publisher of the online payments and banking news and information portal PaymentsJournal.com.
---
Interested In This Report