U.S. Credit Cardholders: Waiting For A Rebound - Cross Tabs
Overview
U.S. Credit Cardholders: Waiting For A Rebound
First of the 2011 Mercator CustomerMonitor Survey Series probes
consumer outlook and credit card usage
Boston, MA -- The payments and banking industries continue to cope with consumers who remain cautious about credit card usage. However, after a difficult period during 2009 and 2010 when consumers experienced many changes to their credit card accounts, they are beginning to note fewer negative experiences with their credit cards. As the industry awaits a turnaround in consumer credit demand, it is clear that consumers are changing the ways in which they apply for credit.
The first in the 2011 series of eight topical consumer survey reports examining payment and banking topics, Mercator Advisory Group's U.S. Credit Cardholders: Waiting For A Rebound report provides a unique view to current consumer credit card behavior. Included are patterns of credit card ownership, usage, attitudes toward future card use, application channels used, and reasons for card selection.
The report is based on a national sample of 1,012 online consumer survey responses completed between May 19-24.
Highlights of this report include:
Usage trending for general purpose (GP) credit and debit cardholding, and which type of payment card is the most widely-held

Rare positive signs regarding spending and closing credit card accounts
Consumer trending regarding applying for credit cards

The cardholders more likely to report stable or increased use of credit cards and those more likely to report reduced usage

The markedly different channel usage of consumers who applied for cards in the last year
"It was during our first CustomerMonitor payments survey in 2009 that we discovered a potential sea-change in consumer credit behavior, and evidence that consumers were actively steering away from credit. The 2010 survey showed that still more consumers were avoiding credit card use, as well as the fact that many had already turned their back on card use. This year the saga continued, and we finally saw some moderation in consumers' hard edge against credit card usage, "noted states Ken Paterson, VP for Research Operations at Mercator Advisory Group and the author of the report. "On the other hand, we also saw that credit card account application incidence among our survey respondents continued to decline, threatening a recovery in account origination volumes for issuers."
One of 14 exhibits in this report: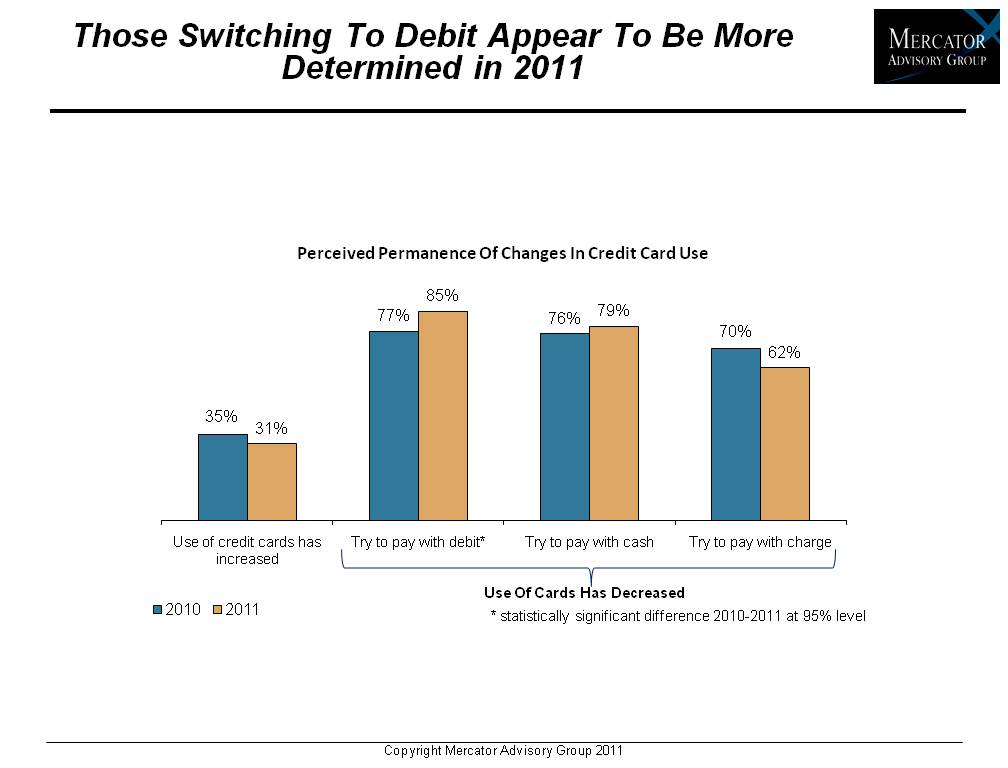 The report is 31 pages long and contains 14 exhibits.
Members of Mercator Advisory Group have access to this report as well as the upcoming research for the year ahead, presentations, analyst access and other membership benefits.
Please visit us online at www.mercatoradvisorygroup.com.
For more information and media inquiries, please call Mercator Advisory Group's main line: (781) 419-1700, send E-mail to info@mercatoradvisorygroup.com.
For free industry news, opinions, research, company information and more visit us at www.PaymentsJournal.com.
Follow us on Twitter @ http://twitter.com/MercatorAdvisor.
About Mercator Advisory Group
Mercator Advisory Group is the leading, independent research and advisory services firm exclusively focused on the payments and banking industries. We deliver pragmatic and timely research and advice designed to help our clients uncover the most lucrative opportunities to maximize revenue growth and contain costs. Our clients range from the world's largest payment issuers, acquirers, processors, merchants and associations to leading technology providers and investors. Mercator Advisory Group is also the publisher of the online payments and banking news and information portal PaymentsJournal.com.
---
Interested In This Report