U.S. Credit Card Debt: Circle the Wagons and Fortify
Overview
Three indicators signal risk for the U.S. credit card industry: New account bookings surged since 2011. Active credit card lines now exceed $3.4 trillion. And, 30-day credit card delinquency deteriorated in first quarter 2017.
Mercator Advisory Group's latest research, U.S. Credit Card Debt: Circle the Wagons and Fortify, discusses the rapid post-recession buildup in consumer credit card debt in the United States and why credit card issuers must ensure their operations are running at full speed to protect against an upcoming wave of potential write-off, which will translate into lower credit card industry profits and balance sheet risk.
According to the report, U.S. households are adding new credit despite sky-high volumes of outstanding credit card debt, auto finance, and student loans. Adding new customers and coming up with new payment tools is exciting, but issuers need to keep their eye-on-the ball particularly since the lending growth is outpacing household income growth.
"From a lender's lens, growth is terrific, but from an investment view, question arises: Can the U.S. household carry all this debt? Bankers need to harness their credit card portfolios with leading-edge collection tools and execute the right strategies to rehabilitate fragile household budgets. The focus needs to be on collection tools, technology, and staff development," commented Brian Riley, Director, Credit Advisory Service, Mercator Advisory Group, author of the report.
This research report is 21 pages long and has 10 exhibits.
Companies mentioned in this report include: ACI Worldwide, American Express,Bloomberg Markets, Capital One, Celeriti Fintech, Citi, Discover, Experian, Equifax,FICO, First Data, FIS, Fiserv, LexisNexis Risk Solutions, MasterCard, New York Times, SAS, Saylent Technologies, TransUnion, USA Today, and Visa.
---
One of the exhibits included in this report: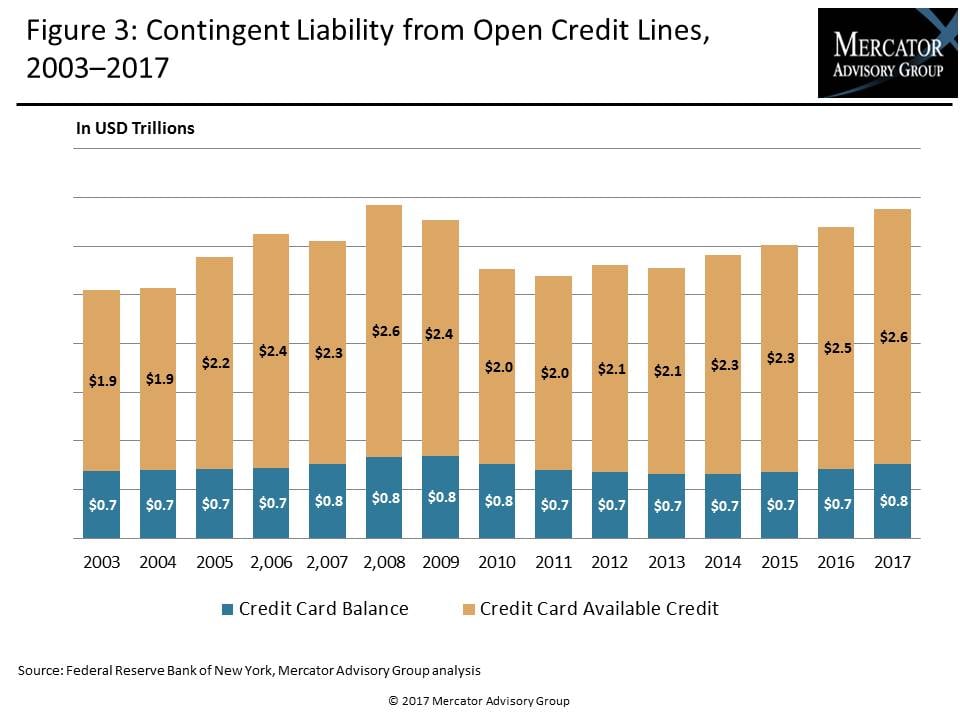 ---
Highlights of the research report include:

An illustration of the rapid lending pace for credit cards, auto finance, and student loans outweighing income growth
A review of what contingent liability means and the impact of more than $800 billion revolving debt on credit cards and an additional $2.6 trillion in open credit card lines
An explanation of the credit card aging model and the write-off process and how it works
Nine essential components for an effective collection strategy
Discussion on credit scoring and data enhancements for the bank card credit operation
Interested In This Report
Related content
The cobranded card market is a way to generate loyalty, scale your portfolio, and service the next generation of cardholders.
The Credit Card Data Book is a two-part annual publication that covers the internal and external factors affecting the U.S. credit card market. The first part focuses on environmen...
The U.S. credit market continued its path toward stabilization in 2022 but faced several hurdles, including rising interest rates, strained household budgets, and a highly competit...