U.S. Consumers and Credit: Playing the Rewards Game
Author(s):
Karen Augustine
Overview
The most recent Insight Summary Report from Mercator Advisory Group's biannual CustomerMonitor Survey Series, titled U.S. Consumers and Credit: Playing the Rewards Game, reveals that bank-issued rewards programs are becoming more valuable. When considering applying for a new credit card, consumers are more likely to visit their primary financial institution and consider it more valuable than searching online at other financial institutions or at an aggregator site.
No annual fee and attractive rewards are the two most important factors in deciding which credit card to use.
The survey finds that nearly 3 in 4 general purpose credit or charge card users participate in a credit or charge card rewards program, especially high-income earners. While many of these reward participants are offered cash back, points for nontravel rewards, flexible redemption in multiple categories and fewer say they have points for travel or hotel stays, cash back on total purchases is increasingly noted as their most valuable reward, by half of reward program participants. Young adults, however, are less likely than average to consider cash back their most valuable reward and are more likely to favor points for nontravel rewards and other benefits.
This study examines the demographic distribution of credit card use in the United States, use of co-branded credit or charge card programs by type, changing patterns of credit card use relative to other payment types, credit card payment habits, and self-assessed credit history, as well as notice of and reaction to merchant steering practices, usage of peer-to-peer lenders by brand and reasons for use, consumer experience of changing fees, APRs, motivators to increase credit card borrowing and credit card spending, methods used to shop for new credit cards, application channels used for general purpose credit cards and store credit cards, and consumers' notice of and reaction to merchant rules for credit card use and interest in mobile-based account controls.
The report presents the findings from Mercator Advisory Group's CustomerMonitor Survey Series online panel of 3,011 U.S. adult consumers surveyed in June 2017.
"In 2017, we see consumers playing the rewards game with credit cards, as they shift to using the credit card they perceive to offer the most valuable rewards. This year, that is increasingly a bank-issued credit card from their primary financial institution," stated Karen Augustine, manager of Primary Data Services, including CustomerMonitor Survey Series, at Mercator Advisory Group and author of the report.

The report is 86 pages long and contains 36 exhibits.
Companies mentioned in this report include: American Express, Apple, Discover, ExxonMobil, Fundation, Lending Club, JP Morgan Chase, ING Bank, Kabbage, Mastercard, OnDeck, Regions Bank. Santander, Scotia Bank, SoFi, Visa, and Wells Fargo.
---
One of the exhibits included in this report: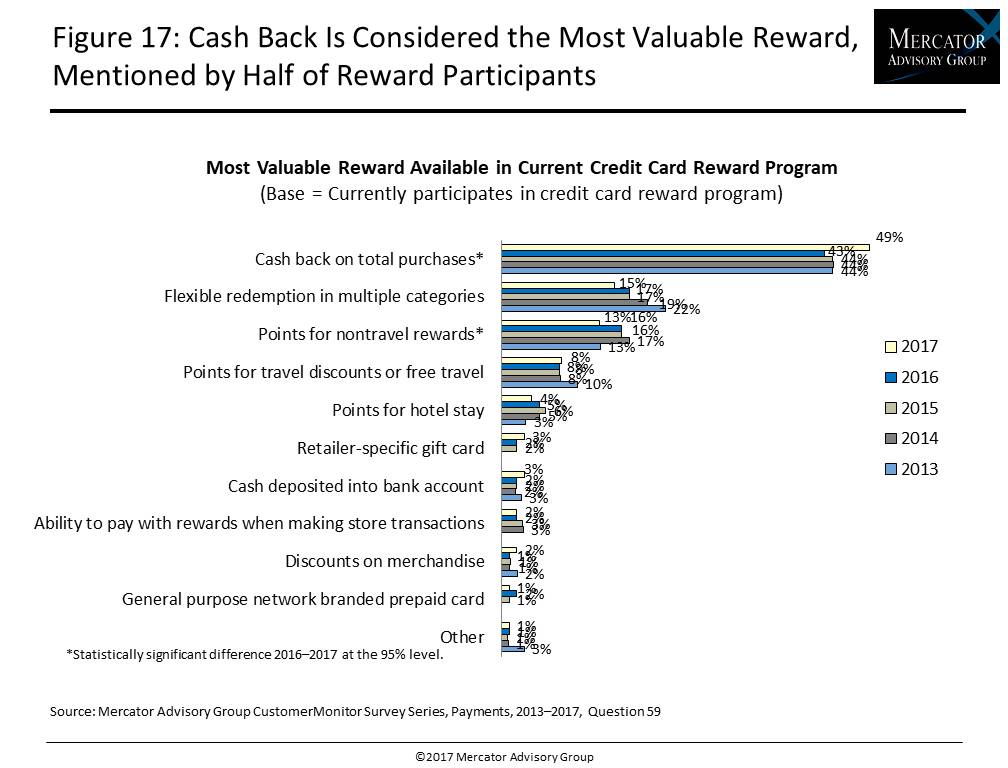 ---
Highlights of this report include:

Year-over-year trending of penetration of credit cards in the U.S. market, cardholder behavior, and changes to features, credit limits, APRs, applications, and turn-downs
Usage and interest in EMV chip cards by type and user experience in the U.S. and abroad
Usage of co-branded credit cards by type
Shifts in the channels that consumers used most recently to apply for general purpose and store credit cards
General purpose reward card participation, type of rewards available, most valuable reward type
Interest in applying for new credit cards and most valuable methods of shopping
Consumer perception and expected reaction to merchant policies and practices restricting credit card use or steering customers to other payment forms
Interest in mobile-based account controls for use by cardholders to limit fraud on their accounts by card type
Typical payment habits and use of automatic payments
Usage of peer-to-peer lenders by brand and reasons for use
Interested In This Report