Update on the Full-Service Banking Branch Channel
Overview
Boston, MA – April 29, 2014 – Boston, MA – Banks and credit unions are striving to identify the most appropriate use of full-service personnel and to determine which branch configuration makes the best use of these resources. Though branch transformation has been under way for some time, it has accelerated recently as financial institutions look for ways to improve branch efficiencies and effectiveness. Mercator Advisory Group research has uncovered a trend toward a promising new hub-and-spoke model being tested and deployed by some institutions.
In new research, Update on the Full-Service Banking Branch Channel, Mercator Advisory Group reviews the emerging transformation of bank branches occurring among banks and credit unions.
"Most financial institutions still see the value of branches even though some are reducing the number and size of their branches to reduce costs. The question isn't whether branches are relevant—it has been established that they are. Rather, the role of today's branch channel is changing fundamentally from just a transactional channel to a more effective tool to educate and dispense advice to existing and potential customers for the sake of cross-selling and generating new revenue as well as deepening customer relationships," comments Ed O'Brien, Director of Mercator Advisory Group's Banking Channels Advisory Service and author of the report.
This Research Note is 10 pages long and has 6 exhibits.
Organizations mentioned in this Research Note include: Apple, Bank of America, Citi, Chase, Coastal Federal Credit Union, First Capital Bank of Texas, Macy's, Mid-Hudson Valley Federal Credit Union, Nordstrom, PCSB Bank, SAIB (Saudi Arabia), Umpqua Bank, and Wells Fargo.
Members of Mercator Advisory Group's Banking Channels Advisory Service have access to this report as well as the upcoming research for the year ahead, presentations, analyst access and other membership benefits.
---
One of the exhibits included in this report: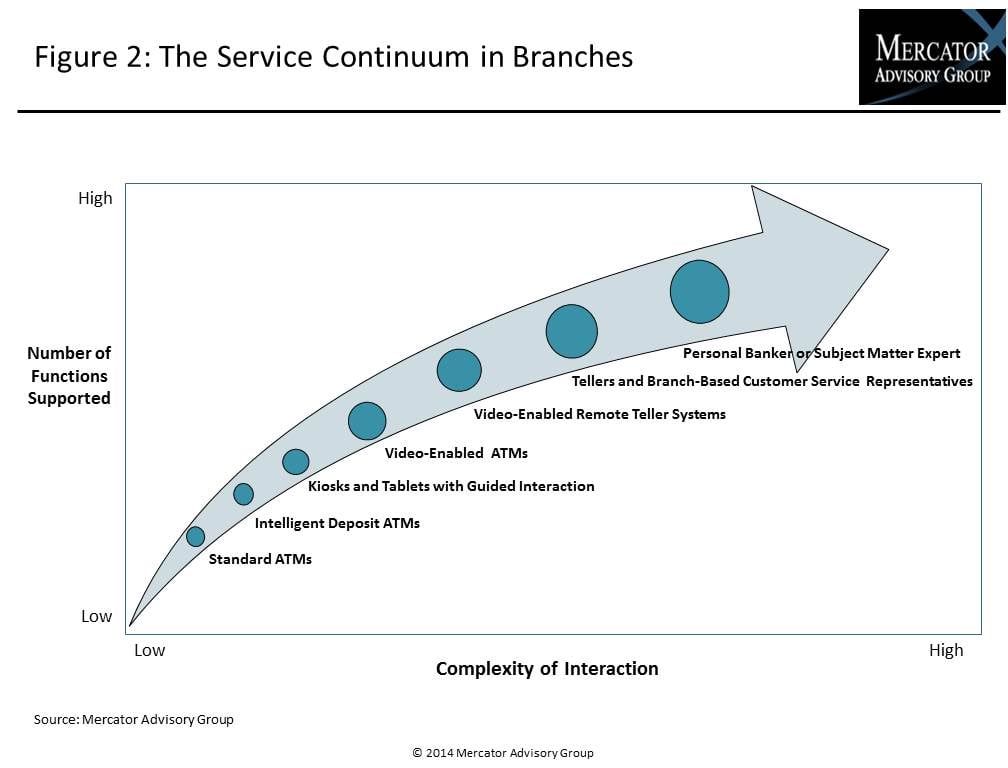 ---
Highlights of this report include:
New branch configurations and tools that financial institutions are deploying to improve branch efficiencies and effectiveness

 

Ways to optimize branches and customer satisfaction by offering different levels of touch and interaction

 

Description of a new hub-and-spoke model with interconnected branches of different sizes and configurations for different purposes

 

Mercator Advisory Group survey data on consumer willingness to try new methods of branch interaction
Learn More About This Report & Javelin