Unlocking Customer Loyalty in Asia's Card Markets
Author(s):
Mercator Research
Overview
Boston, MA
December 2007
Unlocking Customer Loyalty in Asia's Card Markets
NEW RESEARCH REPORT BY MERCATOR ADVISORY GROUP
General purpose payment card usage is on the rise in many markets in Asia. As such, competition between card issuers to gain and retain customers has significantly intensified. Similarly to the U.S. card market, many issuers in Asia are offering a vast array of reward programs, including frequent flyer air mileage, cash back, points-based programs, and others. As reward programs become more popular and accepted, Asian consumers appear to welcome such programs and are making wide use of them. However, the track-record of these programs in increasing customer loyalty and boosting card usage is mixed. Consumers are not only constantly seeking the card that offers them the most benefits but those that best suit their lifestyles and payment needs as well. The variety of reward programs currently offered across Asia is richer than ever, and it has become increasingly challenging for issuers to offer programs that distinguish their product from that of their competitors'. The key for issuers is to know their customers and offer products and services that are relevant and tailored to their customers' preferences and payment needs.
One of the 5 Exhibits included in this report: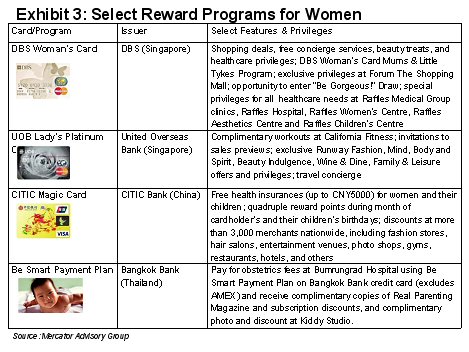 "Reward programs alone are no longer enough to attract customers. Issuers must have a deep understanding of their customers' profiles and spending habits and target and market reward programs accordingly," notes Elisa Athonvarangkul, Analyst, International Advisory Service. "Being able to offer reward programs that are distinctive and accommodate all of your customers' diverse lifestyles and preferences is critical to success."
The most recent report from Mercator's International Advisory Service provides an overview of the variety of reward programs in Asia's card markets. The report presents a comparison of select loyalty programs across Asia, a review of innovations in reward programs and select debit card loyalty programs, a discussion of issuers' strategies to increase customer loyalty and boost card usage, as well as Asian consumers' response.
This report contains 34 pages and 5 exhibits.
Members of Mercator Advisory Group have access to these reports as well as the upcoming research for the year ahead, presentations, analyst access and other membership benefits. Please visit us online at http://www.mercatoradvisorygroup.com/.
For more information, please call Mercator Advisory Group's main line: 781-419-1700 or send email to info@mercatoradvisorygroup.com.
---
Interested In This Report