Overview
The report titled United Kingdom Prepaid Market Dynamics, 2017 provides a baseline perspective into the U.K. prepaid debit card market for those considering entrance or for players already in the market to be aware of the many changes that could impact the U.K. prepaid card market across the current segments.
The economy, regulations, and consumer behavior will all influence the segments that grow and those that will decline as well as determine how the dollars spent play out into segments like events and meetings, incentives, and gift cards. However, uncertainties prevail "due to the terms yet to be decided" in relation to Brexit and how this will affect the U.K economy among other considerations.
Mercator Advisory Group acknowledges several distinct segments in the U.K. market that are in transition, including prepaid gift card (primarily closed-loop) displacing paper vouchers, transit cards (Oyster) which have evolved to an open-loop restricted access network (RAN), and general purpose reloadable (GPR). GPR cards are poised to grow depending on the outcome of anti-money laundering efforts and Know Your Customer (KYC) regulations aimed at eliminating illicit activities often associated with anonymous cardholders.
"Similar to the U.S. market, the U.K. is taking measures to reduce money laundering and to confirm true identification of the card owner. With these additional protections, if the U.K. would also subject the funds on the cards to be protected by the government (like our FDIC insurance), the open-loop prepaid card sector could expand exponentially," commented C. Sue Brown, Director of Mercator Advisory Group's Prepaid Advisory Service, and author of the report.
This report is 20 pages long and contains 12 exhibits.
Members of Mercator Advisory Group's Prepaid Advisory Service and Global Payments Advisory Service have access to this report as well as the upcoming research for the year ahead, presentations, analyst access, and other membership benefits.
---
One of the exhibits included in this report: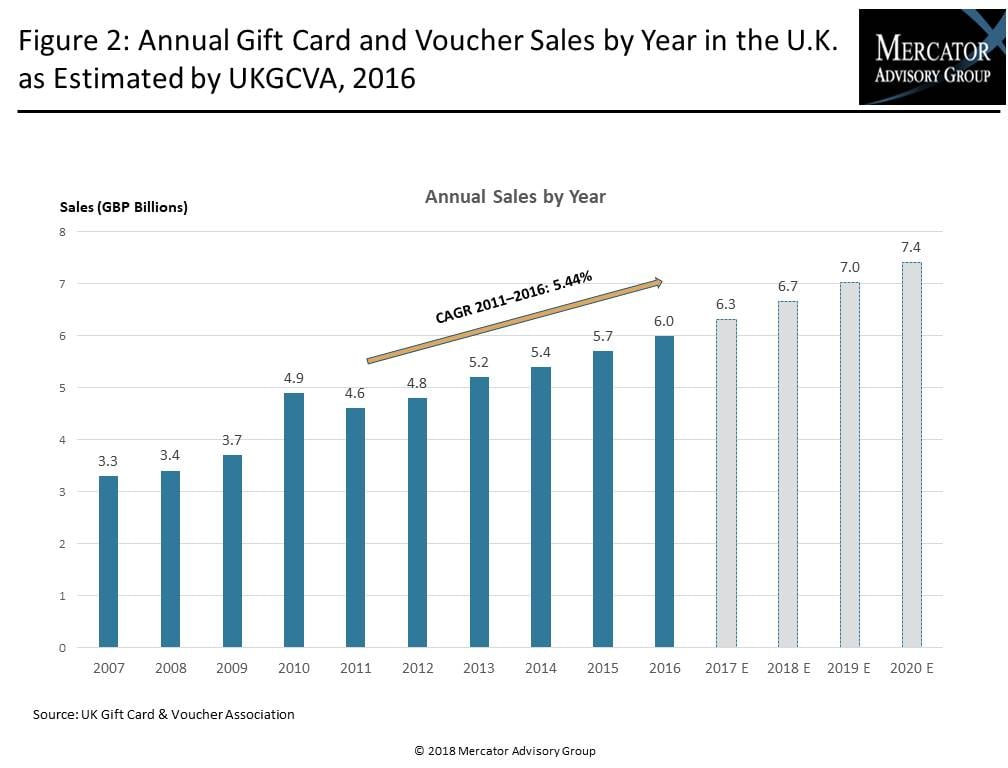 ---
Highlights of the report include:

The U.K. prepaid market is still developing. Annual sales for open- and closed-loop gift cards and vouchers stood at GBP 6 billion. If current growth continues, GBP 7.4 billion can be reached in 2020.
Most retailer gift card programs seem to have an expiry date two years after purchase or latest use. However, breakage is not reported separately by these retailers. This will change in 2018 when breakage will be treated differently from an accounting principle.
A variety of participants exist in the European prepaid card go-to-market model, each actor with different roles and responsibilities. Although different participants can perform various roles, this model allows niche prepaid card models to be developed by small market players who are not required to be licensed.
European and U.K. regulations are expected to have an impact on the prepaid segment. Controls are decreasing usage of anonymous prepaid cards, and strong customer authentication will be required for card transactions.
Interested In This Report