Overview
Boston, MA
December 2006
U.K. Credit Card Issuing:  Across The Pond, But Not Out Of The Woods
NEW RESEARCH REPORT BY MERCATOR ADVISORY GROUP
This report examines recent downturns in U.K. credit card issuing in terms of receivables and payment volume, which are unprecedented in this traditionally fast-growing card market.  Credit card growth rates in the U.K. have historically exceeded those of the U.S., and the decline in growth represents a sudden departure from these trends.  This report highlights comparisons between the U.S. and U.K. in order to look for clues in the growth and maturation of the two markets.
Four major U.K. trends are seen as drivers:                    
*  Consumers' choices to avoid use of card-based credit, due to underlying economic concerns and availability of better-priced loan alternatives.
*  Heightened publicity about allegedly deceptive lending terms employed by issuers.
*  Strong growth of debit as a payment alternative
*  Disruptions caused by implementation and issuance of EMV (chip and PIN).
The confluence of conditions in the U.K. may or may not be unique, but could hold lessons for the U.S. issuers.  The report discusses strategic and product development trends being employed by U.K. issuers in this challenging environment.  While U.K. credit card issuing conditions are challenging conditions.  They are not totally different from those that could arise in the U.S.   
Given the strong historical parallels in the U.K. and U.S. card issuing markets, the U.K. experience offers an interesting case study.  Ken Paterson, Director of the Credit Advisory Service at Mercator Advisory Group and the author of this report comments that; "While U.S. cardholders have coped well with parallel market conditions, with no precipitous behavior changes to date, the U.K. experience raises legitimate questions as to whether U.S. consumers could follow suit."        
One of the 11 Exhibits included in this report: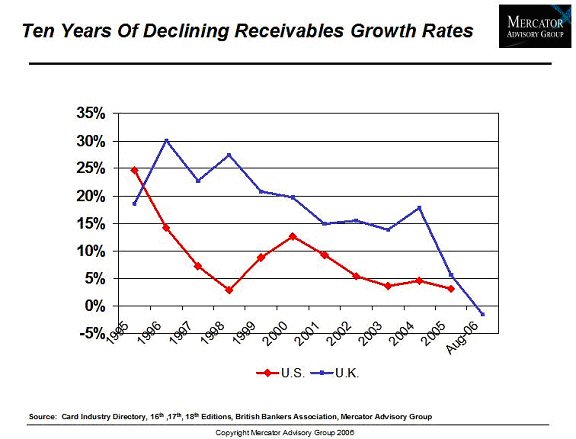 The report is 24 pages long and contains 11 exhibits
Members of Mercator Advisory Group have access to these reports as well as the upcoming research for the year ahead, presentations, analyst access and other membership benefits. Please visit us online at www.mercatoradvisorygroup.com.
For more information call Mercator Advisory Group's main line: 781-419-1700 or send email to info@mercatoradvisorygroup.com.
---
Learn More About This Report & Javelin