Overview
Top 50 Debit Card Issuers: Rewards and Loyalty:
2011 Annual Review
New report from Mercator Advisory Group examines the top 50 debit
cardissuers' rewards programs
Boston, MA -- In new research, Top 50 Financial Institutions' Debit Rewards and Loyalty: 2011 Annual Review, Mercator Advisory Group provides its annual examination of the changes taking place in the rewards and loyalty programs of the top debit card issuers in the United States. This is the first review of these programs since the implementation of the debit card interchange fee regulations that took effect on October 1, 2011. Though readers may expect to see a dramatic change from 2010, the research found that many of the issuers continued their programs, most notably Bank of America.
Many programs have migrated to merchant-funded discount networks (MFDN) strategies. Debit cardholders who value rewards programs will find them continuing to operate at many top financial institutions, which speaks to the resiliency of the product and its stakeholders in the face of significant changes in the business model.
Highlights of this report include:
A discussion of the modifications, additions, and strategies of the top debit card issuers
A matrix of MFDN solutions and the partners putting programs into the market
Analysis of the primary market drivers affecting loyalty strategies in the industry
A detailed matrix of the top 50 debit card issuers' rewards and loyalty programs (including characteristics and qualifications for participation)
"The demise of debit card rewards program might be better defined as the evolution of debit card rewards programs, at least for 2011," Patricia Hewitt, director of Mercator Advisory Group's Debit Advisory Service, comments.
One of five exhibits in this report: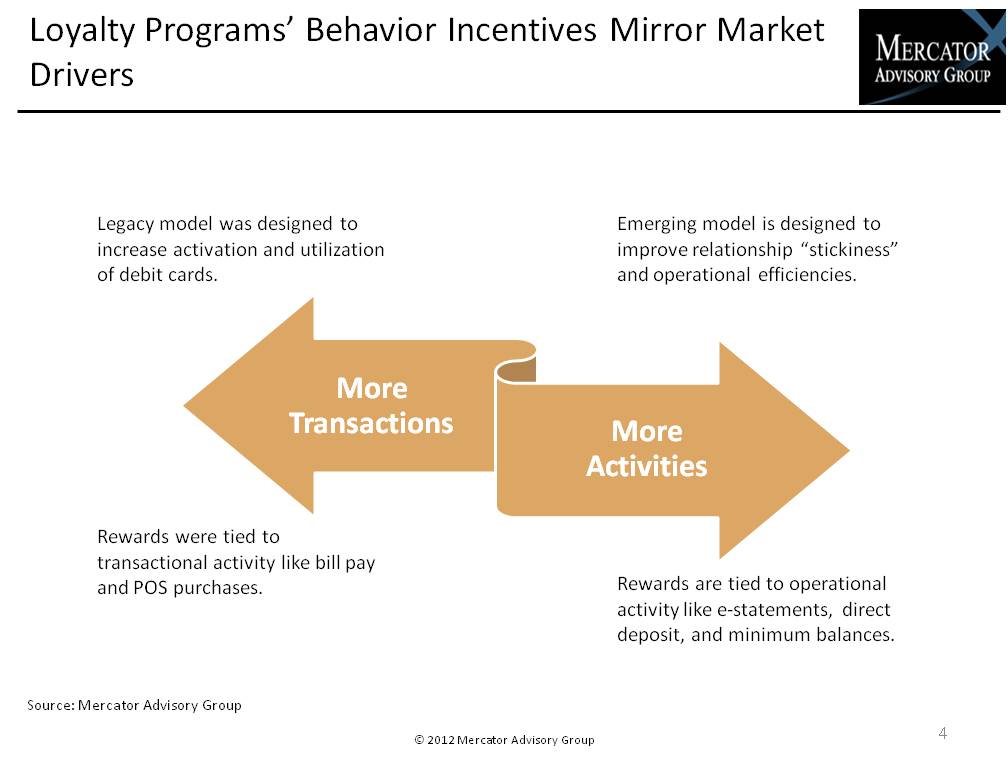 This report is 23 pages long and has five exhibits and an appendix.
Companies mentioned in this report include: Bank of America, U.S. Bank, Wells Fargo, JPMorgan Chase, PNC Bank, Fifth Third Bancorp, Citizens Bank, Visa, MasterCard, Affinity Solutions, Cardlytics, Cartera Commerce, EDO Interactive, Next Jump, and SunTrust.
Members of Mercator Advisory Group's Debit Advisory Service have access to this report as well as the upcoming research for the year ahead, presentations, analyst access and other membership benefits.
Please visit us online at www.mercatoradvisorygroup.com.
For more information and media inquiries, please call Mercator Advisory Group's main line: (781) 419-1700, send E-mail to info@mercatoradvisorygroup.com.
For free industry news, opinions, research, company information and more visit us at www.PaymentsJournal.com.
Follow us on Twitter @ http://twitter.com/MercatorAdvisor.
About Mercator Advisory Group
Mercator Advisory Group is the leading, independent research and advisory services firm exclusively focused on the payments and banking industries. We deliver pragmatic and timely research and advice designed to help our clients uncover the most lucrative opportunities to maximize revenue growth and contain costs. Our clients range from the world's largest payment issuers, acquirers, processors, merchants and associations to leading technology providers and investors. Mercator Advisory Group is also the publisher of the online payments and banking news and information portal PaymentsJournal.com.
---
Interested In This Report