Too Early to Call: Five Mobile Giants
Author(s):
George Peabody
Overview
Too Early to Call: Five Mobile Giants
New research from Mercator Advisory Group reviews recent
innovations and potential for mobile payments
Boston, MA -- Mobile payments and commerce transactions -- particularly the moves by leading entrants Google, PayPal, Isis, Facebook, and Apple -- are at the center of a wave of technical innovation, venture capital investment, and business model disruption. Despite all of that attention, most of these approaches are hardly revolutionary in their impact on the overall payments industry. Card network and ACH-based settlement remain firmly in place. That said, innovation where payments meet the customer -- the mobile device -- is shifting the relationship among consumers, merchants, card brands, and financial institutions.
Mercator Advisory Group's new report Too Early to Call: Five Mobile Giants introduces a straightforward method of evaluating payment innovation and provides a backdrop and forward-looking picture of payment industry evolution over the next five years. The report also examines the five mobile giants and their prospects against five criteria.
Highlights of this report include:
Five criteria used to evaluate entities born out of the Internet and mobile communications revolutions
The unique and overlapping capabilities Google, Isis, PayPal, Facebook, and Apple bring to the payments and commerce functions
The effects of Google's overreliance and suggested strategies to provide more focused offering for merchants and issuers as well as expand its business-to-business offerings
The potential means NFC's peer-to-peer (P2P) mode offers to go around the mobile network operators and the trusted service manager model T
The impact the five mobile giants of Google, Isis, PayPal, Facebook, and Apple will have on card brands and individual issuers.
"The impact of Internet and mobile-based competition on the payments industry is at an early stage. But it is changing as innovative approaches to engage the consumer shift brand awareness and revenue opportunities," states George Peabody, author of the report and Director of Mercator Advisory Group's Emerging Technologies Advisory Service. "Each of the mobile giants considered here has unique strengths and competitive capabilities."
One of 12 exhibits in this report: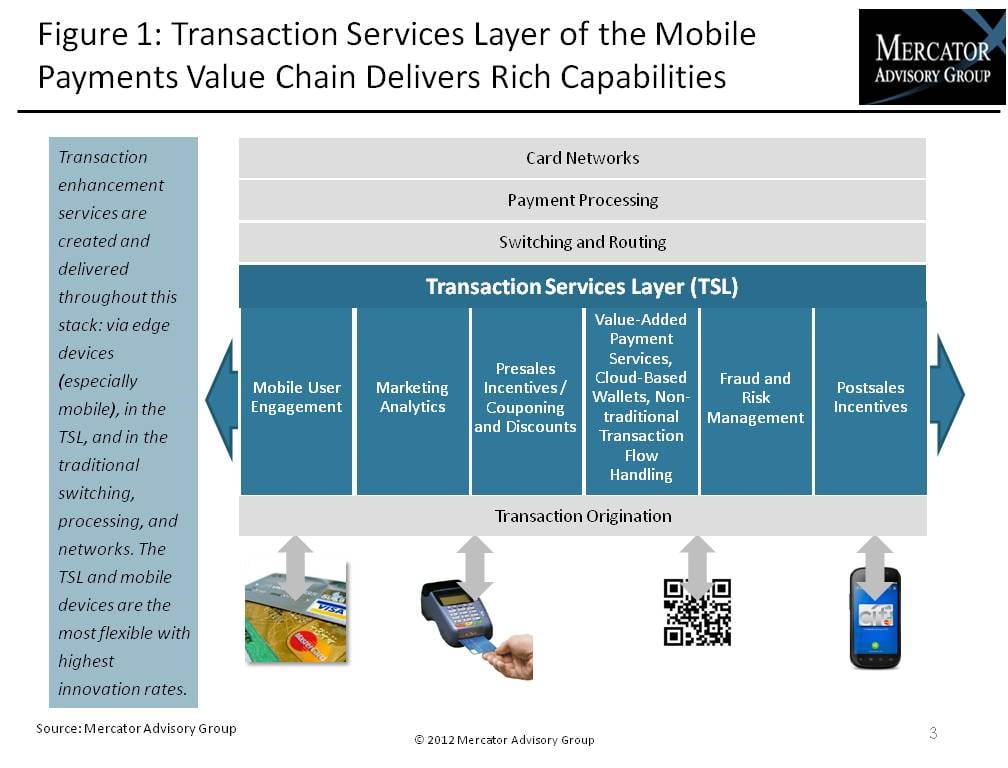 This report is 36 pages long, with 12 exhibits.
Companies mentioned in this report include: Google, PayPal, Isis, Facebook, Apple, Visa, MasterCard, Discover Networks, InteliSpend, TxVia, Maritz, Blackhawk Networks, American Eagle Outfitters, Banana Republic, Bloomingdale's, Macy's, the Container Store, Foot Locker, Citi, Sprint, Verizon Wireless, AT&T Mobility, T-Mobile USA, Home Depot, NCR, IBM, Fujitsu, MICROS, Square, National Retail Federation, Guess Jeans, PacSun, Chase, Barclaycard, Capital One, Gemalto, Zynga, HTC, Sony Ericsson, and Samsung.
Members of Mercator Advisory Group's Emerging Advisory Service have access to this report as well as the upcoming research for the year ahead, presentations, analyst access and other membership benefits.
Please visit us online at www.mercatoradvisorygroup.com.
For more information and media inquiries, please call Mercator Advisory Group's main line: (781) 419-1700, send E-mail to info@mercatoradvisorygroup.com.
For free industry news, opinions, research, company information and more visit us at www.PaymentsJournal.com.
Follow us on Twitter @ http://twitter.com/MercatorAdvisor.
About Mercator Advisory Group
Mercator Advisory Group is the leading, independent research and advisory services firm exclusively focused on the payments and banking industries. We deliver pragmatic and timely research and advice designed to help our clients uncover the most lucrative opportunities to maximize revenue growth and contain costs. Our clients range from the world's largest payment issuers, acquirers, processors, merchants and associations to leading technology providers and investors. Mercator Advisory Group is also the publisher of the online payments and banking news and information portal PaymentsJournal.com.
---
Learn More About This Report & Javelin