Tenth Annual U.S. Prepaid Cards Market Forecasts, 2013–2016
Overview
Boston, MA – October 24, 2013 -  The report titled Tenth Annual U.S. Prepaid Cards Market Forecasts, 2013–2016 is the third report in Mercator Advisory Group's annual trilogy of closely followed U.S. prepaid benchmark reports (Open-Loop, Closed-Loop, and Prepaid Cards Market Forecast), which provides a thorough documentation and analysis of the growth and development of the prepaid cards industry. The reports overview load, growth, and market dynamics in the United States across all prepaid solutions.
Research for this year's benchmark indicates that the industry's growth has slowed and may remain depressed when compared with the past because of ongoing economic turmoil and increased legislative and regulatory action. Mercator Advisory Group's forecast report identifies key segments that will continue to witness a decline over the next four years as well as those that should see growth.
This report reviews and forecasts load dollar volume and card volume for both open-loop and closed-loop segments. This forecast highlights the segments approaching market saturation as well as those that will continue to experience double-digit annual growth.
"Having now written 10 prepaid forecasts, Mercator Advisory Group has learned not to generalize about the prepaid market. The one observation that is safe to make is that companies and consumers continue to find new uses for prepaid technology, and that will drive growth in some segments and a movement of dollars between segments," Tim Sloane, vice president of Client Services, director of Mercator Advisory Group's Prepaid Advisory Service, and coauthor of the report, comments. "In addition, the cost of operating a prepaid program continues to rise due to increased regulation while income is squeezed in this fiercely competitive market."
 This report is 89 pages and contains 74 exhibits
Companies mentioned in this report include: Ace Hardware, American Public Transit Association, Australia Airlines, Air New Zealand, American Express, Blackhawk Network, Discover, Facebook, Green Dot Corp., Gift Card Partners Inc., H&R Block, InComm, J.P. Morgan Chase, MasterCard, NetSpend Holdings, New York Times, Regions Bank, Retail Gift Card Association, Vantiv, Visa, Western Union
Members of Mercator Advisory Group's Prepaid Advisory Service have access to this report as well as the upcoming research for the year ahead, presentations, analyst access, and other membership benefits.
---
One of the exhibits included in this report: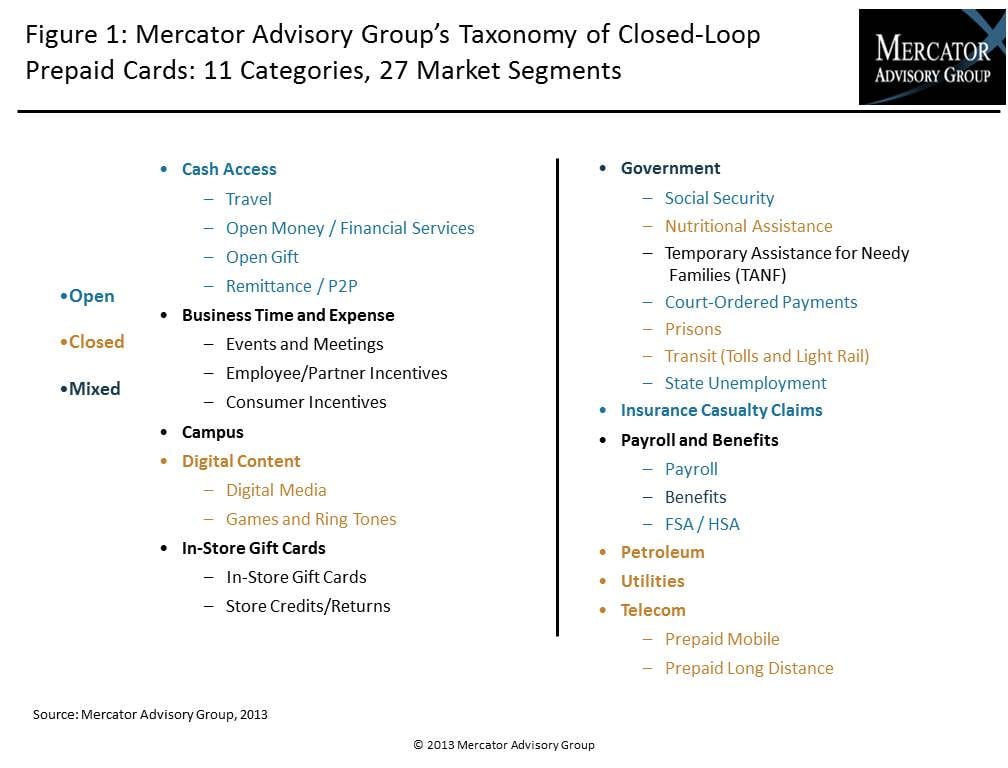 ---
Highlights:
The current state of the U.S. economy is largely responsible for Mercator Advisory Group's very conservative assumptions about the rate of prepaid market growth.
The closed-loop prepaid market size is expected to exceed the open loop market for the foreseeable future.
The growth outlook among the 27 segments covered varies widely, indicating a range of opportunities for various prepaid stakeholders.
The two largest segments are likely to remain closed-loop In-Store Gift Cards and Nutrition Assistance cards, with the growing Money and Financial Services segment following.
Interested In This Report