Tenth Annual U.S. Open-Loop Prepaid Cards Market Assessment and Prepaid Market Overview
Overview
Mercator Advisory Group's Tenth Annual U.S. Open-Loop Prepaid Cards Market Assessment and Prepaid Market Overview is the first of the annual trilogy of closely followed prepaid benchmark reports (Open-Loop, Closed-Loop, and Prepaid Market Forecast) that provide a thorough analysis and documentation of the growth and development of the prepaid industry. The report benchmarks the load, growth, and market dynamics for open-loop prepaid products in 18 different market segments.
Mercator Advisory Group defines an open-loop card as one that uses one of the major payment networks to complete transactions. Examples include an open-loop gift card that can be used at any store that accepts the brand on the card, or a card restricted to a particular retailer that relies on an open-loop network to complete the transaction.
For several reasons that are identified in this report, the total dollars loaded in the open-loop prepaid market grew by only 6 percent to $194.5 billion year over year, a much smaller growth rate than predicted. 
Within the 19 open-loop prepaid market segments tracked by this report, the Cash Access category, which includes Travel cards, Open-Loop Gift cards, Open Money and Financial Services cards, and Money Remittance/Person-to-Person cards, was the fastest growing, but even so, it grew at a combined rate of only 12 percent, with a total load of $83 billion in 2012, up from $74.1 billion in 2011.
"Growth in the open-loop prepaid market has been driven by the cash access and government categories, but the future growth of the market could be hurt by excessive regulations," says Tim Sloane, Director of Mercator's Prepaid Advisory Service and author of the report.
---
One of the exhibits included in this report: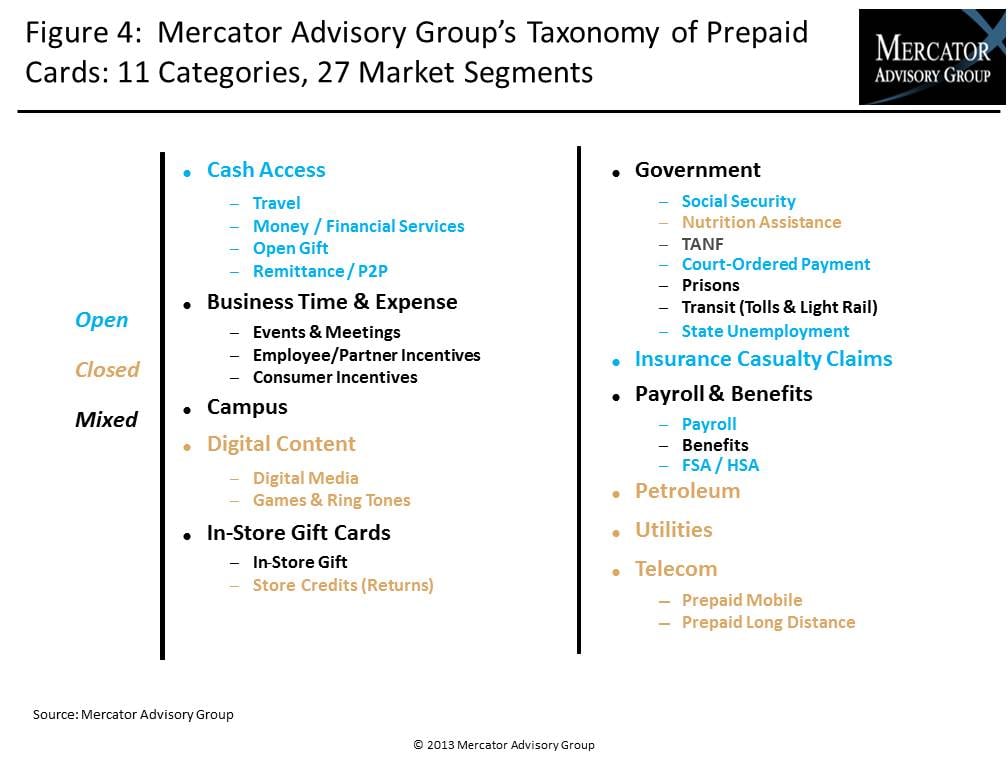 ---
Highlights of the report include:
- Detail of dollars loaded onto prepaid open-loop cards across 18 segments.
- New data that shed additional light on government benefits cards and prepaid cash access cards.
-Information on the declining growth rates across all segments and the one segment where growth continued to increase.
Learn More About This Report & Javelin