The State of the US Commercial Card Market
Author(s):
Mercator Research
Overview
Boston, MA
October 2004
The State of the US Commercial Credit Card Market 
NEW RESEARCH REPORT BY MERCATOR ADVISORY GROUP

As the growth in consumer credit card volume has slowed, commercial cards have been a major driver of growth for the U.S. card market.  The commercial card purchase volume showed double digit growth rates over the last decade and reached $264 billion by the end of 2003.  The share of commercial cards within the Visa and MasterCard total general-purpose card volume also increased continuously during this time.
Despite the remarkable growth and the intense competition, the market potential is still far from being tapped.  According to Visa's new Commercial Consumption Expenditure (CCE) index, the US commercial spending will reach $14.3 trillion this year; almost twice the size estimated by its Personal Consumption Expenditure (PCE) index, which forecasts $8.2 trillion for 2004.  However, commercial cards are not often used as a primary payment method and only account for a small sahre of total commercial spending.  There are major barriers to increasing use of electronic payments, such as data integration challenges, and checks continue to be the dominant payment method in the B2B environment.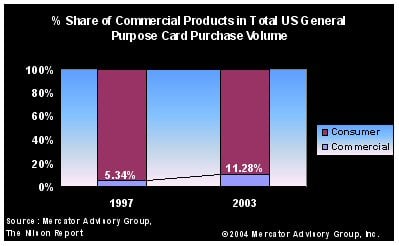 Evren Bayri, Director of Mercator Advisory Group's Credit Advisory Service comments, "in order to increase the share of commecial cards within B2B payments, issuers should recognize the complex needs of organizations.  Barriers to increasing the use of commercial cards can be removed by delivering data-rich/process aware solutions such as the American Express Variance Report, Bank of America Payment Manager and MasterCard e-P3 (tm)."
This report provides a review of the US commercial card market, its segments, and key business requirements of medium to large corporations.  The report contains 21 pages and 14 exhibits.
Members of Mercator Advisory Group have access to this report as well as the upcoming research for the year ahead, presentations, analyst access and other membership benefits.  Please visit us online at www.mercatoradvisorygroup.com.

For more information call Mercator Advisory Group's main line: 508-845-5400 or send email to info@mercatoradvisorygroup.com.
---
Interested In This Report
Related content
Private-label credit cards are an essential part of the U.S. card market, but they are a product in slow decline and face several threats, including instant point-of-sale financing...
The cobranded card market is a way to generate loyalty, scale your portfolio, and service the next generation of cardholders.
The Credit Card Data Book is a two-part annual publication that covers the internal and external factors affecting the U.S. credit card market. The first part focuses on environmen...