The State and Evolution of the European Acquiring Market
Author(s):
Mercator Research
Overview
Boston, MA
October 2008
The State and Evolution of the European Acquiring Market
NEW RESEARCH REPORT BY MERCATOR ADVISORY GROUP
The European card acquiring market is the second largest regional market in the world with significant upside as consumers increasingly use cards for their daily purchases and emerging card markets continue to grow.
However, the acquiring market is fragmented as most countries remain largely separated. Different domestic debit card networks, market and rules, membership requirements, technical standards, fee structures, among other factors, have made it very difficult for acquirers to expand into different countries. The separation of country acquiring markets also doesn't help in creating a big enough market to achieve higher level of economies of scale for pan-European acquirers. There is limited space for non-bank acquirers and ISOs/MSPs to operate in Europe except in a couple of countries such as the U.K., as European banks tend to do all the acquiring businesses in-house.
The acquiring market also faces increasing pressure from merchants and regulators regarding the merchant services charges (MSC) that merchants have to pay to accept cards. Though the current focus is on interchange and issuers, acquirers might find themselves increasingly vulnerable to profit pressures as the overall MSC level goes down.
What is more, the global credit crunch and economic recession that initiated in the U.S. is catching up with Europe, causing reduced consumer spending in Europe. This shift in consumer behavior could have significant implications on acquirers who rely on transaction-based fee revenues.
The EC's PSD and the SEPA initiative might bring dramatic changes to the structure and mechanisms of the whole European payments industry, affecting both issuers and acquirers. The implications on the acquiring market are far beyond lowered MSC levels in certain markets.
At the same time, emerging market segments (e.g., e-commerce, value-added services backed by new technologies) and geographic markets (countries in Central and Eastern Europe as well as less developed markets in Western Europe) also bring new opportunities and would likely change the industry's landscape in the next five years.
Terry Xie, Director of Mercator Advisory Group's International Advisory Service and principal analyst on the report, comments, "The European acquiring market is undergoing an un-precedent change in terms of the overall market structures and the competitive landscape. Even though the European acquiring market overall is still quite fragmented today and expected to remain so in the near future, European banks would need to rethink their acquiring strategy if they have not already done so. The SEPA opens the door for pan-European payment card market, and this has all kinds of implications to the acquiring business, including but not limited to their business models, strategic positioning, and profitability and pricing strategy, among others. Though some of the largest European banks are naturally looking to expand and become real pan-European acquirers competing for transactions in different countries, most others will have to find a way trying to survive in a more competitive acquiring market. Ambitious international players anxious to enter the market should be cautious and patient with the current fragmented market situation while carefully planning for their long term strategy."
The most recent report from Mercator's Credit Advisory Service provides an overview of the size and growth of the European acquiring market, the current operating mechanisms in the market, market shares of the largest European acquirers, regulations and rules affecting acquiring, as well as pricing mechanisms and profitability issues. The focus is on issues affecting the developments of an open market and possible market trends over the next 5 - 10 years. Issues such as the disintegration of acquiring businesses from banks, the possible consolidation of the market, the impacts of SEPA on acquirers' revenues, as well as cross-border acquiring opportunities are discussed.
Highlights from this report include:
The European acquiring market is very fragmented and will likely continue to be so in the next 5 - 10 years despite the SEPA initiative to create an integrated market.
A more open market will create new opportunities for international and pan-European acquirers. However, for now acquirers will need to be patient and be mindful of the unique characteristics of each country they plan to enter.
Despite the EC's efforts to lower the IF levels in Europe, acquirers' profitability might actually increase due to a new way of doing business as well as economies of scale not possible before.
More consolidations in the acquiring market are expected. A handful of pan-European acquirers could emerge, while many mid and smaller size acquirers will likely need to rethink their positioning and strategy.
The changes in consumer behavior, the availability of new technologies, and the popularity of e-Commerce in Europe creates opportunities for non-bank acquirers, processors, and ISOs/MSPs who can provide specialized product and services that typical banks cannot.
One of the 7 Figures included in this report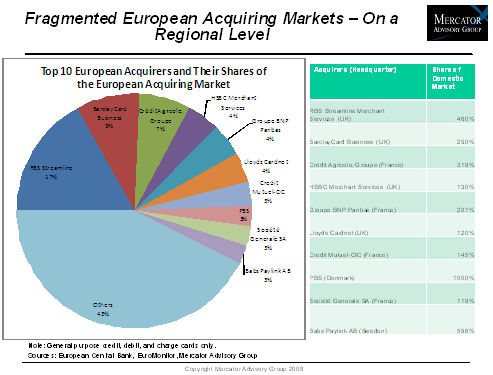 This report contains 30 pages and 7 exhibits.
Members of Mercator Advisory Group have access to this report as well as the upcoming research for the year ahead, presentations, analyst access and other membership benefits.
Please visit us online at http://www.mercatoradvisorygroup.com/.
For more information call Mercator Advisory Group's main line: 781-419-1700 or send email to info@mercatoradvisorygroup.com.
---
Interested In This Report