Small Credit Card Issuers: Flying Under The Radar
Author(s):
Mercator Research
Overview
Boston, MA
April 2007
Small Credit Card Issuers:  Flying Under The Radar
NEW RESEARCH REPORT BY MERCATOR ADVISORY GROUP
This report examines the little-reported marketplace of small credit card issuers.  The small issuer market is large indeed in terms of the number of players, with over six thousand institutions having credit card receivables less than $100 million on their balance sheets (between FDIC-insured banks and NCUA credit unions).  Plus, there are perhaps an additional 2,000 institutions that have sold their portfolios and continue to function as agent banks.  Given the number of prospect institutions, this is a competitive and desirable market for vendors providing various outsourcing services.  Topics explored include:               


While the U.S. card issuer market is highly concentrated among the top 10 issuers, over 8,000 direct issuers with less than $100 million in card assets remain active.
    

Credit unions are twice as numerous as banks among direct small issuers.


Credit card assets have decreased in importance to banks largely due to the growing importance of real estate lending.
                 

Small issuers can be segmented according to their strategic direction:  committed issuers, portfolio sale/agent bank partners, and those re-evaluating their direction toward one of these approaches.
           

The menu of outsourcing services available to support small issuers is extensive and helps deliver competitive products and services.
The study examines small issuer segments including committed direct issuers, agent banks, and those re-evaluating their credit card strategies.  On the vendor front, segments of Processor/Outsourcers, Processor/Outsourcer/Portfolio Acquirers, Aggregators, and Specialty Portfolio Acquirers are described.                     
Ken Paterson, Director of the Credit Advisory Service at Mercator Advisory Group and the author of this report comments that, "to be charitable, credit cards are a difficult sphere in which to compete, and any issuer not in the top tier needs to be thinking about the optimal combination of in-house and outsourced capabilities that will deliver competitive product and a competitive return, while most importantly serving the needs and interests of the cardholders.  This client view should not be ignored.  Most small issuers are retail-focused organizations that want to offer credit cards as part of a client relationship.  Delivering product capabilities and cardholder servicing that support their brand is typically a top-of-list concern."
One of the 16 Exhibits included in this report: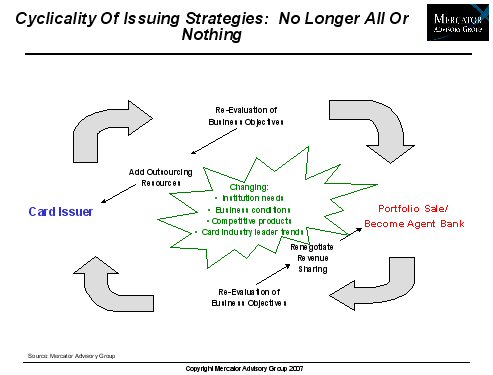 The report is 30 pages long and contains 16 exhibits
Members of Mercator Advisory Group have access to these reports as well as the upcoming research for the year ahead, presentations, analyst access and other membership benefits. Please visit us online at www.mercatoradvisorygroup.com.
For more information call Mercator Advisory Group's main line: 781-419-1700 or send email to info@mercatoradvisorygroup.com.
---
Interested In This Report
Related content
Private-label credit cards are an essential part of the U.S. card market, but they are a product in slow decline and face several threats, including instant point-of-sale financing...
The cobranded card market is a way to generate loyalty, scale your portfolio, and service the next generation of cardholders.
The Credit Card Data Book is a two-part annual publication that covers the internal and external factors affecting the U.S. credit card market. The first part focuses on environmen...