Small Credit Card Issuers 2012: Waiting for a Renaissance
Overview
Small Credit Card Issuers 2012: Waiting for a Renaissance
New research from Mercator Advisory Group examines developments
in the often overlooked small issuer segment
Boston, MA -- Mercator Advisory Group's newest report assesses the odds of a renaissance of direct issuing among small issuers along with factors such as barriers to entry and competitive consumer challenges that affect those odds. Next, the research reviews a number of the important outsourcing partner firms serving this market.
As all financial institutions are faced with the challenge of growing their revenue-generating assets and putting their excess deposits to work, many smaller institutions are reexamining credit card lending as a growth opportunity or as a new product. Others that may have previously sold their card programs are again considering direct issuing. But will these new interests be able to turn around the long decline in the numbers of small FIs that directly issue credit cards? And what will these firms demand from their processing/outsourcing partners to support the increasingly complex credit card business?
"Considering the needs of small FIs to build assets, as well as the excellent resources available to effectively support small credit card programs via the processor/outsourcer community, the hopeful point of view would suggest the potential for strong growth in the ranks of small issuers. And indeed, we do hear from some processors/outsourcers that their pipelines of new issuers are strong. On the other hand, the hurdles are high for small FIs, and the established market trends are not positive," comments Ken Paterson, VP for Research Operations at Mercator Advisory Group and the primary author of the report.
Highlights of the report include:
The overall shift in small bank credit card issuers since 2006 (based on combining the secular trend of consolidating financial institutions with portfolio sales).
Dominance of credit unions in the small issuer market and the portfolio sizes they are more likely to maintain.
Processors/outsourcers are key to maintaining small issuers, and have developed a remarkable standard array of technological and cardholder support capabilities.
How and why providers are differentiating their service offerings.
One of the nine exhibits included in this report: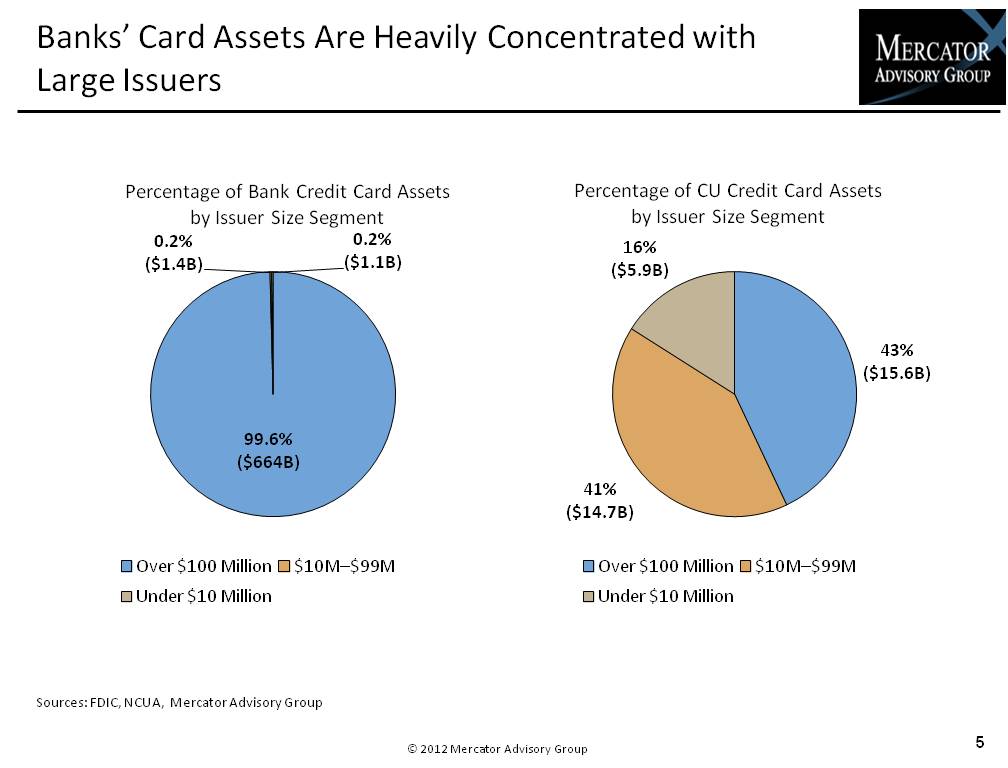 This report contains 27 pages and nine exhibits.
Companies mentioned in this report include: CSCU, Discover Network First Data Corporation, FIS, Fiserv, Jack Henry Associates, MasterCard, NEBA, PSCU Financial Services, TSYS Program Solutions, and Vantiv.
Members of Mercator Advisory Group's Credit Advisory Service have access to this report as well as the upcoming research for the year ahead, presentations, analyst access and other membership benefits.
Please visit us online at www.mercatoradvisorygroup.com.
For more information and media inquiries, please call Mercator Advisory Group's main line: (781) 419-1700, send E-mail to info@mercatoradvisorygroup.com.
For free industry news, opinions, research, company information and more visit us at www.PaymentsJournal.com.
Follow us on Twitter @ http://twitter.com/MercatorAdvisor.
About Mercator Advisory Group
Mercator Advisory Group is the leading, independent research and advisory services firm exclusively focused on the payments and banking industries. We deliver pragmatic and timely research and advice designed to help our clients uncover the most lucrative opportunities to maximize revenue growth and contain costs. Our clients range from the world's largest payment issuers, acquirers, processors, merchants and associations to leading technology providers and investors. Mercator Advisory Group is also the publisher of the online payments and banking news and information portal PaymentsJournal.com.
---
Interested In This Report