Small Business Lending: New Alternatives?
Author(s):
Patricia McGinnis
Overview
Boston, MA - July 9, 2013 - Bank reporting data makes it clear that small loan outstanding balances at commercial banks have not returned to prerecession levels.Small Business Lending: New Alternatives? explores the factors underlying that condition. The research also considers the lack of supply and the lack of demand for bank loans - both conditioned on acceptable levels of risk. Differing views and tolerances for risk motivate many new players entering the small business financing marketplace, either as channels (matchmaking intermediaries and exchanges) or as direct lenders.
This Mercator Advisory Group Research Report examines the fate of small business would-be borrowers in the postrecession period. More borrowers are exploring nontraditional sources of finance, and this report introduces some of the Web-enabled vendors offering different types of credit packages.
---
One of the exhibits included in this report: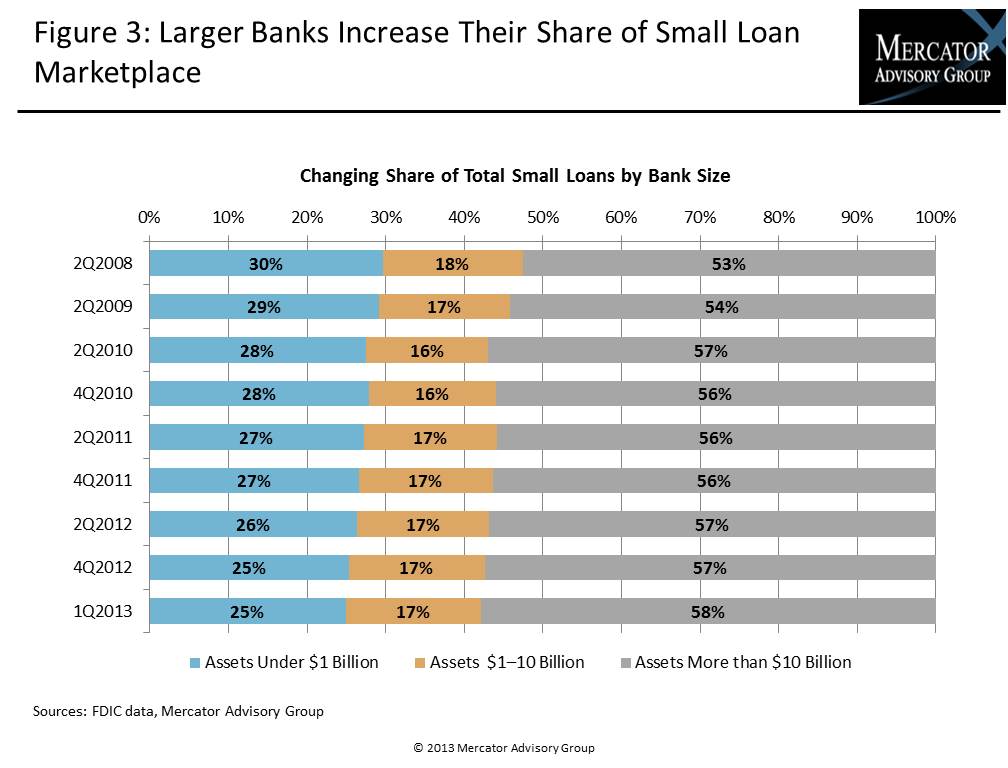 ---
"New lenders are incorporating different data types into their risk assessments and coming up with different answers to would-be borrowers," commented Patricia McGinnis, director of the Commercial and Enterprise Payments Service at Mercator Advisory Group and the author of the report. "While more or newer data cannot transform a genuine bad prospect into a good credit risk, when integrated with new technology and supported by higher rates, it can enable the financing at acceptable risk of businesses that would otherwise be rejected."
Highlights of the report include:
- Assessment of the banks' diminishing role in small business finance
- New entrants in small business finance, both matchmakers and direct lenders
- Introduction to significant vendors providing financing services
- Identification of challenges facing banks in efficiently and innovatively serving small business borrowers
The report is 27 pages long and contains 13 exhibits.
Interested In This Report