Small Business Credit Cards: The Key to Richer Customer Relationships
Overview
In the wake of the recession, U.S. small business owners consistently report that they have little need for or interest in credit, and yet surveys consistently reveal that small business owners are frustrated with their inability to get credit quickly. Credit card issuers continue to see only modest growth in their small business credit card programs, and yet billions of dollars are being funneled into alternative lending platforms specifically focused on serving small businesses. The U.S. small business credit card space appears to be both a sluggish product vertical and a critically underserved market representing opportunity at the same time.
Mercator Advisory Group's research report, Small Business Credit Cards: The Key to Richer Customer Relationships untangles the seemingly contradictory state of the U.S. small business credit card market and provides a set of strategic recommendations for market participants moving forward.
"The paradoxical nature of the current small business lending environment demonstrates the need for issuers to significantly realign their card products with the needs and preferences of small business owners," comments Alex Johnson, Senior Analyst at Mercator Advisory Group and the author of the report.
This research report contains 31 pages and 15 exhibits.
Companies mentioned in this report include: Ace Hardware, Amazon.com, American Airlines, American Express, Alaska Airlines, Asiana Airlines, Bank of America, BCSG, Capital One, Carlson Hospitality, Chase, Citi, Constant Contact, Costco, Credit Karma, Delta, Discover, Facebook, Fundbox, Google, Kabbage, Korean Air, Legal Document Builder, Lending Club, LexisNexis Risk Solutions, Lowes, LSQ Funding, Marriott, MasterCard, Mono.net, Mozypro, NerdWallet, OnDeck Capital, PayPal, Prosper, Sage One, Simplify Commerce, SiteWit, Southwest Airlines, Spirit Airlines, Square, Starwood Hotels, Stripe, United Airlines, U.S. Bank, Visa, Wells Fargo, Xero, Xpenditure, and Zendesk.
---
One of the exhibits included in this report: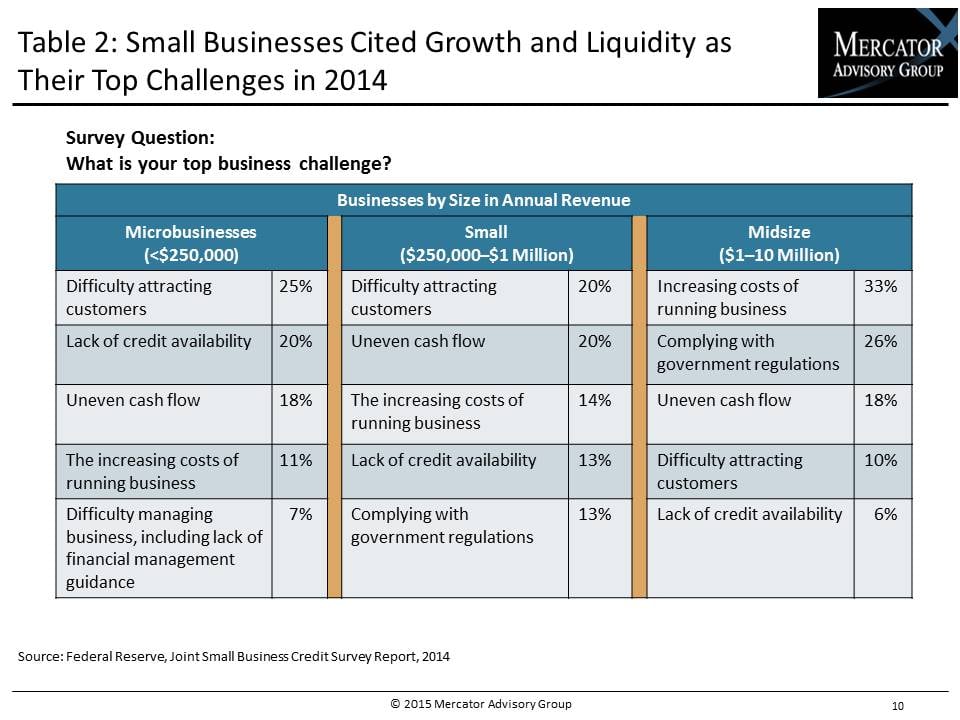 ---
Highlights of this research report include:
An overview of the current state of U.S. small businesses and their payment preferences

A review of the current small business product offerings from the largest U.S. credit card issuers and payment networks

Estimates and projections on the size and growth trajectories of small business credit card accounts, outstandings, and payment volumes

Analysis of small business owners' financial services needs and the alignment of those needs with traditional and alternative products

An exploration of the emerging alternatives in small business lending

Strategic recommendations for small business credit card issuers

 
Interested In This Report