Small Business Credit Card 2008 Update: Issuers and Customers Seek Order amid Chaos
Author(s):
Mercator Research
Overview
Boston, MA
December 2008
Small Business Credit Card 2008 Update: Issuers and Customers Seek Order amid Chaos
NEW RESEARCH REPORT BY MERCATOR ADVISORY GROUP
This report examines recent developments in the highly competitive small business credit card marketplace. Small business credit, charge, and debit purchase volume is approaching an estimated $330 billion annually in the United States, and the market has offered above-average growth for issuers targeting the segment. While the final numbers for 2008 are not in, it has been a challenging year for issuers seeking to maintain control of credit quality, and for small businesses to maintain financial control in the midst of a challenging economic environment.
In the small business credit card segment, 2008 has been a year for issuers to optimize specific abilities they are already good at, such as branch-based relationship products and rewards. But 2008 has also been the year for focusing on small business debit and charge products, as both businesses and issuers strive for financial responsibility (and control).
Highlights from this report include:
The small business credit card market continued to offer above average growth opportunities to issuers through 2007.
In spite of the declining economic outlook, small business credit and debit still have room to grow and displace personal payment products and checks in the segment.
Businesses are moving to reduce their own credit, debit, charge products, plus an array of payments features may come to the aid of all stakeholders.
With a darkening outlook for business conditions in 2009, issuers best able to create relationships through servicing and/or broader business relationships will be best positioned to grow when conditions improve.
Ken Paterson, Director of the Credit Advisory Service at Mercator Advisory Group and the author of the report comments that, "From our viewpoint in December '08, '09 looks pretty challenging. Yet it is also apparent that if issuers wish to grow in the small business segment, there is still very much room to do so. The real question is whether lenders will have the appetite and ability to continue to grow their portfolios in the next year. Just, as important, issuers best able to retain their clients' loyalty will be best positioned to retain their business when the good times roll again."
One of the 10 Figures included in this report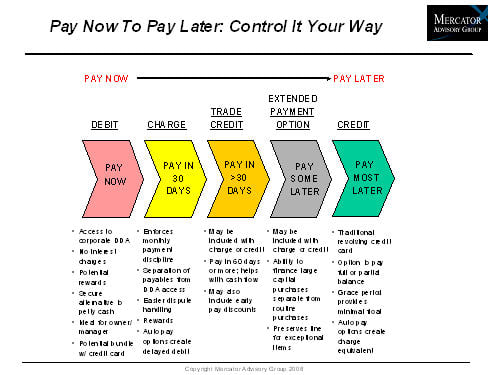 This report contains 28 pages and 10 exhibits.
Other recent reports from the Mercator Credit Advisory Service:
Members of Mercator Advisory Group have access to this report as well as the upcoming research for the year ahead, presentations, analyst access and other membership benefits.
Please visit us online at http://www.mercatoradvisorygroup.com/.
For more information call Mercator Advisory Group's main line: 781-419-1700 or send email to info@mercatoradvisorygroup.com.
---
Interested In This Report
Related content
Private-label credit cards are an essential part of the U.S. card market, but they are a product in slow decline and face several threats, including instant point-of-sale financing...
The cobranded card market is a way to generate loyalty, scale your portfolio, and service the next generation of cardholders.
The Credit Card Data Book is a two-part annual publication that covers the internal and external factors affecting the U.S. credit card market. The first part focuses on environmen...