Small Business Credit Card 2007 Update: Competition For Segments Intensifies
Author(s):
Mercator Research
Overview
Boston, MA
October 2007
Small Business Credit Card 2007 Update: Competition for Segments Intensifies
NEW RESEARCH REPORT BY MERCATOR ADVISORY GROUP
This report examines recent developments in the highly competitive small business credit card marketplace.  Small business credit, charge, and debit purchase volume is approaching an estimated $300 billion annually in the U.S., and the market offers the potential for above-average growth for issuers targeting the segment.  In this desirable segment, intensified competition for small businesses is emerging on four fronts:
Reward points programs

Cash back and discounts

Trade credit offers

Vertical segment positioning
The potential combination among these four dimensions are nearly unlimited. Credit card issuers and other lenders may use them to offer segmented offerings to capture the attention of small businesses and engage them in using the product.
Highlights of the report include:
The small business credit card market continues to offer above average growth opportunities to issuers.
The complex segment structure of the small business universe is spawning segment-oriented products, with more such offerings to come.
The value of trade credit to cash-flow-affected small businesses is significant, and lenders are increasingly offering trade terms in their programs.
Future marketing directions are likely to pursue narrower segment interests, as well as offering user-selected trade terms.
Ken Paterson, Director of the Credit Advisory Service at Mercator Advisory Group and the author of this report comments that, "there are some key product developments in the industry that may well cause small businesses and lenders to re-discover credit terms, and in particular business-oriented trade credit that is not just a re-packaged consumer offering.  Trade credit terms in various incarnations are becoming available through small business programs, and may well make an impact on future product directions."
One of the 16 Exhibits included in this report: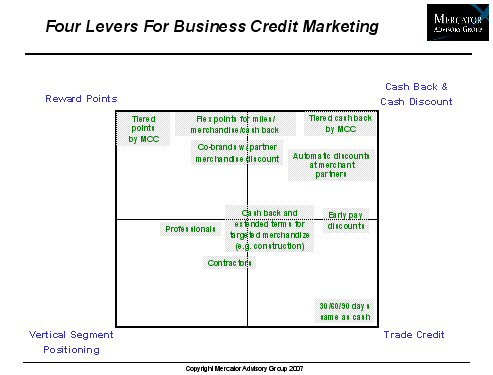 The report is 29 pages long and contains 16 exhibits
Members of Mercator Advisory Group have access to these reports as well as the upcoming research for the year ahead, presentations, analyst access and other membership benefits. Please visit us online at www.mercatoradvisorygroup.com.
For more information call Mercator Advisory Group's main line: 781-419-1700 or send email to info@mercatoradvisorygroup.com.
---
Interested In This Report
Related content
Private-label credit cards are an essential part of the U.S. card market, but they are a product in slow decline and face several threats, including instant point-of-sale financing...
The cobranded card market is a way to generate loyalty, scale your portfolio, and service the next generation of cardholders.
The Credit Card Data Book is a two-part annual publication that covers the internal and external factors affecting the U.S. credit card market. The first part focuses on environmen...