Shopping Behavior, Channel Usage, and Loyalty: How Behavior Aligns with Experience
Overview
Mercator Advisory Group's latest Primary Data report, Shopping Behavior, Channel Usage, and Loyalty: How Behavior Aligns with Experience, is based on the company's new consumer survey, the Customer Merchant Experience Survey. The online survey of 3,002 U.S. adult consumers, which was conducted in February 2018, explores consumers' merchant experiences as they shop in-store, online, and via mixed channels. The survey was designed with the goal of defining and highlighting consumer expectations for optimal experiences with merchants.
This third report on the survey's findings builds on the overall experiential analysis of the first and payments experience analysis of the second, and looks more specifically at the emerging behavior patterns of customers as they shop in-store, online, via mobile, and using mixed channels such as remote order and pick-up.
Ken Paterson, VP, Special Projects, Mercator Advisory Group, the author of this report comments, "While traditional stores remain the most used purchase channel, and e-/m-commerce purchases grow proportionately faster, customers' behavior is quickly evolving. Conversational commerce and remote order and pick-up are joining now well-established mobile behaviors such as online research and showrooming. It's an environment spanning traditional and hybrid shopping behaviors."
This report is has 56 pages (in slide format) with 26 exhibits.
Companies mentioned are: Amazon, BJ's, Chipotle, Costco, Kohl's, Lego, Macy's, McDonald's, Nordstrom, Office Depot, Panera Bread, Petco, Sephora, Starbucks, Target, Uber, Walgreen's, and Walmart.
---
One of the exhibits included in this report: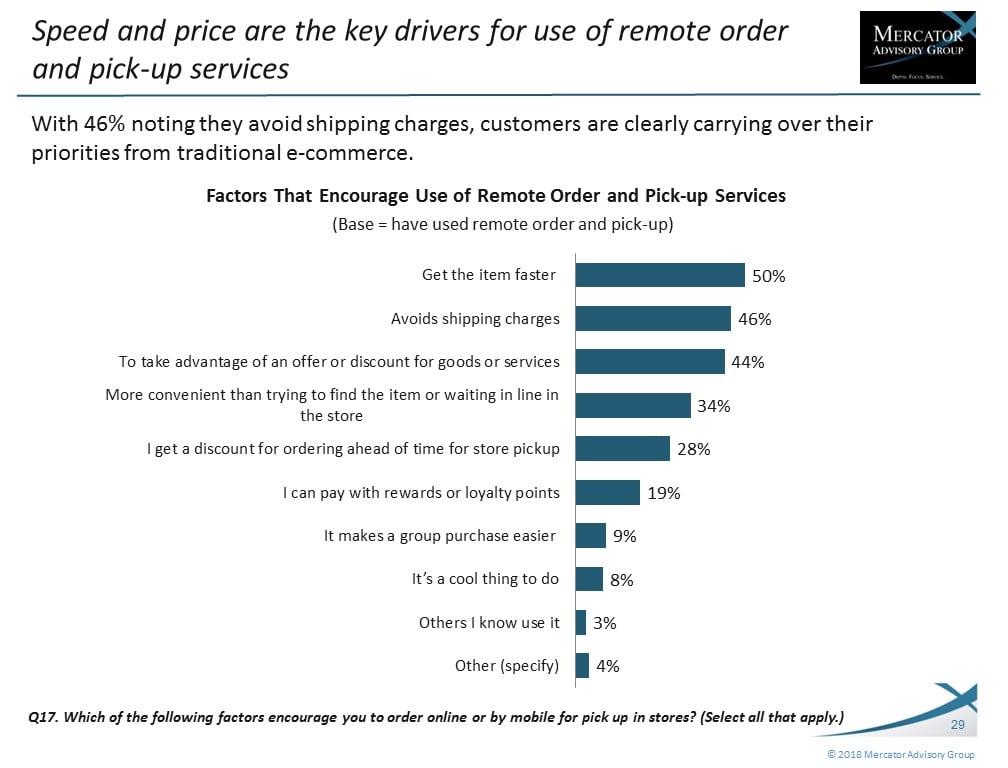 ---
Among the findings highlighted in this survey report:

Customers perceive their own shopping practices are changing; nearly half say they do more research before purchase.
Remote order and pick-up, a hybrid online/mobile and store channel, has already reached half of adults.
Customers' loyalty program participation across the 21 merchant verticals and their self-reported incremental spending and store visits attributable to those programs are surprisingly modest.
A comparative analysis of programs to drive incremental spending found great similarity of results across four program user groups.
Topics explored in this report include:
Shopping Behavior, Both Dynamic and Traditional
Proliferation and Blending of Shopping Channels
Merchant Verticals' Loyalty Programs: Incidence and Effectiveness
Behavioral Alignment with Mercator Shopper Segments
Interested In This Report
Related content
Even as interest in cash slides there is still a place for in-store ATMs, with more than half of consumers using one in the past year.
Mercator Advisory Group's most recent consumer survey report from its annual Buyer PaymentsInsights series, examines U.S. consumers' current shopping habits for goods and services ...
Mercator Advisory Group's most recent consumer survey report from our annual Buyer PaymentsInsights series examines significant consumer buying habits.