Shifting Gears: Cards and Electronic Payments in China 2009
Author(s):
Mercator Research
Overview
Shifting Gears?
Cards and Electronic Payments in China 2009
Research Explores Strategic Developments of
China's E-payment Market
Boston, MA - November 24, 2009 -- China's card issuers are facing probably the most challenging time during the relatively short history of e-payment card market in China. Thus far they appear to be doing pretty well. Though China is not immune to the global credit crunch and economic crisis, the country's payment market continued to grow strongly in the second half of 2008 as well as in 2009.
The growth of China's electronic payment market did slow down a bit but still remained strong as the overall consumer spending continued to grow and a bigger piece of that is now paid with electronic payment methods. Credit risk level and fraud rates are indeed increasing faster than the overall credit card market, but they still largely are relatively low.
However, there is little doubt that the market is changing, probably permanently rather than temporarily. "The e-Payment market in China is entering into a new stage. The growth of credit and debit card issuing is slowing down to a more reasonable and sustainable pace. Issuers are looking to improve their product and service offerings as well as the overall operations," Terry Xie, Director of Mercator Advisory Group's International Advisory Service and principal analyst on the report, comments. "At the same time they are also facing the task of keeping risk and fraud under control in a more difficult economy climate. At the same time, new payment services such as prepaid cards, self-service kiosks, proximity mobile payments, and biometric payments are being introduced. As a result, the e-payment market in China is becoming more balanced and penetrating deeper and wider into Chinese consumers' daily lives."
The Shifting Gears? Cards and Electronic Payments in China 2009 report provides a renewed look at the strategic developments of e-payment market in China since December 2008. Many of the developments discussed are of strategic importance to not just local players but also to those in the global payments industry supply chains over a longer term. Topics covered include but are not limited to the overall growth of China's credit and debit card issuing market, improvements in the card acceptance market, tightening regulations, the emergence of consumer credit companies and their impact on credit card industry, the booming prepaid card market (especially in-store cards), emerging payment technologies (especially proximity mobile payments based on non-NFC technologies and biometric payments appearing) which appear to be taking off, among others.
Highlights of the report include:
China's payment card market continued to expand rapidly despite the bad economic climate, as the card acceptance environment improves and consumers' spending on cards grows.

The focus in the market changed significantly, however, from issuing as many cards as possible to innovation, risk management, and data analytics, among others.

Risk and fraud, even at relatively low levels when compared to the case in major western markets, are catching attention from the regulators, the industry, and the public.

And China is becoming a new hot-bed for emerging payments such as proximity mobile payments and biometric payments. The developments in proximity mobile payments in China, especially China Mobile's plan for rolling out its own standard, can have major implications for the global market.

Even with the regulatory limitations and competition from traditional bank cards, prepaid cards still manage to find its foothold in China, and are playing an important role in average consumers' daily lives.
One of the 6 Exhibits included in this report: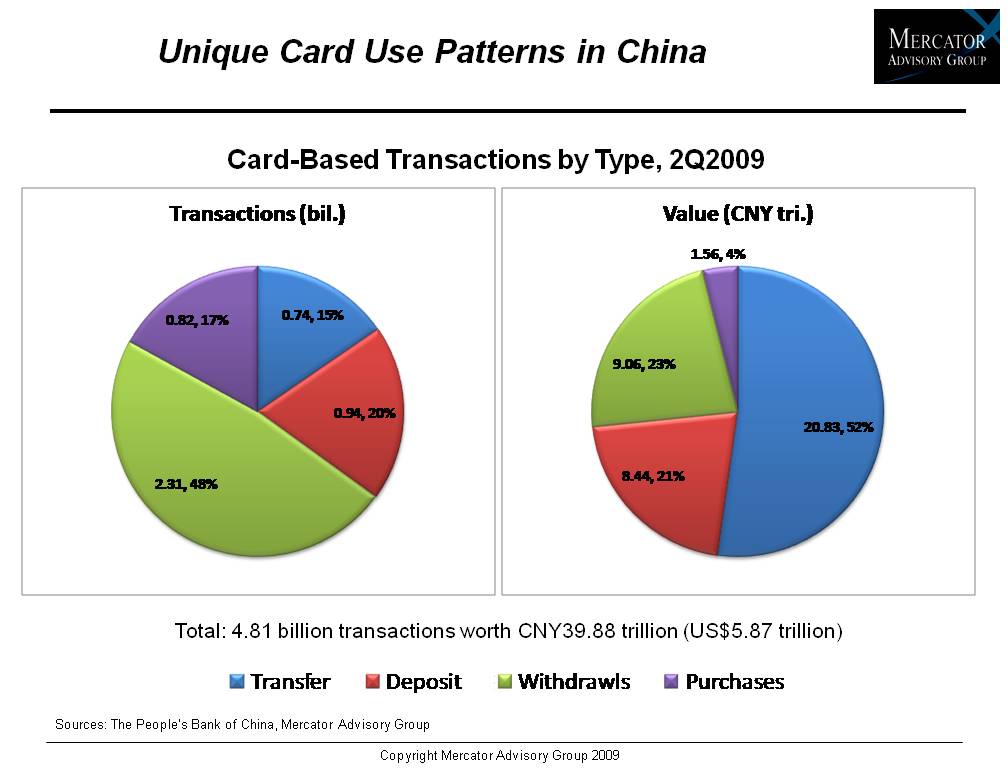 This report contains 30 pages and 6 exhibits.
Companies covered in this report include: China UnionPay, Industrial and Commercial Bank of China (ICBC), China Merchants Bank (CMB), China Industrial Bank (CIB), Bank of Communications (BoComm), China Mobile, China Telecom, Bailian Group, Zi-He-Xin, Smart Pass, Yacol, Live By Touch, among others.Members of
Mercator Advisory Group have access to these reports as well as the upcoming research for the year ahead, presentations, analyst access and other membership benefits.
Please visit us online at www.mercatoradvisorygroup.com.
For more information, please call Mercator Advisory Group's main line: 781-419-1700 or send email to info@mercatoradvisorygroup.com.
Mercator Advisory Group is the leading, independent research and advisory services firm exclusively focused on the payments and banking industries. We deliver pragmatic and timely research and advice designed to help our clients uncover the most lucrative opportunities to maximize revenue growth and contain costs. Our clients range from the world's largest payment issuers, acquirers, processors, merchants and associations to leading technology providers and investors.
---
Interested In This Report