Roadmap to Profits in China's Credit Card Issuing Market
Author(s):
Mercator Research
Overview
Boston, MA
November 2007
Roadmap to Profit's in China's Credit Card Issuing Market
NEW RESEARCH REPORT BY MERCATOR ADVISORY GROUP
China's credit card market continues to grow rapidly during the first half of 2007. By the end of this year, the number of credit cards in circulation in China is anticipated to reach 100 million. However, profitability has become a major concern for card issuers, processors, vendors, investors, as well as other stake-holders. Consumer behavior, regulations, competition, interest rates, interchange fee rates, among other factors, make profitability challenging for many issuers in China, at least in the near future. As the prime market becomes saturated in certain segments, issuers may begin to find it difficult to sustain recent high-speed growth. Issuers should revise their strategies in order to maintain a balance between sustainable growth and healthy profits. Innovation, increased efficiency and product differentiation among other factors are important for long-term growth and profitability in China's credit card market.
Terry Xie, Director of Mercator Advisory Group's International Advisory Service and principal analyst on this report comments, "Although some challenges still exist in China's credit card industry today, it is quite hopeful that most large credit issuers in China could realize profits within 2 to 3 years by adjusting some of their market strategies. The market as a whole continues to grow and conditions continue to improve making profitability in the credit card business highly possible."
The most recent report from Mercator's International Advisory Service provides both qualitative and quantitative analyses on the profitability of China's credit card issuing market. This report also provides key insights on how to realize long-term profitability in the market, based on the current state of and trends in China's payment card industry, regulatory issues, Chinese consumers' income and behavior, and competing issuers' strategies.
One of the 7 Exhibits included in this report: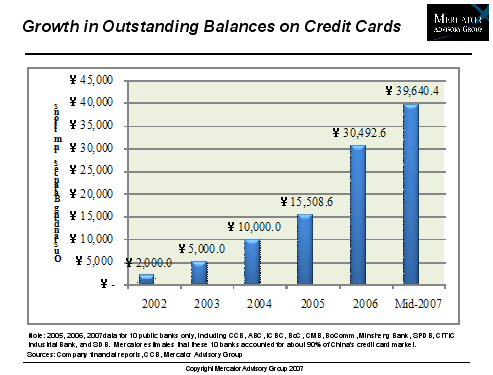 The report contains 30 pages long and 7 exhibits
Members of Mercator Advisory Group have access to these reports as well as the upcoming research for the year ahead, presentations, analyst access and other membership benefits. Please visit us online at www.mercatoradvisorygroup.com.
For more information call Mercator Advisory Group's main line: 781-419-1700 or send email to info@mercatoradvisorygroup.com.
---
Interested In This Report