Retailer Credit: New Visions for a Troubled Segment
Author(s):
Mercator Research
Overview
Retailer Credit: New Visions for a Troubled Segment

Research reveals opportunities to help retail credit market develop strategies to overcome today's challenges
Boston, MA -- Private label retailer credit cards have a history of slower growth than network branded cards, and most retailers work with third party issuers to fund and operate their programs. As the recession, a credit funding crunch, and increased regulation have taken hold, private label retailer credit cards have become both difficult to support yet too big a business to ignore. Once again at a crossroad, retailer credit begs for re-invention to support credit needs of retailers and their customers in the recovery.
Mercator Advisory Group's Retailer Credit: New Visions for a Troubled Segment report examines new directions retailer credit might take, and explores a number of strategic questions such as: How distressed is the current store card environment? What are today's retailer needs? Where are the growth opportunities for traditional revolving card programs in our new rules environment? What new approaches to in-store credit might jump-start consumer credit and help retailers make the sale? What firms might offer those new approaches?

Highlights of the Retailer Credit - New Visions for a Troubled Segment report include:
Today's private label credit cards represent a mature market that is both significant in size and challenged to grow.

Despite retailer needs for consumer credit, third party issuers are challenged to fund and support programs, especially for small/mid-sized retailers.

The CARD Act has posed serious but not insurmountable challenges to this segment, as has the recessionary environment.

Traditional revolving credit programs may yet be revived via program redesign and retailer participation in funding.

Non-traditional credit products and participants may also gain a foothold in today's constrained funding environment.
"As we stand at this crossroad, there are multiple directions private label retail credit may take. It must accommodate the realities of the present, while meeting the needs of consumers, issuers, and retailers going forward," Ken Paterson, VP for Research Operations at Mercator Advisory Group and one of the authors of the report comments. "But the opportunistic nature of the retailer credit market is exactly the environment needed in which to incubate new products and programs."

One of the 8 Exhibits included in this report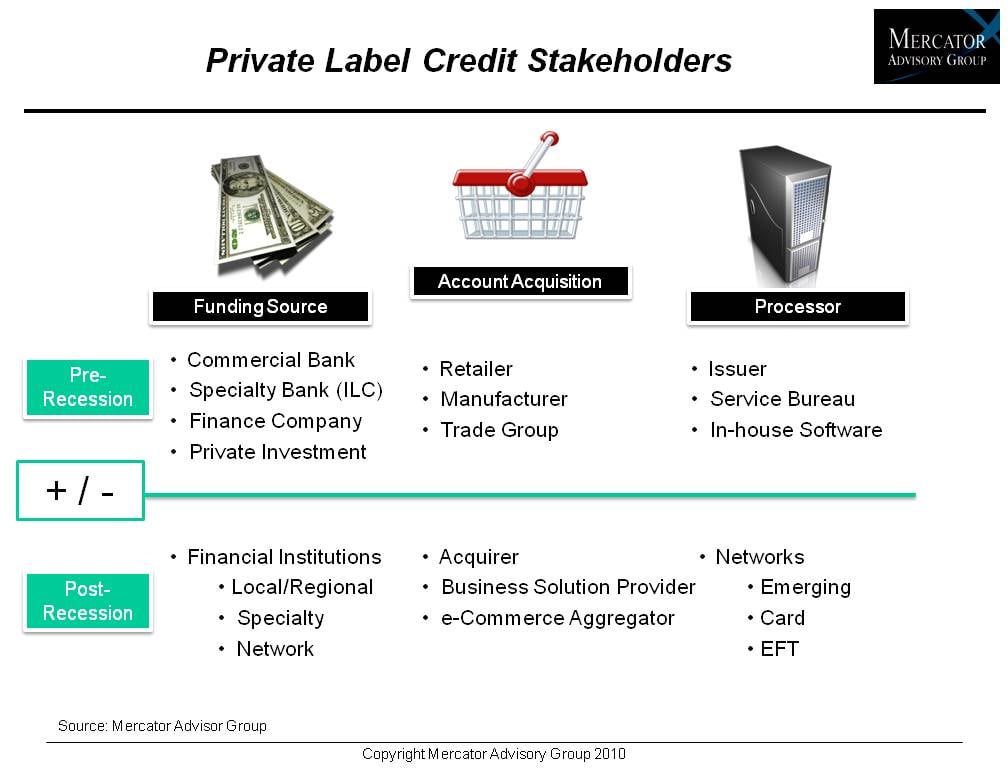 The report is 30 pages long and contains 8 exhibits
Members of Mercator Advisory Group have access to reports as well as research for the year ahead, presentations, analyst access and other membership benefits. Please visit us online at www.mercatoradvisorygroup.com.
Companies mentioned include: GE Money, Citi, Chase, Bill Me Later, TD Retail Services, CIT, Target, Macys, Home Depot, Nordstrom, Experian, Equifax, Alliance Data, HSBC, Wells Fargo Financial, US Bank, Visa, MasterCard, American Express, Discover.
Please visit us online at www.mercatoradvisorygroup.com.
For more information and media inquiries, please call Mercator Advisory Group's main line: (781) 419-1700 or send E-mail to info@mercatoradvisorygroup.com
About Mercator Advisory Group
Mercator Advisory Group is the leading, independent research and advisory services firm exclusively focused on the payments industry. We deliver pragmatic and timely research and advice designed to help our clients uncover the most lucrative opportunities to maximize revenue growth and contain costs. Our clients range from the world's largest payment issuers, acquirers, processors, merchants and associations to leading technology providers and investors.
---
Learn More About This Report & Javelin