Retailer Apps Show Promise As Mobile Consumers - CrossTabs
Overview
Retailer Apps Show Promise As Mobile Consumers Stay Cautious On Payments
Second of Eight Reports From Mercator Advisory Group's CustomerMonitor Survey Series Highlights Consumer Attitudes Toward Mobile Payments and Financial Services
Boston, MA -- Mobile devices continue to re-shape the U.S. communications marketplace, and with it the delivery of consumer financial services and retail marketing strategies. The pace of change is rapid and demands that financial service providers and retailers adapt to growing mobile capabilities, and more importantly, establish a strong presence in a communication channel where their customers are spending more time.
Second in a series of eight topical consumer survey reports examining payment and banking topics, the Retailer Apps Show Promise As Mobile Consumers Stay Cautious On Payments report highlights consumers evolving use of mobile phones for payments and retailer applications.
Based on a national sample of 1,009 online consumer survey panel survey responses focused on payment topics completed between May 10-14, 2010, the report outlines consumer patterns of mobile device ownership, usage, attitudes toward mobile payments and related security, and openness to retailer apps among smart phone owners.
Highlights of the Retailer Apps Show Promise As Mobile Consumers Stay Cautious On Payments report include:
Financial service and retail firms must anticipate continued growth in smart phone ownership, while at the same time supporting the majority of consumers using traditional voice and text handsets.

While consumer confidence in the mobile channel for payments has increased over 2009, most retain a healthy level of caution when considering the use of mobile devices for payments.

On the other hand, smart phone owners show a higher baseline of interest in retailer-sponsored apps for couponing and receipting than in payment apps.

Openness to adding multiple apps from retailers of interest is surprisingly high, as consumers see their potential value proposition.
"This is a market of contradictions. On one hand, the handset infrastructure is rapidly changing as consumers buy smarter devices, broadening the range of possible financial applications rapidly as well. On the other hand, consumers are conservative in their adoption of financial apps, especially when it comes to payments," comments Ken Paterson, VP for Research Operations at Mercator Advisory Group and the author of the report on how the mobile payment and financial app marketplace is evolving very selectively among U.S. consumers.
One of the 17 Exhibits included in this report.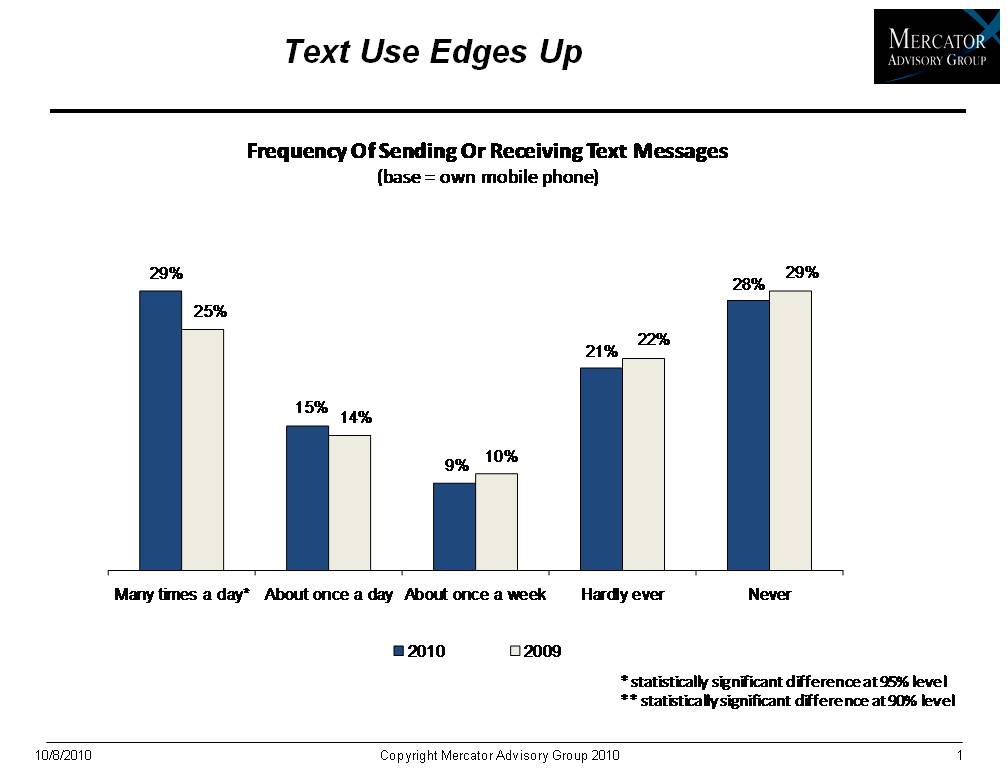 The report is 39 pages long and contains 17 exhibits.
Members of Mercator Advisory Group have access to this report as well as the upcoming research for the year ahead, presentations, analyst access and other membership benefits.
Please visit us online at www.mercatoradvisorygroup.com.
For more information and media inquiries, please call Mercator Advisory Group's main line: (781) 419-1700, send E-mail to info@mercatoradvisorygroup.com.
Follow us on Twitter @ http://twitter.com/MercatorAdvisor.
About Mercator Advisory Group
Mercator Advisory Group is the leading, independent research and advisory services firm exclusively focused on the payments and banking industries. We deliver pragmatic and timely research and advice designed to help our clients uncover the most lucrative opportunities to maximize revenue growth and contain costs. Our clients range from the world's largest payment issuers, acquirers, processors, merchants and associations to leading technology providers and investors.
---
Interested In This Report